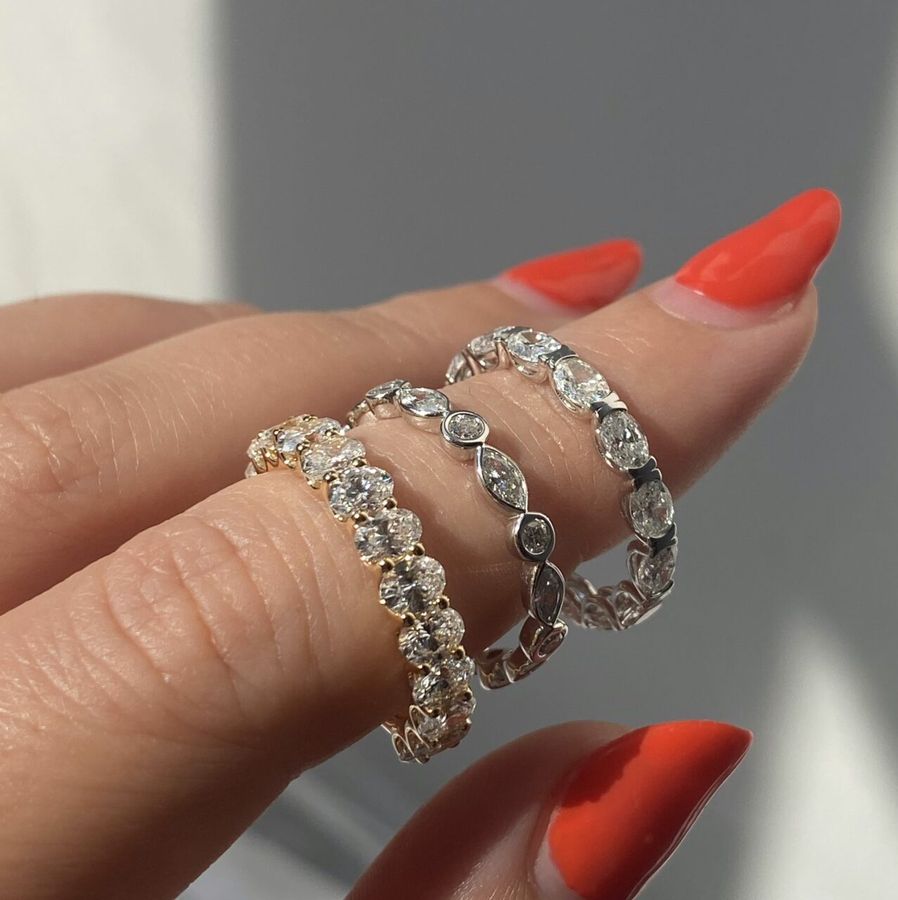 29.07.21
When to Shop for Wedding Bands
When it comes to wedding planning, you're not alone if you find yourself drowning in a sea of lists. Things to do, buy, reserve, try. It can be a lot for even the most organized. While you probably already took care of buying your engagement ring (that's really what kicks things off for most folks), your wedding bands maybe not so much. Just remember, your wedding day is special but it's just one day. Your wedding band will be on your finger for life. So don't leave it til the last minute and end up stuck with something meh when you'd rather have major. Here's when to shop for wedding bands and, the important part, how:
Wedding Band Rules
Look, when it comes to love you have to know that there really are no rules. Throw out the book. Fall head over heels. Be in the moment. Do you. For real, tho, darlings, there's no perfect time to do anything, even buy your wedding bands. Some folks will tell you 3–4 months before the big day, which is fine and all. It'll get the job done. But if you really want to get what you want (and not just something that works), we suggest thinking a bit further ahead.
Strive for Pair-fection
A little planning goes a long way when it comes to shopping for your wedding bands. In fact, we suggest doing at least a little browsing for them, get this, at the same time as you shop for an engagement ring. Especially if you're going custom. If you're going to wear your engagement ring and wedding band as a pair, it's super helpful to try them on together before you buy. You can see if the styles look good together, fit flush (without a gap between them), and figure out the right finger size.
I Like Your Fit
Speaking of fitting flush, this is one of the biggest pain points for many lovebirds. Shopping for wedding bands only to find that they all have room, let's say…for improvement. That (to some, unsightly) gap between your engagement and wedding band is most often due to the center stone of your engagement ring sitting low and wider than the shank, so your wedding band won't ever sit flush. We've kept this in mind for many of our engagement ring designs, which are crafted for perfect pairing with a wide array of wedding bands.
Have Your Oval and Wear it Too
Our Mason clutch ring is the perfect example of a ring with minimum metal and maximum curve. Designed to be low profile on your finger while allowing a band to snuggle right up, the clutch is a semi-bezel mount that cradles an east-west set oval cut diamond. We're talking sleek, sophisticated, and sans sweater snags.
Wedding Band Boldness
If you love the look of a wider, cigar-band style wedding ring, pairing with a super skinny engagement ring (so on trend) is a look we can get behind. We love the strong lines of an emerald cut diamond set horizontally to emphasize that super stack you've got going, paired with a 6mm polished gold wedding band. Talk about bold. Just remember that the wider your band, or the more space your stack takes up on your finger, you might need to go up a half-size or so for a comfy fit.
On the Bubble
If you have a center stone that sticks out a bit and just won't let a band sit flush, but you still want a super snug look, we think an open diamond wedding band will fit the bill. Our Vow Open Band has adorable bezel set diamond babies that offer a perfect compliment to any engagement ring. Or try a baguette beauty for that Art Deco-inspired style — gorgeous with any angular Asscher or Emerald, oh my!
Curves Ahead
Another take on fitting a band flush to a low-profile diamond engagement ring is a curved, pointed, or contoured wedding band. These styles, instead of being straight, sweep out and around your center stone. It's a very cool look that you can make your own with a single band, one on each side, or stacks on stacks to make a statement. We recommend having a curved or pointed band created custom to fit your engagement ring perfectly, since stone sizes and shapes can vary widely.
Time is on Your Side
Think customizing a wedding band is out of reach? Think again. We love creating completely custom wedding bands to fit your engagement ring just right. And we can do it in about 4-6 weeks, too. Whether you're just looking for a different band width than what you see on our site, or something 100% unique, our expert craftspeople can make it happen.
Get Together
Whether you're looking for a perfect matched set of wedding band and engagement ring or like the look of something with more contrast, we'd love to help. Explore our collection for rings that are ready to go, start designing your dream rings with our style quiz (and get a free sketch!), or hit us up at hello@frankdarling.com to work with our jewelry connoisseurs on customizing your wedding band today!