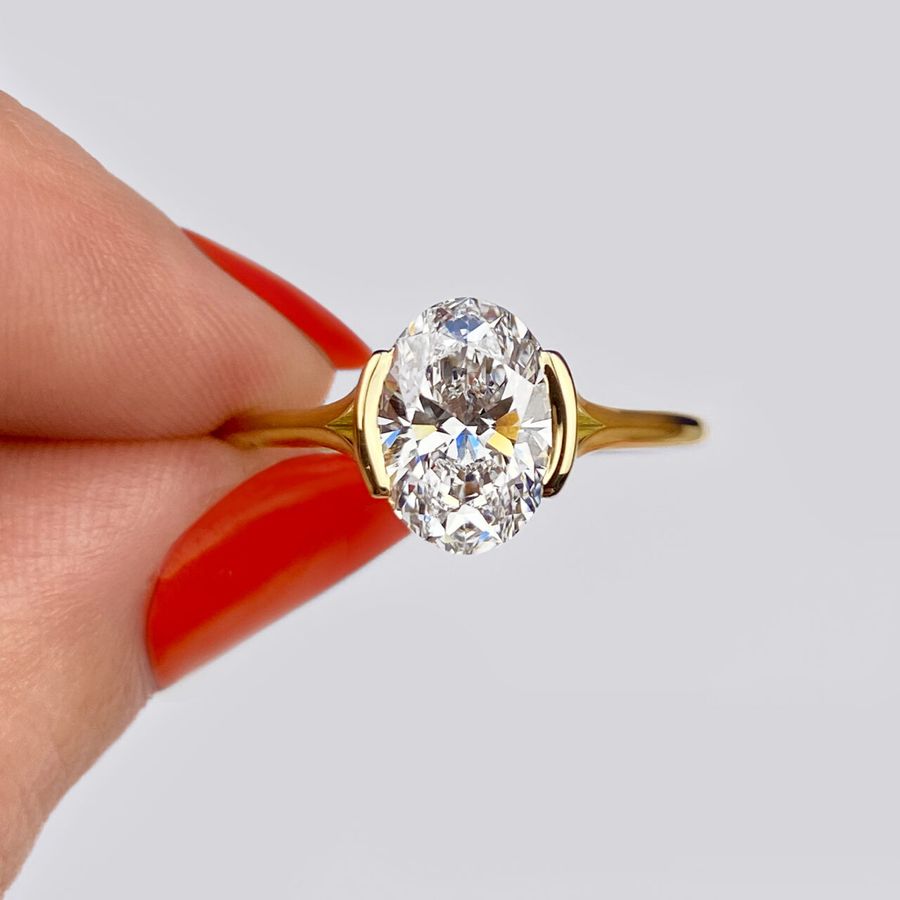 12.04.21
Why We're Betting on the Half Bezel Setting
By Stephanie Dore
What's modern, sleek, and showcases your diamond better than any other engagement ring setting? The half bezel, of course. Half bezel. Semi bezel. Partial bezel. Clutch. Call it what you will. It's like the hot friend of your boring cousin who shows up at the wedding all sparkly and new and crushworthy. You have to have one. We want you to have one. And we're about to tell you why. A trimmed-down take on a full bezel setting (that surrounds your diamond in a ring of gold or platinum) the half bezel engagement ring is literally the hottest. Here's why we're placing our bets.
Body-ody-ody
Bezel's don't just hug your diamond, they accentuate its curves, or it's straight sides if that's what your diamond has. Adding a full or semi-bezel to any diamond shape will accentuate its, well, shape. So get ready to fall in love all over again with the subtle softness of an oval, the Art Deco sophistication of an emerald cut, or even the super-squared geometry of a princess cut diamond.

You Like to Move it
Whether you're hitting the hills for a hike or part of the Peloton craze, we know you're not just sitting around all day (except for self care days of course). You're doing things. Active things. Things called life. And that's where a half bezel is so rad. See, diamonds are hard, but they're not unbreakable, darling. A bezel will surround your diamond with a slim band of gold or platinum, adding just the right bit of extra protection for your most precious jewel. And even a half bezel is still more protective than tiny lil prongs, amirite?
Get Horizontal
East-west engagement ring settings (where an elongated diamond sits horizontally across your finger instead of up and down) are legit vibes right now. Want to take it up another notch? Do a half bezel horizontal setting and your diamond will be enveloped in a sleek little clutch that's both protective and totally modern. Like, tomorrow modern. Forget today.
Keep it on the Low
Half bezel engagement ring settings, just like full bezels, are some of the most low-profile styles available. Because the center setting (also called a head) is typically more incorporated into the band, rather than just sitting on top of it, you get a look that's sleek, sophisticated, and totally snag-free (hello, sweater season).

Shine Bright
You know, like a diamond. Sometimes people are afraid of bezel settings because they think they block too much light. Well, that's where half bezels are handy. They still offer protective coverage and a modern look but they let in more light than a full bezel, allowing for even more brilliance to bounce around and back to your eye.
Half Bezels Don't Have to be Boring
Yes, there are, in fact, a lot of boring bezel set engagement rings out there. But we can't stand for that. Bezels should have just as much fun as any other style engagement ring. Whether it's with Art Deco-inspired lines, a hidden halo, an open side view, or some other unique detail, don't go thinking all bezels are just sleek little snooze-fests.
Final Answer
Should you buy a half bezel engagement ring? Only if you want a sophisticated, super chill style that'll stand out from the crowd, darling. Dreaming of something super unique? Customize your own ring with our style quiz and get a free sketch.