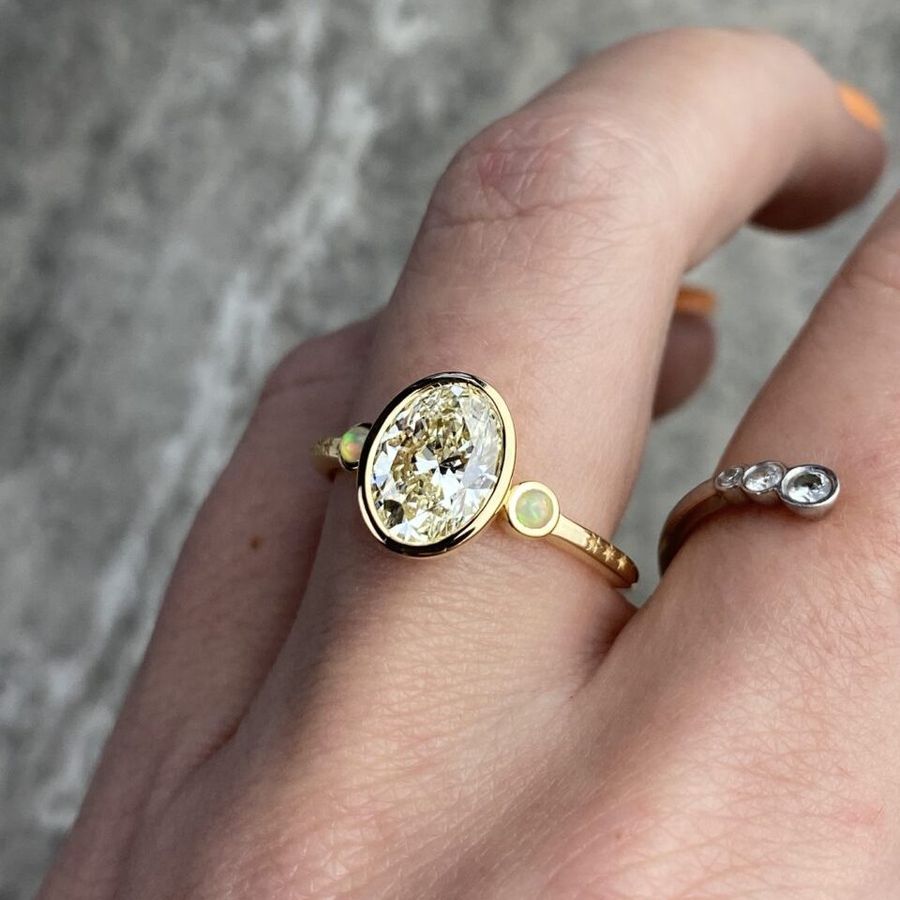 19.010.21
Why You Should Avoid an Opal Engagement Ring
By Stephanie Dore
Opal is a phenomenal gemstone — quite literally, which we'll get to later — but if you're thinking of wearing one as an engagement ring…we kindly encourage you to think again. We know as well as the next rainbow lover that it's hard to resist opal's colorful nature. But it's a stone as delicate as it is delightful. And your modern life should be about love and living (and laughter, of course), not lamenting the choice of gem you dropped serious dollars for. So let's talk, darling, a little about why you should avoid an opal engagement ring and perhaps what you should choose instead.
The Opal Engagement Ring Phenomenon
There are several incredible natural gems in the universe that are literally classified as "phenomenal" — think star sapphires, cat's-eye stones, the color-changing qualities of, say, alexandrite, and the reason you're here, the opal. These stones are labeled this way due to the unique way they reflect or transmit light. With opal, it is the gemstone's internal structure of stacked spheres that causes its characteristic rainbow "play-of-color". This play-of-color can manifest itself in a wide variety of patterns, from small patches or dots to large flashes to harlequin-like brushstrokes. Literally no two opals will ever be exactly alike. It's part of their charm.
The Soft Truth
That unique crystal structure that makes opals so damn appealing? Well, it's also the opal's downfall. For starters, opals are about a 5-6.5 on the Mohs Scale of Hardness. About the same as glass. Which, unlike the much harder diamond and sapphire, means they're pretty easy to scratch. Opals are also porous and quite brittle, which means they're super susceptible to oils, lotions, even water, cracking, breakage, and potential loss of their spectacular color. All of which is to say that they're not super suited to everyday wear — especially on your hands, which take the brunt of life. Earrings, pendants, sure, we can get behind them. But no matter what, opals (especially high quality ones) will require quite a bit of mindfulness and care during wear, storage and cleaning.

Opal Engagement Ring Woes
If you're a bit disappointed by all these downsides, don't worry. You can still totally wear an opal ring as a special occasion statement. Cocktail rings on every finger can definitely be a style choice, even. In fact, an opal cocktail ring is one of our fave ways to show off these unique gems in all their glory. Why? Because you can go extra big without ever being obnoxious. An opal statement ring is perfect for dressing up, where you might want to go a little more understated for an everyday engagement style. So find that big, flashy, rainbow goodness and go to town.
A Little Bit Closer
We also condone opals as subtle, shimmering accent stones if you've just got to work them. We just don't want you dropping major dollars on a center-of-attention opal that gets all banged up the next day. Want to try a cluster-style engagement ring? Very on trend, feminine, and flirty. Throw an accent opal in there for kicks. Or choose a smaller opal set in a rainbow sapphire halo to up the ante on your color profile. Small opals can add a subtle flash to any diamond or gemstone ring and not cause you quite so much everyday grief.
If You Must
If you've considered all of the above quite carefully and are still passionate about wearing an opal engagement ring, then by all means, we're here to help. The best way to protect a standout opal center stone is in a bezel setting. Pros of this? Bezels are super on trend. In a totally timeless way, obviously. Surrounding your opal in a thin frame of metal will help keep daily wear and the elements at bay. Think of that glimmering metal as a shield for your most precious stone. Want to up the ante on a plain bezel? You can 100% add diamonds. Go with a pave-set diamond bezel (yes, kind of like a halo, darling) or sink some burnished-set stones in there for a super modern style.
Opal Engagement Ring Care
No matter what kind of jewelry your opal is set in, there are some special ways to take care of these very special gems. First of all, don't expose your opal to high heat or fully submerge an opal in water (or any other liquid for that matter) during cleaning or wear. Opal jewelry should only be cleaned with a damp soft cloth and gentle soap (if needed) on the surface, not soaked or put in an ultrasonic machine, as the liquid and vibrations can cause irreparable damage to these delicate wonders. And take your opals off when cleaning, applying lotions, spraying perfumes, washing the dishes…really anything that could expose them to liquids, creams, or chemicals or wear. You should also take care to store your opals in a soft, sealed baggie, and with a small damp square of cotton if being stored for a long time, as opals can dry out over extended periods.
Last But Not Least
No matter what gemstone or diamond you choose for your engagement and wedding ring (or any other jewelry you're investing serious time and money into), make sure you get it insured. Yes, jewelry insurance is definitely a thing. Many homeowners or renters policies can add your jewelry for you, just work with your agent. We also highly recommend Jeweler's Mutual, who've been insuring folks' special pieces for over a century. They'll even give you a free quote!
At Your Service
Now that we've lent you an earful, we're here to open ours. What type of opal jewelry would you like to wear? Start designing your own unique pieces with our style quiz, and you'll get a free sketch to bring your style to life. Or send us a note at hello@frankdarling.com and our jewelry and gemstone experts will hunt down the ideal opal of your dreams, work with you to custom design a piece of beautiful jewelry, and answer any other questions that come to mind.