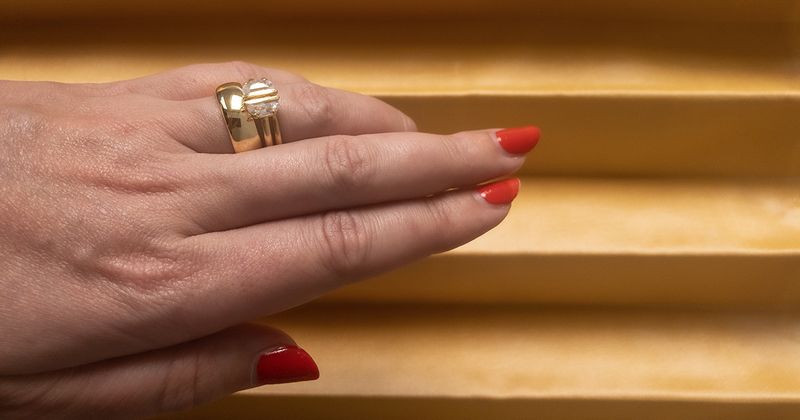 04.07.19
Our Favorite Lab Created Diamond Wedding Sets
The dreaded ring gap. The band of space where your wedding band is meant to meet your engagement ring, and if they don't fit just right, well, things get awkward. Some of us love a small gap, some of us are indifferent, but for those of you who hate it – this article is for you. We love lab created diamond wedding sets for so many reasons, here's three of them.
Reason one: by the time you're done planning your dream wedding and you've gone just a little over budget, you might be thinking about scaling back your honeymoon. And then you remember you still need to buy wedding bands. Going lab-grown is such an easy way to save some serious money without sacrificing on looks.
Reason two: that tiny OCD urge deep inside all of us for the engagement ring and wedding band to fit together perfectly is hard to ignore. There's something so satisfying about the two bands coming together; you might even say its a metaphor for your relationship. Careful!
Reason three: for our couples out there that are shopping together or using our try at home service, selecting the band at the same time as the engagement ring is a smart way to go. You can buy them together or by them one at a time, but either way, you'll know what the finished look is going to be from day one and then get to spend the next year dreaming about your forever stack while the clock ticks towards wedding day.
With no further ado these are our favorite lab created diamond wedding sets from the collection.
Designed to be seen, this lab-created wedding set pairs our Harper No. 3 a 1 carat round halo with the halo band for a seamless, glamorous look that never goes out of style.
For a classic, never-out-of-style look with an Art Deco flair pair Harper No. 4 with the ½ carat peaked band for a lab-created wedding set fit for royalty.
MASON No. 5 + THE HALF CARAT FIVE STONE BAND WEDDING SET
Add a little sparkle to the Mason No. 5 with our ½ carat five stone band studded with a bold geometric line of brilliant round diamonds. Sits flush against the bar-set triangle.

Art Deco perfection. This lab created Asscher solitaire pairs perfectly with Billie No 1 resulting on bold flashes of colorful light.
SIDNEY No. 5 + THE CAVIAR BEAD BAND WEDDING SET
Double up on texture with this unique, low-profile and affordable wedding set. The addition of a second beaded band completes this playful, floral look for the romantic at heart.
For more wedding inspo check out our full collection of engagement rings, diamond wedding sets and wedding bands available in all sizes and designed by our very own Tiffany and Co. alum Elise Coleman. Sculptural, sensual, and an attention to detail you'll rarely find online, and a level of craftsmanship only found at luxury jewelers.