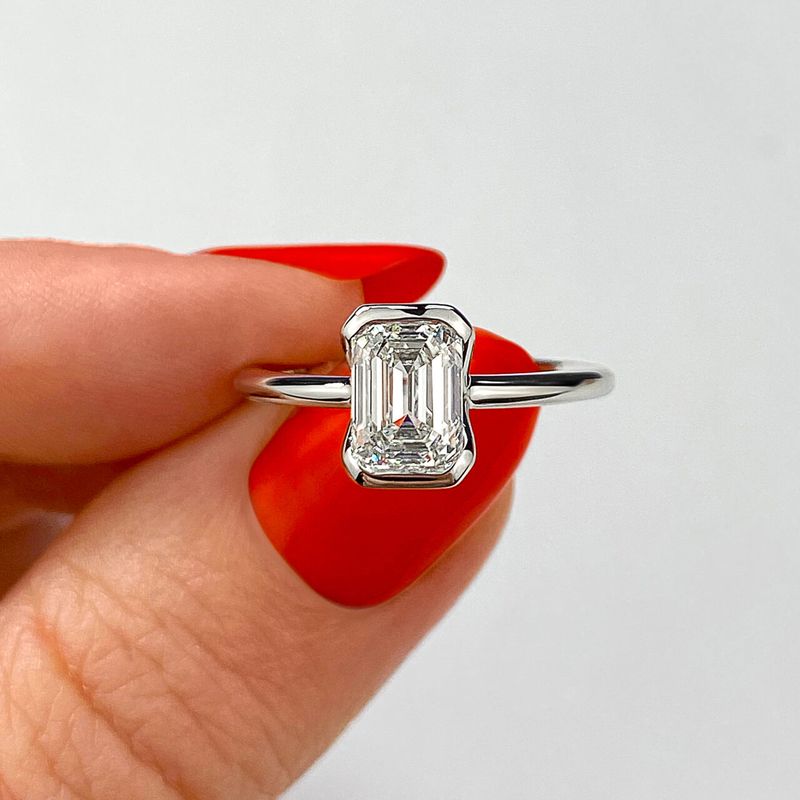 14.010.19
Our Simple 10 Step Guide To Choosing the Perfect Diamond
Learn how to choose a diamond with our easy ten-step guide towards sparkle
It can feel impossible to choose a diamond online. A task pursued only by the bravest of souls armed with a litany of information about color, cut, clarity, and carat — the dreaded four c's. Just encountering a diamond search engine is enough to make a grown person cry. But if you're determined to do this solo — you're going to have to embrace the unknown.
Diamonds are expensive, and like all second homes, yachts, and round trip airline tickets to the Bahamas, should be bought with exactitude, lest you end up sitting in a middle seat in the back of the plane one row away from the bathroom. Now, the difference between planes and diamonds is that we've all had that experience. To an untrained eye, one might say that all diamonds look the same. The reality is that if you want to get a great diamond, that seat 1a diamond at a price at less than retail, you're going to have to dig a little deeper.
A quick search on any major platform will yield hundreds of results for diamonds with the same four c's all at wildly different price points. Whittling this list down to the one that's right for you — that's where the magic happens. That's what differentiates a dazzler from a dud. This is the same process we go through when we're asked to recommend a stone. So, if you don't want to talk to a salesperson and would rather DIY it, follow these eight simple steps to find your dream diamond without leaving the couch. Or you could always text us and let us do the work for you.
01. SELECT YOUR SHAPE
Every great ring starts with a great setting so hopefully, at this point, you know what shape you're in the market for and can focus on how to get it. If you don't, head over here to learn how to shop for an engagement ring with your partner.
If you do know your shape, open up a second browser tab with the following applicable guide.
The Definitive Guide to the Round Brilliant, Oval, Cushion, Emerald and Asscher
02. SET YOUR MINIMUM CARAT WEIGHT AND MAXIMUM BUDGET
We'll use these as bookends to frame the search and get you the most diamond for your money.
03. TRIM THE FAT
Eliminate good or fair cut diamonds. These will not sparkle. Don't trust us? Just ask the GIA.
Eliminate diamonds with an SI2, IF, or F clarity grade. While some people do choose a diamond with an SI2 clarity grade, these are better purchased with the help of an expert who can identify issues.
Alternatively, while others choose a diamond with IF or F clarity grade, it's our opinion these grades are of poor value and should be reserved for investment diamonds, not engagement rings.
Specific to Emeralds and Asschers
Eliminate any diamond with less than a VS1 clarity grade. Step cut diamonds show inclusions and investing in clarity is a must.
Specific to Platinum or White Gold Rings
Eliminate any diamond warmer than H. Platinum and white gold show their color. Not sure which one is right for you? Learn about selecting a metal in our guide to metal color.
Get Ready to Choose a Diamond
This is where it gets complicated. You want to choose a diamond, but you'll most likely have many options left. Many of which are diamonds hiding in the rough, and many of which are, well rough. You could pick the cheapest, but as we point out in the insider's guide to diamond pricing, it's probably cheap for a reason — like an unfortunate black inclusion in the center of the table. Some defects aren't immediately visible which can make a lemon very seductive — like an inclusion that will harm the integrity of the diamond, or a very deep cut that faces up much smaller than it is. So, let's get advanced.
04. GET ADVANCED
Go ahead and pop open the advanced tab on the right side of the screen. Remember those guides from step one. Pull yours up. Here's a reminder if you need it.
The Definitive Guide to the Round Brilliant, Oval, Cushion, Emerald and Asscher
05. GET RID OF THE DULL DIAMONDS WITH SMALL OR OVERSIZED TABLES
Let's start with the table. You don't want to choose a diamond with a too big or too small table. Grab your guide, and key in the table values for your shape. Here's a reminder if you need it.
06. GET RID OF THE DEEP DIAMONDS THAT LOOK TOO SMALL FOR THEIR SIZE
Here's the big one. You don't want to choose a diamond that's deep. Unfortunately, most are. Deep cuts are a result of the diamond cutter trying to maximize their yield, and the more weight, the more money a diamond sells for. Even ideal or very good cuts can be cut too deep. Emeralds and Asschers are the worst culprits.
Depth can, but doesn't necessarily, affect the brilliance; it affects the size. A deep diamond is always going to look small for the carat weight which means you may be paying for 1 carat, but you're getting a diamond that looks like .75. Grab your guide, and key in the depth values for your cut. Here's a reminder if you need it.
07. GET RID OF THE ASYMMETRICAL DIAMONDS
Symmetry is the foundation of beauty. Do you want your diamond to be beautiful? Then you don't want to choose a diamond with poor symmetry. Go ahead and get rid of anything with good symmetry. Because in this case, good is not good. Do the same with polish.
08. GET RID OF (SOME) FLUORESCENT DIAMONDS
Fluorescence is a big and complicated one. About 30% of diamonds have fluorescence. Who would have thought? Fluorescence isn't necessarily bad, depending on the color of the diamond.
D-F Color Grades
If you're planning on picking a diamond in the D-F range, you'll want to set the fluorescence slider to "none." Even faint fluorescence can make these diamonds appear blue.
G-H Color Grades
If you're planning on picking a diamond in the G-H range, you'll want to set the slider to "faint" or "none."
I-M Color Grades
If you're planning on picking a diamond in the H-J range, you'll want to set the slider to "medium -> none." Fluorescence can make your diamond appear whiter.
09. REVIEW THE DIAMONDS
You should now be left with a handful of exceptionally well-cut diamonds within your carat range sorted by price.
Are there too many diamonds?
Improve the cut grade to ideal. Still too many? Go ahead and increase your carat weight and color until less than 10 remain.
Are there too few diamonds?
You'll need to lower your target carat weight or increase your budget.
Are there not enough choices?
If you're searching for a unique shape like an Asscher, or a large stone, the selection may be limited. If there aren't enough results, try loosening up your carat weight range until you have more results or contacting us to source something off-menu.
10. REVIEW THE FINALISTS AND GET READY TO CHOOSE A DIAMOND
You'll want to evaluate the remaining diamonds for their overall shape and inclusions.
Are there any visible or problematic inclusions that could make the diamond vulnerable to chipping? Yes? Move on. Here's a list for handy access.
If the diamond is an oval, pear or marquise, does it have a visible bow tie? Yes, move on. If you don't trust your eyes, you can request an ASET test from us, which makes this effect easier to discern. It's free and fast.
Is your dream diamond perfect on paper but missing a video? Text us at 646.856.0718 and we'll send one your way.
Congratulations! If you've made it this far you've found an exceptionally sparkly diamond in the rough. Consider this quest conquered. You can rest assured knowing you've found a fantastic diamond for your beloved. Go forth confidently and without hesitation.
READY TO GET STARTED?
Every great ring starts with a great setting, but picking a setting out online is hard — or at least it used to be. At Frank Darling, all our engagement ring settings are available for free home try-on. It's like the internet, but in real life.
Get started by selecting your favorite four rings. We'll send you sterling silver, size seven, replicas set with 1 carat CZ stones. So, what are you waiting for? Let's get started.