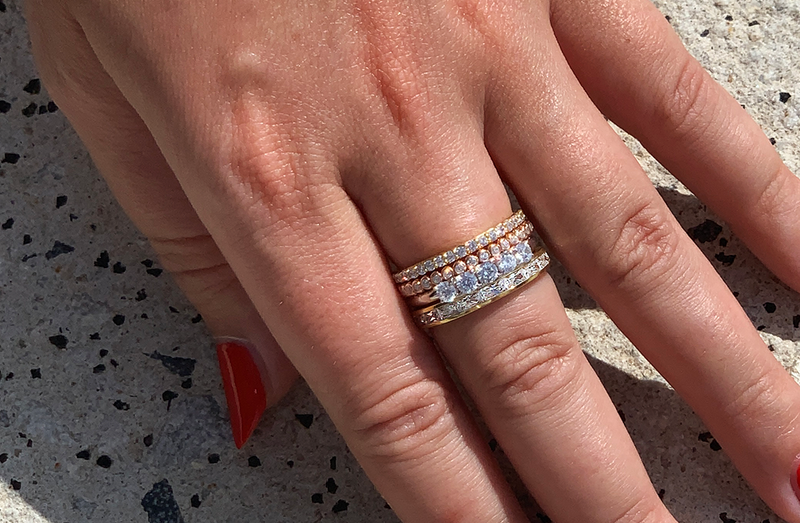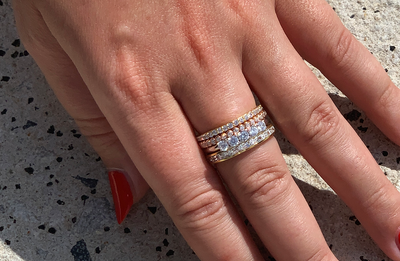 03.09.19
The Definitive Guide to Building the Perfect Ring Stack
8 tips to curate a ring stack you can't stop looking at (and can actually afford)
Never considered yourself a ring person? Put some diamonds on your digits and see what happens. There's something addicting about these sparkling accents on your hands. The desire to stack them higher and higher just can't be helped. Your fingers are as priceless as Manhattan real estate. Naturally, you'll want sparkling stacks lining every avenue — thumbs and pinkies too. Why? A ring stack is the easiest way to take any outfit from standard to sublime. They're great for everyday wear, adding the perfect highlight to your wardrobe.
With the right collection in your jewelry box, rings give you endless ways to curate your look. They're an easy way to add a fresh spin to a muted work wardrobe, or your most colorful dresses. Whether you're new to the ring game or a veteran looking for inspiration, these are our top tips to perfecting your stack.
START YOUR RING STACK WITH THE CLASSICS
While it can be tempting to start with a statement piece, they're called statements for a reason. You'll want to work up to them. The perfect closet contains many things, but, precisely none of them are lacking the humble, steadfastly perfect t-shirt. Accordingly, any great ring stack always includes one or two classics. A thin gold band (like our 1.8mm band) is the most versatile piece of any ring stack. Paired with an eternity band — it's divine simplicity. These classic, everyday styles look great with anything and pair well with everything.
MIX AND MATCH METALS
Don't be afraid to mix and match metals. Stacks are more fun in color. Not only does this give you more variety, but it makes it easy to amp up the vintage glamour with warmer gold tones, or pull together an edgier look for a night out with friends. When you're headed back to work, you can dial it back to basics for Monday mornings. Whether you're mixing silver and gold on one finger, or one hand, this combination of metals differentiates your stack and makes it unique.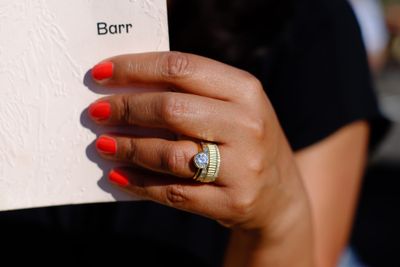 GET YOUR PINKY IN ON IT
Don't forget the little guys. 'We're total suckers for a pinky ring. Your pinky is the perfect finger to rock a statement ring otherwise reserved for your ring finger.
Pro tip: Fingers change size from morning to night, and season to season. Don't be afraid to rotate your rings between your fingers. If you run out of real estate — move up and down. Midi ring and knuckle rings make the perfect accent to any stack. The only rule of the ring game? There are no rules.
BUILD YOUR RING STACK OVER TIME
No one starts with a full set of rings ready to mix, match, and stack. It takes time to build a collection. Especially if you're buying solid gold and platinum. There's no magic number of rings for a stack — and no limit to the number you can collect. Jewelry is a great way to celebrate important moments and tell your story. All stacks are nice, but, the best one is the one that makes you smile each time you remember the milestones that it represents.
INCORPORATE VINTAGE PIECES INTO YOUR RING STACK
Ask if you can pillage your dear grandma's ring box. It's the perfect place to score a piece of vintage glam. We love pairing vintage and art deco heirlooms with modern counterparts. Even better if it's in the family.
LEAVE AT LEAST ONE FINGER BARE
You have ten fingers for a reason. We get it. And it can be tempting to put a ring on every damn one of them — especially as your collection grows. But, try to leave at least one finger bare. For just the right amount of balance, experiment with 1,3 and 5 fingers (out of ten). This could be just your ring finger, your ring finger, pinky, and thumb, or some combination of all of them.
Pro tip: Vary the weights and sizes of the rings and stacks across your fingers to add a bit of visual texture. Keep the midi rings to a minimum with a maximum of two rings above the knuckle. Wide bands are making a comeback. You can't beat the soft vintage look of a wide band (like our 6mm round band). But, if you go wide, size up a half size. You'll want to give the band a bit more wiggle room, so it doesn't squeeze your finger.
INVEST IN ETERNITY
The creme da la creme when it comes to stacking, eternity bands come in an endless array of shapes, sizes, and price points. Don't be afraid to stack one, two, or even three eternity bands. A baguette eternity band is going to give you an air of sophistication. A princess-cut eternity band is pure sparkle. Whichever you choose, more is definitely better.
LET YOUR STATEMENT PIECES BREATHE
If you've invested in a statement piece like our .75 carat east-west marquise you want to let it breathe a little. Rings like this need space to stand on their own. Wear your statement ring alone, and pair with additional rings on your other fingers or hand.
GO LAB GROWN
Lab grown diamonds have made sparkling stacks more affordable than ever. Their approachable price point makes them the perfect choice for diamond bands, because you can multiply the sparkle.
Ready to get started? Check out our ring stack essentials below, and DM us on Instagram for a $100 credit to get started.
SHOP THE RING STACK ESSENTIALS