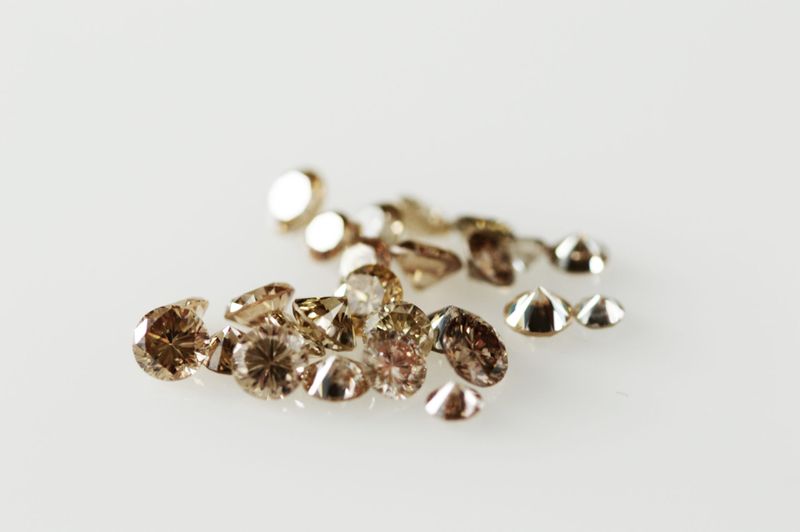 19.09.19
What are Enhanced Diamonds? Don't Make This Mistake
Enhanced diamonds sell for about half the price of other diamonds. They're often bright white and eye-clean. Sound too good to be true?
If you're hunting for the best possible deal on the perfect diamond, you've likely been to a wide range of websites and retailers. As such, you've probably come across "enhanced" diamonds at some point, whether or not you knew it. A jeweler good jeweler or diamond dealer will disclose if a diamond is enhanced because it has a serious impact on a diamond's value and quality. Unfortunately, misrepresenting enhanced diamonds as the genuine article is one of the oldest tricks in the book. It's an easy way for retailers to take advantage of customers who don't know the difference. But, what is an enhanced diamond and should you buy one?
In the world of diamonds, there are three types — mined diamonds, enhanced diamonds, and lab-grown or lab-created diamonds. Mined diamonds come from the earth; lab diamonds come from a lab, enhanced diamonds come from the human desire to increase profit margin and sell low quality, slow-moving inventory.
Enhanced diamonds are heavily included, or low-color diamonds that have been treated to improve their color or clarity. They sell for a much lower price than a mined diamond with equivalent specifications.
ENHANCED DIAMONDS AND CLARITY
Inclusions are a diamond's worst enemy. They affect the transparency, integrity, and structure of the diamonds. If the beauty of a gemstone is the presence of its imperfections, the beauty of a diamond is the absence of imperfections. So, let's get rid of them. Jewelers treat enhanced diamonds for clarity in one of two ways: fracture filling and laser drilling.
METHODS OF CLARITY ENHANCEMENT
Fracture Filling
Fracture filled diamonds are injected with a glass-like resin. The resin flows into the gaps, filling and sealing small cracks. The process makes diamond's "fractures" invisible to the human eye. Fracture filling can cause cracks and feathers to disappear as if by magic. The process also makes your diamond part natural and part plastic.
Not all fracture-filled diamonds are created equal. While this technique should remove imperfections, certain substances can cause imperfections to show or give the appearance of a glassy plastic stream full of air bubbles inside the stone. When shallow fractures are filled, they can show up like white scratches or cracks and have a web-like appearance.
Laser Drilling
Laser drilling uses heat or injects chemicals into the diamond, to make its discolorations and flaws less visible. It results in very thin white lines or tunnels that do not follow the diamonds natural growing pattern. Often diamonds are first laser drilled, and then fracture-filled. Laser drilling can bleach black or colored inclusions and turn a mottled diamond white again.
ENHANCED DIAMONDS — COLOR
A process known as HPHT (High Pressure High Temperature) is used to enhance the color of darker diamonds. HPHT recreates the natural diamond forming conditions of the earth and can colorize or whiten the diamond. HPHT is also one of two processes used to grow lab-grown diamonds.
When HPHT is detected the GIA notes it as "HPHT Annealed" or "Artificially Irradiated" and insists those diamonds be laser-inscribed with that designation.
PRO'S OF PURCHASING AN ENHANCED DIAMOND
If you're thinking about purchasing an enhanced diamond, you're most likely want a bigger carat weight, or better quality than your budget can afford. An enhanced diamond is generally going to sell for 30-50% less than a "natural" diamond of the same carat weight and quality specifications. You'll also get a colorless, eye-clean diamond which otherwise would be very expensive.
CON'S OF PURCHASING AN ENHANCED DIAMOND
While the savings are real, so is the long term risk that your diamond is likely to discolor and break with time.
Cleaning an Enhanced Diamond
Let's start with cleaning. Many at home jewelry cleaners contain ammonia. Ammonia is toxic to enhanced diamonds. If you take your ring to a jeweler for cleaning, they'll most likely use steam or an ultrasonic cleaning machine. Heat and steam can cause fillers to leak out of the stone or expand, widening the original fracture and making it no longer eye-clean. Still skeptical? The GIA recently did a study and found that 90 minutes of ultrasonic cleaning can result in leakage and damage to the enhancement.
Repairing an Enhanced Diamond
From time to time, jewelry needs to be repaired. It's inevitable. Stones loosen, the setting needs polishing, the white gold needs to be re-plated, the band resized, etc. Jewelers will often heat metal when making repaird to make it more malleable. Too much heat can and will damage enhanced stones. The filling can melt or leak from the stone, darken, or become cloudy. In some instances, and depending on the type of filler used, gas bubbles can form in the diamond.
Bottom line — if you purchase an enhanced diamond, you need to let your jeweler know about it before your diamond is subjected to any other physical forces that could damage it.. They may need to remove the stone from the setting before making any changes. That can increase the cost and time required to make a simple modification, such as a resizing. Often, the owner of an enhanced diamond won't be aware of a treatment until its discovered by a jeweler making a routine repair.
ARE ENHANCED DIAMONDS GRADED IN THE SAME WAY AS MINED OR LAB GROWN DIAMONDS?
The GIA and other credible certification organizations don't grade fracture-filled or coated enhanced diamonds. This is because these treatments are not permanent, and thus neither is the grade. Generally, they issue a report stating the identity of the stone and note that "a clarity-enhancing, foreign material was artificially introduced into the surface-reaching features, precluding quality analysis."
SHOULD YOU BUY AN ENHANCED DIAMOND?
No. While an enhanced diamond is one way to save money, it's not the best one. Lab-grown diamonds are atomically identical, optically, and physically identical to mined diamonds and half the price. They come certified, with no long term risk of damage, and are a much better purchase than an enhanced diamond. With lab diamonds now readily available in a wide range of shapes and price-points, they're a more durable alternative to a enhanced diamond..
READY TO GET STARTED?
Every great ring starts with a great setting, but picking a setting out online is hard — or at least it used to be. At Frank Darling, all our engagement ring settings are available for free home try-on. It's just like our website, but you can touch things.
Get started by selecting your favorite four rings We'll send you sterling silver size seven replicas set with 1 carat CZ stones.
So, what are you waiting for? Let's get started.