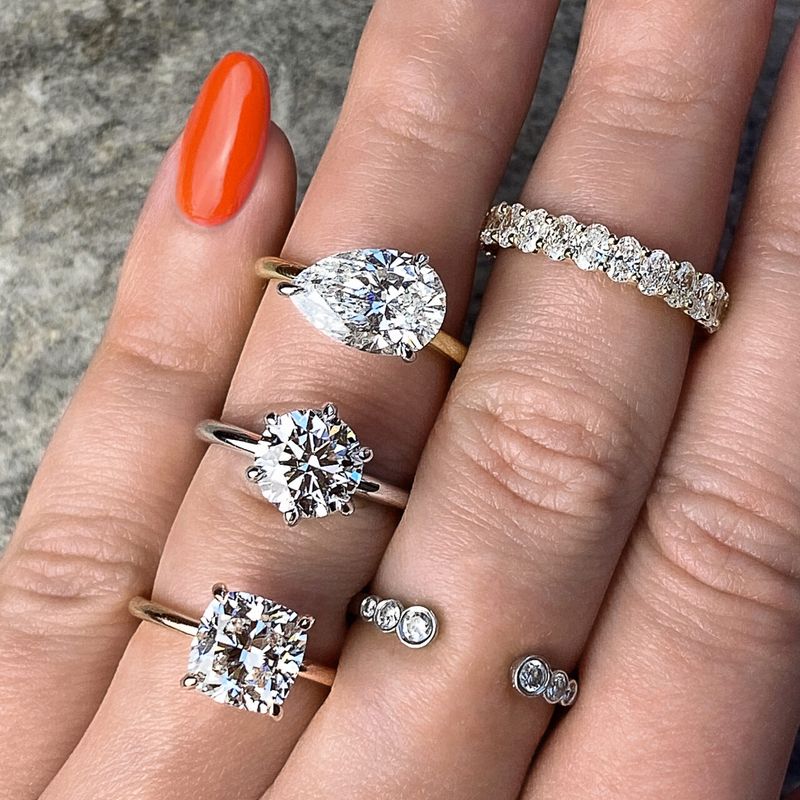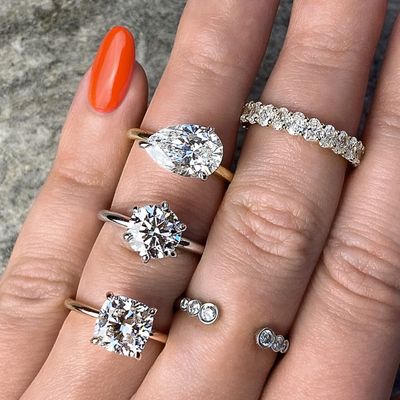 28.09.19
Which Diamond Cut is Right for You? (and the Celebs Wearing Them)
What's the best diamond cut? The one you love. Check out our guide to diamond cuts including the celebs who wear them.
So, what is diamond cut? And what is shape? And who really cares? Well, your fave celebs certainly do. And you should too. Because the shape of a diamond can mean the difference between a cutting-edge style and a throwback look that screams romance—especially when you're wearing it every day.
Sometimes you hear a diamond's shape—you know, round, princess, oval, etc.—referred to as "diamond cut". While the terms are somewhat interchangeable, cut or cut grade also refers to a diamond's facets and symmetry. But that's another post for another day. One where we want to get wrapped up in the details.
Here, though, we're just talking about possibly the most subjective decision you'll make when it comes to your engagement ring. What shape are you going to go for?
Basic But Brilliant
If you're thinking the round brilliant cut is basic, you're right. But the extensive engineering of this shape—by far the most popular—has been perfected specifically to return as much light as possible to your eye. And by that, we mean sparkle. And that's where the round reigns supreme.
In fact, this diamond cut is so predictable that the round is the only shape the GIA gives cut grades to, evaluating their brightness (the internal and external white light reflected from the diamond), fire (the rainbow flashes of light that look like a prism), and scintillation (this is the sparkle).
If you're looking for sparkle above all else, the round brilliant is certainly the right diamond shape for you, and you'll want to look for excellent or ideal cut options for max effect.

Brilliance on a Budget
Nearly as sparkly as a round brilliant, oval cut diamonds can appear almost 1.5x the size of an equivalent carat round, for a lot less cash. Their modern, elongated shape is a nice alternative when you're looking for something a little different… but not that different. And their shallower cut contributes to their "spread", making them appear larger when viewed from the top.
Sound too good to be true? It can be. Pay attention to the center of the oval and look for the bow tie effect, two dark triangles that meet in the middle, caused by a poor cut job and making your otherwise brilliant oval appear blah.
When Size Matters
Given it's royal moniker, pronounced 'mar-kees', it's no surprise that marquise diamonds punch seriously above their weight class. While some might say it looks a bit like a football, or an eye, the shape is actually named for the lips of the Marquise de Pompadour, a mistress of King Luis XV, who wanted a diamond cut to resemble his lover's perfect kisser. If only we could all command that type of romance, right?
This diamond cut's shallow, elongated form makes them look even larger than ovals, especially when they're on your finger. In fact, marquise diamonds can appear almost twice the size of a comparable round brilliant cut. Want to see for yourself? Check out our guide to carat weight. While they're traditionally set lengthwise, they make for a very modern twist when set horizontally (east-west) across the finger.
Celebs Wearing Marquise Diamond Cut Engagement rings
Fit to Be Square
First patented by Joseph Asscher in 1902, the Assher cut diamond surged in popularity during the 1920s as its geometric facets give it the quintessential Art Deco look. Also known as a square emerald cut (which is what you'll see listed on its diamond certificate), the Asscher is a step-cut diamond, meaning it has parallel rectangular facets as opposed to brilliant facets that radiate out from the center.
Cut to highlight a diamond's clarity and light return, that also means you can see right through them—so pick one with a higher clarity grade unless you want to see inclusions with your naked eye. Check out our definitive guide to Asshers to learn more about picking the perfect one for you.

Clear With Envy
Diamonds certainly aren't emeralds. But they benefit just as much—if not in different ways—from the vibrant green gem's namesake cutting style, which came about as a way to protect the more delicate gemstone during cutting. For a diamond, though, this step-cut style, with it's long, rectangular faceting pattern is a sophisticated, modern look.
This chiseled diamond cut gives a sort of "hall of mirrors" effect, reflecting large flashes of light that catch the eye. Similar to Asshers, emerald cut diamonds highlight clarity, so you'll probably want to go for one with a higher clarity grade, else risk seeing, well, things you probably don't want to see inside your diamond. This bold shape holds its own in a prong setting, bezel, or three-stone design. Read our definitive guide to the emerald cut to learn how to pick one that's right for you.
Pillow Talk
Originally designed to be seen and admired by candlelight, the cushion cut diamond is the round brilliant's softer and more demure cousin, with gentle sloping corners that give this cut its name. Their deep cut highlight's a stone's color, which is why you'll often find fancy colored diamonds or precious gemstones in this shape. And their big facets throw a lot of fire (those rainbow flashes) around. So be wise when selecting your color grade.
But they are the second most popular shape for a reason. They truly are brilliant, and won't cost you nearly as much as a round. You'll just have to sort through their dizzying amount of facet designs to find the one that's right for you. Check out our guide to cushion cut diamonds to learn more.

Put a Glove On It
A true throwback in the diamond cut game, the rose cut is unique in that it lacks a pavilion—the pointy underside of the diamond. It's one of the most historic diamond cuts available and has seen a recent surge in popularity for both its wearability and its vintage vibes.
Touting a look akin to a geodesic dome, its mostly-flat shape makes the rose cut an excellent choice for anyone who needs an extremely low profile setting or wears gloves at work. Just don't expect a brilliant sparkle, as the rose cut is more shimmer, with a lustrous finish and subtle flash.
Ready to Get Started?
No matter what shape you're into, every great ring starts with a great setting. And picking one out online can be tough. But it doesn't have to be. At Frank Darling, all of our engagement ring settings are available to try at home for free, IRL. Get started by selecting your favorite four rings and we'll send you sterling silver, size seven replicas set with one carat cubic zirconia stones. Have something specific in mind? Take the quiz and get a free sketch.