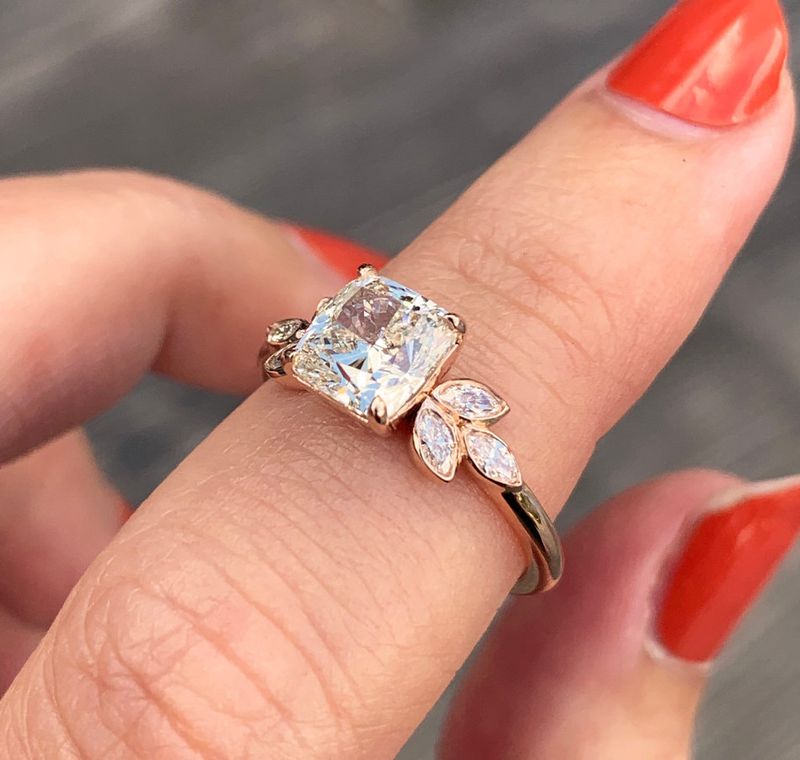 30.07.19
5 Reasons You'll Love a Low Profile Engagement Ring
Want a ring that's so low maintenance you'll forget it's on? Us too. Here's why we can't get enough of this practical, modern approach to the traditional engagement ring.
If you live in outer space or you hate sweaters, a tall engagement ring might be the perfect style for you. For everyone else, a low-profile engagement ring is at least worth considering. Low-profile engagement rings have been gaining in popularity for the past several years. Here's five reasons you might want one!
1. You Own Sweaters
Our Favorite Bezel Set Low Profile Engagement Rings Rings
Our favorite dog friendly low set engagement rings
You're a parent
Do you plan to continually take your engagement ring on and off multiple times a day during those early toddler years? We didn't think so. In fact, when recently surveyed, 63% of you said you planned to wear your ring every day. A towering setting can be a nuisance. Especially when it comes to changing diapers, picking up toys, or chasing after a rogue toddler. Alternatively, a low-profile engagement ring like a three-stone setting or bezel setting is less likely to get in life's way. You're a parent; you have so many things to think about, why not select an engagement ring that you don't have to?
Our favorite child low profile engagement rings
You love to travel
Like most self-respecting millennials, we love to travel. Even better if it's spontaneous. We might complain about the lack of legroom inside that 500mph aluminum tube, but, the journey is always part of the fun.
Now imagine future you, jet setting all over for your new job. Do you want a tall ring getting in the way when you lift your bag into the overhead? Do you want to worry about the diamond snagging your coat liner when you pull your passport from your interior pocket? How about when you pull out your laptop to work on a presentation. You have better things to do than continually upright your ring. Why not choose a low-profile setting that won't get in the way of your trips or your career.
Our favorite travel friendly low profile engagement rings
You live on planet earth
Do you live on planet earth? Us too! Such a small world. But seriously, planet earth comes with this pesky thing called gravity. Gravity loves to pull things down to the ground. Especially top-heavy engagement rings like a classic Tiffany solitaire set with a 2-carat diamond.
To make it even trickier, your finger size will change. While you might think your ring fits perfectly in summer; it's going to be a spinner in the winter. Why? Fingers shrink in the cold. Plus, sweater and gloves are the sworn enemies of tall engagement rings. So, if you enjoy the simple pleasures of planet earth, consider a low-profile engagement ring. It's a practical and gravity-friendly choice that will bring you joy (rather than annoying you) every day.
Consider the stone size
The bigger the diamond the higher it sits, period. This is because carat weight increases out but also up. If you're coveting a larger stone consider a Marquise, Pear or Oval diamond all of which are more shallow and will sit lower on the finger. Or, opt for a halo or three-stone setting as a way to get that big look without the added height.
Not sure if a low profile look is right for you?
When in doubt, try it on! Rings just look different in real life. Our complimentary try at home kit allows you to test drive rings for up to a week. You can see how they fit into your everyday life, and decide what you find comfortable. Ready to give it a go? Take the quiz to see which ring styles suit you.