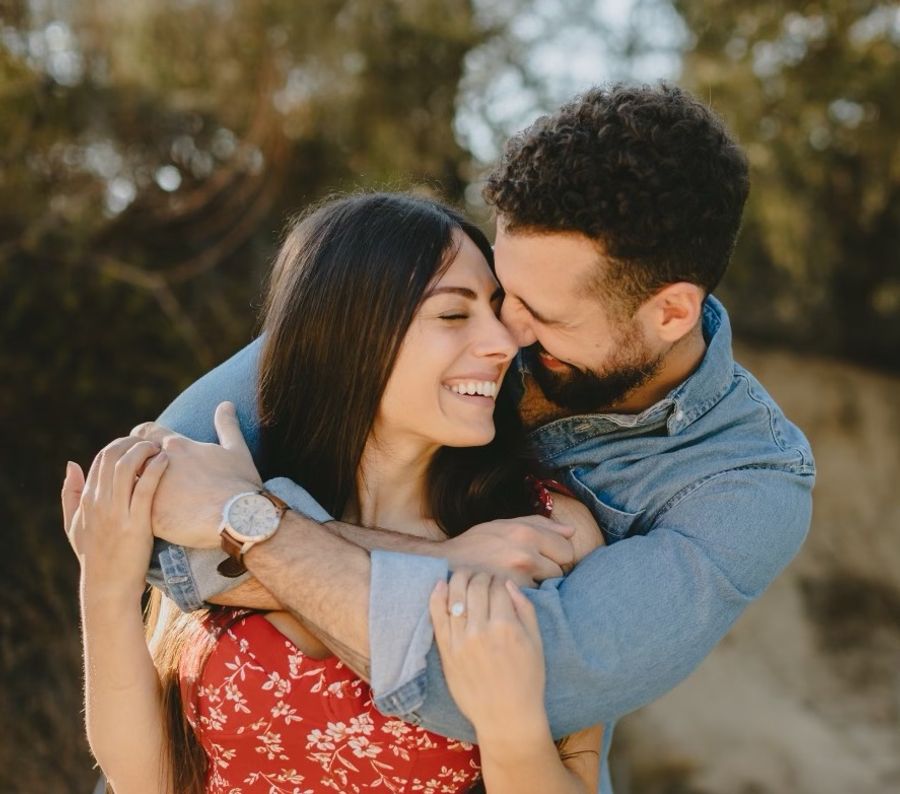 03.11.20
10 Fauci Approved, COVID Friendly Proposal Ideas
Wondering how to plan a grand proposal during a pandemic? Try one of these COVID-friendly proposal ideas for romance a little closer to home.
By Stephanie Dore
Life is a little weird these days—what with a global pandemic and all—and we're all just going with the flow, adapting to new (and ever-changing) social norms, and learning how to Zoom-a-Zoom ah. But there's no getting the hang of getting engaged, y'all. It's just one of those things you want to get right the first time. Maybe you're thinking "but I want to propose under the Eiffel Tower," or "I was going to do it on the Jumbotron at her team's season kickoff." Well, you know what they say about the best laid plans…But that doesn't mean you have to let this lil old virus put a stop to your plans for an uber-cheesy, eye-rollingly romantic popping of that one very important question. In fact, we've done the work for you and come up with some COVID-friendly proposal ideas that will help get you well on your way to saying I DO!
Proposal Idea No. 1 — Take it Outside
We know, we know, outdoor proposals were popular well before we were forced into isolation mode, but we're still proponents of having a lil breathing room. Plus, taking it outside means you can get a few more folks in on it (from a safe distance, mind you). Say, a photographer hiding behind a shrub, or your quarantine pod complete with congratulatory signage and a celebratory toast. So pick your fave outdoor activity and make it the backdrop for an alfresco proposal.

Proposal Idea No. 2 — Pack It Up, Pack It In
Perhaps your perfect partner has a taste for the finer things? Proposal idea No. 2 — pack a picnic basket with caviar, fresh fruit, the tiniest lil toasts, and of course bubbly, and head for the local park. Or if your foodie is more into Easy-Cheese, perhaps lay out a spread of snacks and use that squeezable goodness to write out the big question on some Wheat Thins. Drool.

Proposal Ideal No. 3 — Backyard We Chillin'
Does your pad have a backyard or patio setup? Use whatcha got and dress it up with flowers and candles—maybe even a white tablecloth if you've got one. Sometimes dressing up a familiar space can be all the more special. And don't forget the tunes. Set the mood with a proposal playlist of all your fave couple songs over a portable speaker, or just mine Spotify for some suggestions.
Low-Maintenace, Low-Key Engagement Rings
Proposal Idea No. 4 — I Would Walk 500 Miles
In all likelihood, your love story has seen its share of pit stops. The place you had your first date, your first kiss, your first fight (okay, so maybe leave that one out), but you get the idea. Strap those masks on and take your partner for a lil stroll down memory lane, stopping at each memorable destination. It's super personal (you'll get bonus points for remembering), and you can use the last stop to create "where you got engaged."
No. 5 — Love On The Rocks
Got a rock climber on your hands? A hiker? A surfer? Well, mother nature makes a pretty romantic backdrop for major moments, so take a hike and propose at the top (a sweet reward for all that sweat), or hit the beach and top a cute sand castle with a sparkly ring. Just be careful not to lose the ring in the sand or down the side of a mountain. Talk about a party foul.

Rings For the Nature Lover
No. 6 — There's No Business Like Snow Business
About to be surrounded by a winter wonderland? Bundle up, spike your hot cocoa, and make some snow angels. Plus, twinkling lights make a pretty backdrop for proposal pics. Just ask Pinterest. Please, whatever you do though, do NOT pack your ring in a snowball. Waiting for snow to melt is not something you want your beloved to be faced with in the big moment.

FD Tip: Hire a photographer to capture your special moment from afar, and don't forget to share your proposal shoot with the Frank Darling team! We would love to show off your moment and your new Frank Darling bling.
Instagram Favorites
What If You're An Indoorsy Couple?
With many businesses closed or hosting limited indoor activities, that super special proposal you had in mind may be difficult to pull off, but remember, those same businesses are looking for creative ways to adapt to these times.
No. 7 — Home Is Where The Heart Is
See if a local spa is offering at-home services (or learn some massage techniques) for a day of relaxation and self-care you don't even have to get off the couch for. Or find an independent nail artist who does house calls. Meanwhile, use the time to mentally and physically prepare to pop the question. Nothing like putting a ring on a fresh, photo-ready mani. Wink, wink.

No 8. — Chef de Corazon
If you're anything like us, after months of quarantine, you already know your local delivery spots well. But there's probably that one fancy fave, or major indulgence that you're both craving and haven't had in ages. Well, this is the time to see if they'll do a special multi-course take out meal, prep a cook-at-home dish for ya, or even come recreate the restaurant experience in your own space. No luck? See if you can recreate the recipe yourself! After all, food is the way to most of our hearts.
No. 9 — Hotel, Motel, AirBnB
Since flying right now can be pretty tricky, book a staycation! Getting out of the house and staying in a nice hotel down the block for a night can feel just as special as the big getaway you had originally planned. Plus, there's something truly magical about in-room champagne service and lounging about in a bed you don't have to make in the morning.
No. 10 — Do It For The Culture
Going to a museum or attraction right now may seem like a bad idea, but actually, depending on your location, most museums and public attractions are seriously limiting guests so there are far fewer people there at once. A proposal, while you're immersed in culture and beauty, may be the next best thing to the European vacation you originally had in mind. Plus, It may be the only time you'll have space to yourself!
FD Tip: Wherever you're looking to get down on one knee, let the host of the location know in advance! They may be able to block off an area just for you or provide you with a sweet and special touch you may not have thought of on your own.
Art Deco Inspired Engagement Rings
What's A Perfect Moment Without The Perfect Ring?
Now that you've got your proposal all planned out, it's probably time to start thinking about that ring…. Already have one? Good on you. A bit late to the game? That's what we're here for. Explore Frank Darling's collection of more than 20,000 certified, ethically sourced natural and lab grown diamonds. Or, let us curate a selection just for you. Need a little helping hand? Email hello@frankdarling.com and our gemological experts will get down to the business of helping you put a ring on it right away.