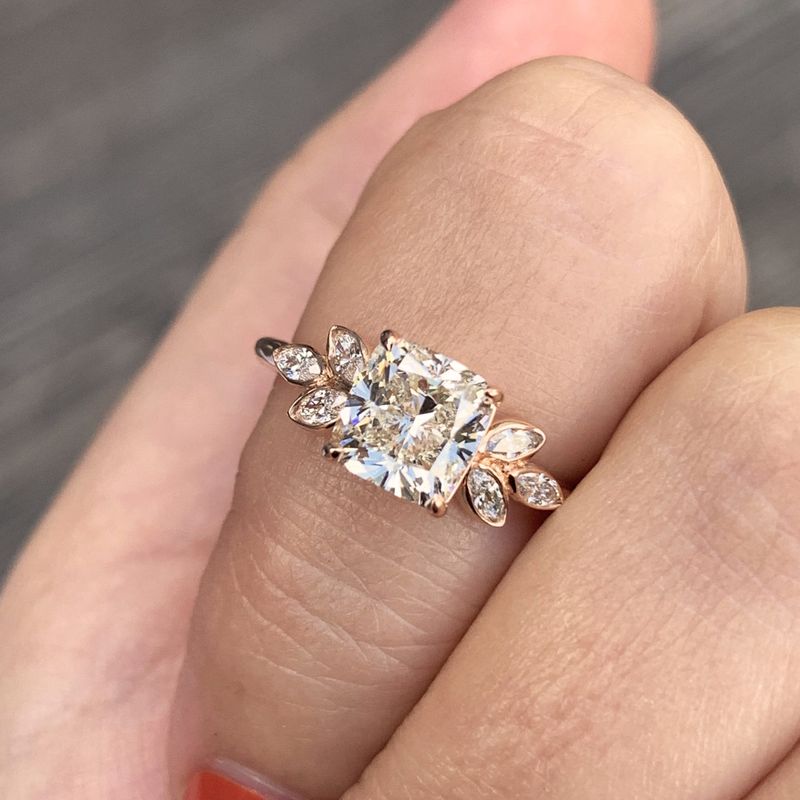 09.08.20
How to Design a Unique Engagement Ring
Design your own unique engagement ring and get a free sketch! Not sure where to start? Explore ring settings, diamonds, and metals to make it your own.
By Stephanie Dore
By nature, an engagement ring is all about your personal love story. But if you want to really do it your way when saying "so long" to singledom, a unique design can mean the difference between saying "yes" and actually never wanting to take your ring off. Whether you want to go all-out custom or just put your own little spin on a classic, designing a unique engagement ring can be easier than you think. Plus, you don't have to worry about anyone else having the same ring! Here's a quick run-down of things to consider when dreaming up your perfect engagement ring:
Center of attention
More than half of all diamonds sold in the US are round brilliant cuts, which means that one of the easiest ways to make sure your ring stands out from the crowd is to get fancy with it. And by that, we mean choosing any non-round diamond shape for your center stone. There are pros and cons to every shape, but ultimately it comes down to your personal taste.
If you really want to up the ante on stand-out style
Old Mine + Rose Cuts — fall under the spell of these old world charmers
Trillion — three-sided stunners for the price-conscious shopper
Baguette — clean lines that make for minimalist perfection
Show your true colors
While diamonds and engagement rings have been attached at the hip for, oh, seemingly forever…that's actually not the case. In fact, that famed "A diamond is forever" phrase didn't even make its appearance until the mid-20th century. Clearly, though, the idea that it's not really an engagement ring without a diamond is deeply ingrained. One of the easiest ways to break with tradition? Pump up the color.
Besides being drop dead gorgeous with their delicious selves, colorful gemstones can also save you a pretty penny, as they typically cost significantly less than their diamond counterparts. From the classic sapphire, ruby, and emerald to the currently-trending morganite or pearl, if you're considering a gemstone engagement ring, make sure to do a bit of research about proper care. Gemstones can be significantly softer than diamonds and some are not suitable for daily wear.
Shake up your side stones
Even if your heart is set on a round center diamond, incorporating unique side stones into your ring setting can give it a whole new look. Perhaps a three-stone or halo setting is the way forward? Or maybe some sapphires if you're looking for a little color?
Try some trillions on for size, or explore the clean (and carb-free) lines of a baguette! There's also epaulettes, trapezoids, half-moons, and pears… the list goes on!
Change directions
Want an elongated center stone like an emerald cut, oval, or marquise? Turn it sideways (also called an East-West setting) to make it stand out. Instead of pointing up and down the finger, setting the stone horizontally gives you an uber-modern look and can offer a lower profile style perfect for everyday wear.
Mix up your metals
Yellow gold is a classic, but white gold and platinum have been topping the charts since the 1990s. Rose gold has been having a moment for a minute now, which we're certainly not mad at. In fact, we love all the metals, or even mixed metals! Think a pinkish-yellow hybrid between yellow and rose, for instance. Or a yellow gold band with platinum prongs. Or a white gold band with a rose gold halo for an truly unique engagement ring. So. Many. Options. Just remember that metal color and diamond color need to play well together and can impact a diamond's visual appearance.
Strike up the band
Who says you have to stick with a center-stone-focused style at all? Not us, my dears. We're all about forgoing that look in favor of a band style instead. Go for a diamond eternity band, paired with another band (who doesn't love a good stack?) or worn alone. Or a two-stone ring. After all, it worked for Jackie Kennedy. Bands offer wearable, stackable style that can be a great alternative for busy hands.
Add some hidden details
Not all engagement rings need to be about showing off. In fact, sometimes the smallest details—even if they go unnoticed by most—add the most meaning. Consider a hidden diamond on the side of your setting, or inside the band, to add some secret sparkle. Or set some sentimental birthstones inside where they won't take as much wear and tear. We also love a good personalized engraving to add a special message inside your ring. Just make sure to spell check.
Your personal best
Whether you met on the apps, in the office, or anywhere else along the way, your love story is unique and your engagement ring should be too. It's one of the most personal pieces of jewelry you'll ever own—and likely the one you're going to wear most often—so making it your own is never a bad move.
Need a little help creating your dream ring? With so many choices, we totally understand—and we're here to help. Getting a custom engagement ring can often be the easiest way to get something that's totally you. And it doesn't have to break the bank.
Just answer a few quick questions and get a free custom sketch that suits you to a T!