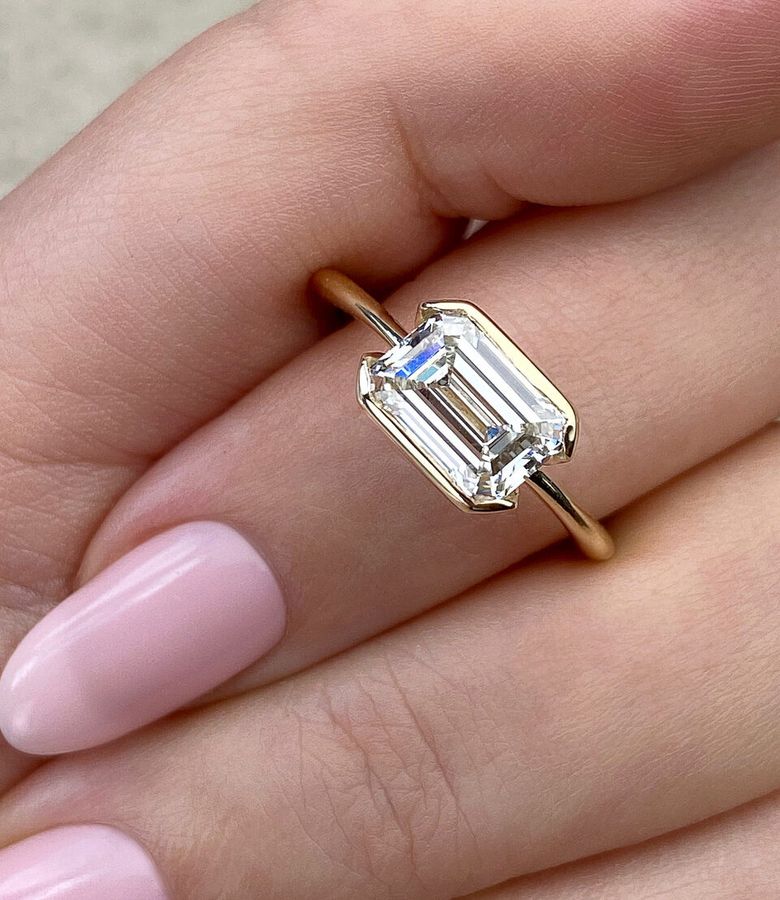 11.01.22
5 Reasons Not to Buy an Emerald Cut Diamond
By Stephanie Dore
Have your heart set on an emerald cut engagement ring? We don't blame you. Emerald cut diamonds are timeless, icy and always chic. But they also have their challenges. We're here to answer all your burning emerald cut diamond questions!
Is an emerald cut engagement ring a good choice?
Let's reflect on the emerald engagement ring for a minute. Its mirror-like facets and regal stature. Its celebrity following—I mean, J. Lo, Beyoncé, Amal Clooney, that's a bridal party we want to be a part of. Did we mention its understated elegance? All seems like a pretty good pro list right? So, then, what could possibly be the cons?
Well, these subdued stones are kind of like the Miranda Priestly of diamond shapes—particular to say the least. And not for the faint of heart. Emerald cut diamond engagement rings require a certain confidence of the wearer and a certain style of setting to really look their best. They're so finicky, in fact, that we're about to convince you not to buy one. Or at least, we're going to try.
EMERALD CUT DIAMONDS
Shop lab grown and natural emerald cut diamonds. Ready to ship or see in-person at our showroom locations.
Do emerald cut diamonds sparkle?
That glitter that all the girls are looking for? Well, emerald cut diamond engagement rings don't have it. Emeralds may have the same number of facets as a round brilliant cut, but those facets sure don't behave the same. Rather than sparkle, an emerald's elongated, step-cut facets do more of a flash dance. Fiery flash, yes, disco ball brilliance, you won't find it here. But, on the other hand, you can certainly get size and sophistication (go bigger!) without blinding the onlookers. Did we mention that emerald cuts run 15-25% less than a similar quality round diamond?
Is clarity more important for emerald cut diamonds?
Long story short: yep. The emerald cut's big, beautiful facets and wide open table (that's the flat top facet) are like a giant picture window into your diamond. Sounds kind of tempting, right? They're also a giant window into that diamond's inclusions. Which means you'll probably want to spend a bit more on the clarity grade of your stone to make sure that bad boy is eye clean. After all, you don't want to have a window that just looks dirty all the time, amirite?
We'd recommend avoiding the SI clarity range when shopping for an emerald cut diamond. But you don't have to go all out flawless. A VVS or even a VS1 can do the trick to ensure you don't get distracted by anything but beauty.
What color emerald cut diamond should you get?
Back to that whole brilliance thing … see because emerald cut diamonds are less sparkly, it's easier to see their body color. I.e. there's less sparkle to distract your eye. Now, if you're going for yellow or rose gold for the setting—or you happen to like the look of a warmer color—it's not going to matter as much. But if you're going for white metal, you'll probably want to stick with H or higher for that color grade.
What is the best setting for an emerald cut diamond?
Look, no offense to the emerald cut, but they really look best in a simple, sophisticated setting. Their slender, lengthy ratio isn't going to suit every ring style. But they do perfectly suit a 3-stone design. No fuss. No frills. Just lots of fire shining through. If you want to add some extra pow, and really hit them with that timeless art deco chic, try some step-cut sidestones or a few baguettes to really pump it up. Three stones settings like Harper No. 6 are some of our favorite emerald engagement rings.
Or, to be frank, we love the emerald on its own, with a modern twist. Literally. A horizontal-set emerald cut solitaire is a today's, well, regular set solitaire. It's trendy but totally timeless.
What an emerald cut diamond says about you?
Like we said, emerald cut engagement rings are a celebrity favorite. They're sophisticated, worldly, and glamorous. They elongate the finger, and because they're less costly than a round, you can go a little bigger. Just don't blame us if you start getting mistaken for a movie star.
But if you want luxe without losing your shirt, and your heart is still set on an emerald cut diamond, remember to invest in color and clarity. After all—size isn't everything.
How to Pick an Emerald Cut Engagement Ring if you Must
The worst thing about emeralds? It's basically impossible to shop the cert. What looks great online doesn't always look great on your hand, and just because a diamond's got all the right measurements in all the right places doesn't mean it's surefire sparkle. Emeralds are prone to windowing which is basically the equivalent of an oval's bow tie — except instead of a big black line across the diamond you can see through it like glass. The good news — it's pretty easy to weed out the obviously bad ones, just harder to pick the best.
Tips for Picking Your Perfect Emerald Cut Diamond
Start your search VS2+ clarity, look for diamonds with inclusions outside of the main table (that's the center of the stone), and where the inclusions are largely white or clear. Emeralds hold their color more than other shapes so you'll want to stay I+ for yellow gold and H+ for white gold or platinum unless you like more of that antique look.
Once you've honed in on the four c's, set your sights on your target length-width ratio. This is how chunky or elongated the emerald reads on your hand. A 1.35 ratio is going to look totally different than a 1.60 ratio.
Pro-tip — the more elongated the rate the higher the price per carat, so if you're looking to maximize value, you'll want to look for a chunkier stone.
Our Favorite Emerald Cut Engagement Rings
Emeralds make the best threesomes. Tapered baguettes? Yes, please. Trapezoids? Absolutely. More emeralds. I do. There's nothing we love more than an emerald cut diamond hanging with two besties. The side stones exaggerate the step cuts and create a mesmerizing cascade of light as you move your hand. The downside? You'll be splitting your budget across three stones not one, but the impact is more than worth it, and you can always downsize the center stone for a full finger look.
Think You're Ready for Some Window Shopping?
Check out our diamond search where you can view 360-degree images of more than 10,000 diamonds and compare diamond clarity grades, or book a virtual or offline appointment at our New York salon to view certified lab-grown and natural diamonds in person.
Not finding what you're looking for? Email us with what you're looking for at hello@frankdarling.com. We'll curate a list of 5-7 exclusive stones that are just right for you.