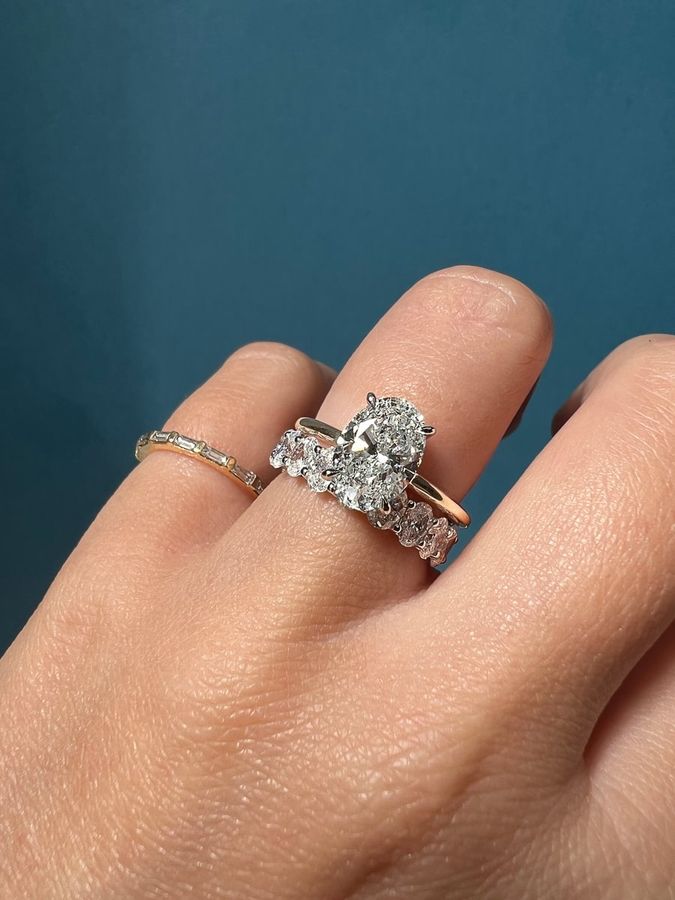 30.06.22
5 Reasons Not to Buy an Eternity Ring
The eternity ring is a Frank Darling favorite but is it right for you?
While there's no denying the appeal of an eternity ring's symbolism—endless diamond, endless love and all—this endlessly trending design has definite downsides. What could be bad about a never-ending row of brilliant diamonds? So much. Really. Now, that doesn't mean you shouldn't buy a diamond eternity ring, but if you're thinking about it, here are a few things you should consider first:
Money is a Thang
Yeah, diamonds are expensive. And to set them well (and securely!) takes talented craftspeople time and skill. That adds up to a bigger price tag for you and might mean a smaller look overall if you're working with a budget (aren't we all?). For instance, take a look at these two rings, which are each rocking a half carat of diamonds. The eternity band is a dainty, all-around look. The five-stone gives you bigger diamonds, but only on the top.
Still Wish You Were Wearing an Eternity Ring Right Now?
Yeah, us too. Look, we're 100% not trying to bum you out here. Eternity bands are beautiful, symbolic, and, frankly, just plain fun. We just want you to know what you're getting into. The best way to do that? Design it yourself! Want to get something that fits just right, is totally wearable, and won't cause you too many migraines down the line? Here are a few of our favorite ways to customize eternity rings that'll suit your style:
Change the Channel
Want a channel set but not a squared-off diamond? Ok. We can do that too! Channel set eternity bands can be customized to fit any shape and carat weight. Do a full eternity, a half, a single diamond. Go crazy.
Point Taken
Who says your ring has to be straight and narrow? No one. Pointed or curved rings that swoop out around your engagement ring's center stone offer a great way to protect all your diamonds from crashing into each other.
Eternity Rings to Go Around
One thing's for certain, there's no lack of options when it comes to eternity rings. Shop our collection of gold and platinum diamond rings, or take our style quiz to start customizing your dream eternity ring and get a free sketch! Want some more hand holding? We've got you, boo. Just email hello@frankdarling.com with a note about what you're looking for and our jewelry experts will take good care of you.