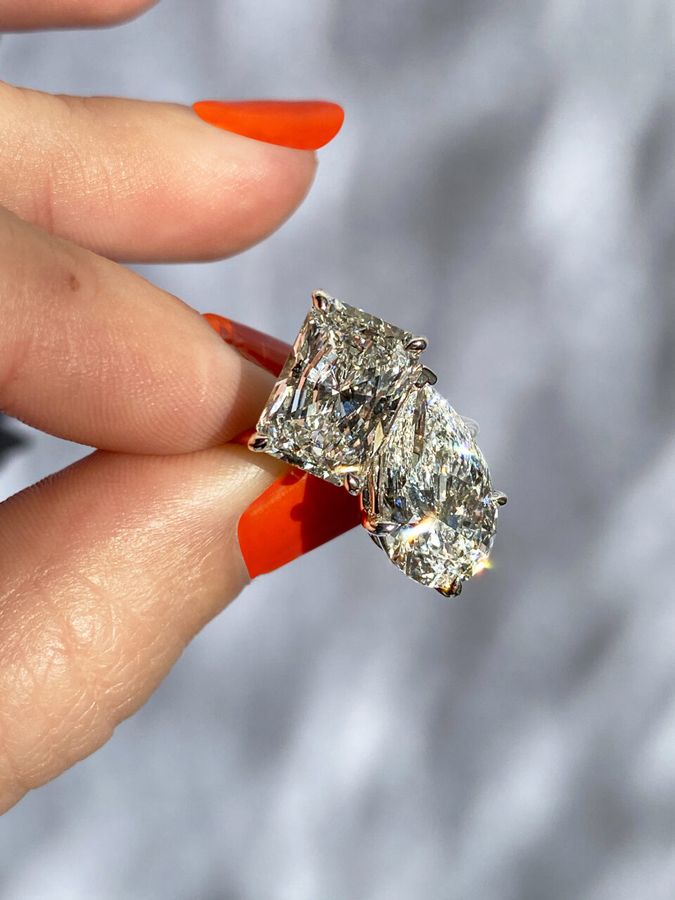 13.03.22
5 Reasons You Shouldn't Buy A Radiant Cut Diamond
A radiant cut engament ring will be oh-so-sparkly but is it right for you?
By Stephanie Dore
SchoolHouse Rock, Star Wars, Saturday Night Fever…and yes, the radiant cut diamond. The late 70s were full of awesomeness, and this unique diamond cut is no exception. Invented in 1977, the radiant diamond was the first rectangular diamond cut to feature brilliant facets, a whopping 70 of them, in fact (for reference, today's round brilliant only has 58). Like the kitchen sink of diamonds, radiant diamonds are a hybrid cut that crosses those brilliant facets with the step-cut outline of an Asscher or Emerald. Radiant cuts might seem like you're getting the best of both worlds—but there are some downsides. If you're into them, that's groovy, just promise you'll check out our cons list below before you commit to spending forever with one on your finger. Or, cut to the chase and shop radiant cut engagement rings from the collection!
Sneaky Suits
Just know that if you go long, you gotta watch out for the bow tie effect. Yep, radiants have that too! While not as common as ovals, pears, or marquises, elongated radiant cut diamonds can definitely rock a not-so-pleasing bow tie, or dark faceting pattern, horizontally through their middle. How to know? You have to see it. Make sure you get eyes on your radiant cut before you say you do.
Radiant Cut or Bust
Look, if all those reasons haven't convinced you to steer clear of the radiant cut, then by all means, check out our diamond search where you can view 360-degree images of more than 10,000 diamonds and don't forget to zoom out (because size can be deceiving), or book a virtual or offline appointment at our New York salon to view certified lab-grown and natural diamonds in person.
If you find one you like, make sure to scoop it up, because in all likelihood, you won't find one similar again. Not finding what you want? Email us with what you're looking for at hello@frankdarling.com. We'll curate a list of 5-7 exclusive stones that are just right for you.