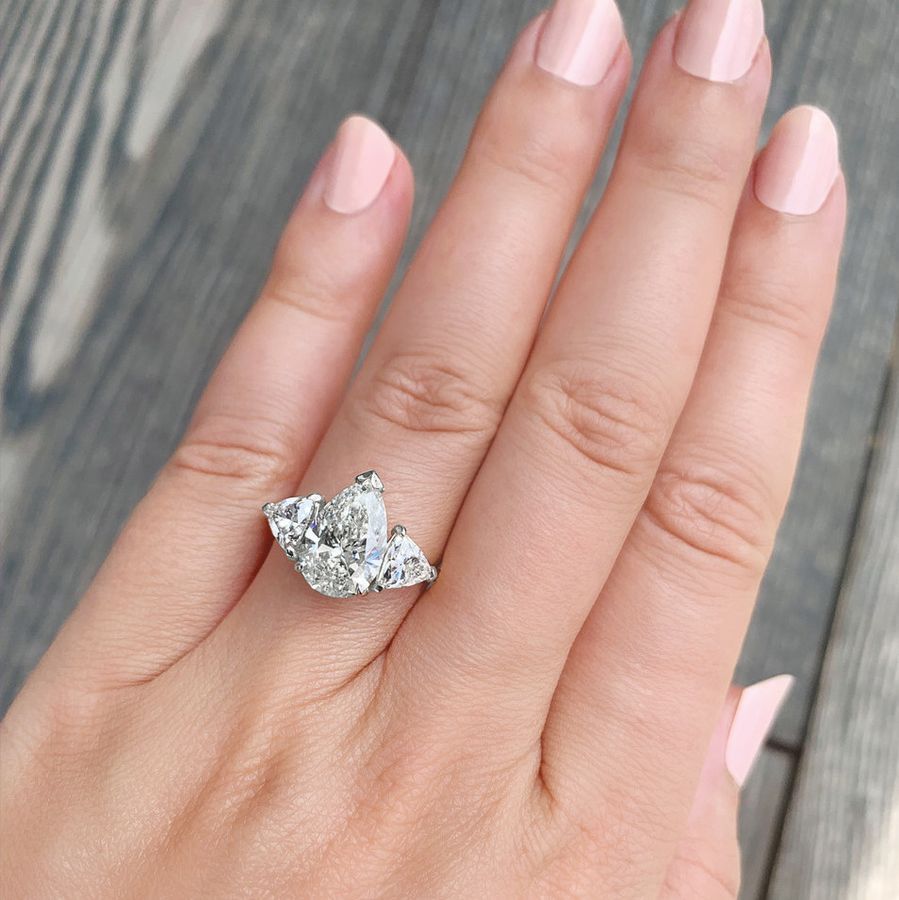 06.05.21
5 Ways to Incorporate a Trillion Cut Diamond
What's hitting the top of the engagement ring trend charts? The trillion cut diamond. What's that you say? You've never heard of it. Isn't that how all cult favorites get their reputation? For real, tho. The trillion cut diamond is the hottest thing out there right now and we're absolutely loving its versatility and edge as an alternative to the rings everyone else is rocking. Whether you take your trillion on a solo date or rock a few for good measure, here are our 5 favorite ways to incorporate a trillion cut diamond into your engagement ring or wedding band.
Better Than a Billion?
Maybe you're wondering what on Earth a trillion cut diamond even is. So let's start there. These triangular diamonds are named for their shape, combining the words "triangle" and "brilliant" and not actually related to the huge number…so don't get so worried about the price. Trillion cuts can have straight sides or softer, somewhat curved sides. But it's always three. And usually the corners are pointed…but you can occasionally find them cropped as well. That's the beauty (and pain) of fancy cut diamonds—the shape can vary wildly. Ultimate importance for a good-looking trill? Equally proportioned sides! You don't want them looking all wonky, trust me. Trillions are also cool because they're cut shallow and therefore look large for their carat weight. I.e., you get more for your money.
Side Swept
Trillion cut diamonds set as side stones is probably the most common way you'll see them used. Often acting as the supporting roles to a starring radiant, cushion, or princess cut, let's say. Like pear cut side stones, the points of a trillion make a nice transition from the wider center stone to the skinnier band. But they're definitely much more angular, so tend to be more visually appealing next to angular centers. The one thing to make sure of? That your two trillion side stones are perfectly matched.
Pattern Play
One of the coolest aspects of trillion cut diamonds is how well they create an eye-catching pattern. We love them twisting and turning their way across a solid diamond eternity band, for instance, where they create crazy brilliance with a little bit of edge. Or use them mixed and matched with other shapes to create designs reminiscent of lush florals, foliage, or even crushed ice. You can soften their look by mixing them with pear and round accents or play up their linear side with baguettes!
Directionally Challenged
Like a pear cut, you can wear a trillion cut diamond pointed up or down your finger. Or, be adventurous and turn it sideways, pointing parallel to the band. Its three even sides lend themselves to facing pretty much any direction you like. They're also very cool in a two-stone engagement ring (whether you're into the symbolism or just the style). The push-pull of two dramatic, angular trillions will really stand out from the crowd.
Set it Off
Want to go wild? The trend-on-trend is to offset a trillion so it has one flat side against the band, with the triangle pointing outward instead of with the basket centered on the top of the band. This offset style is super fun for stacking because it leaves you one completely flat side of your ring that will sit flush. But also a fun way to work a pointed or curved band in around the triangle, like a little halo of sparkle.
Your Way
Ultimately, your dream ring should be your call, just make sure your trillion cut diamond is set with its points protected, in prongs or a bezel, as those points are super breakable and that would be the worst. Want to get started designing? Try our style quiz and get a free sketch! And while trillion cut diamonds are affordable, well cut, super sparkly ones can be hard to find. Send us a note at hello@frankdarling.com and our diamond concierge will work with you to fulfill all your trillion dreams.