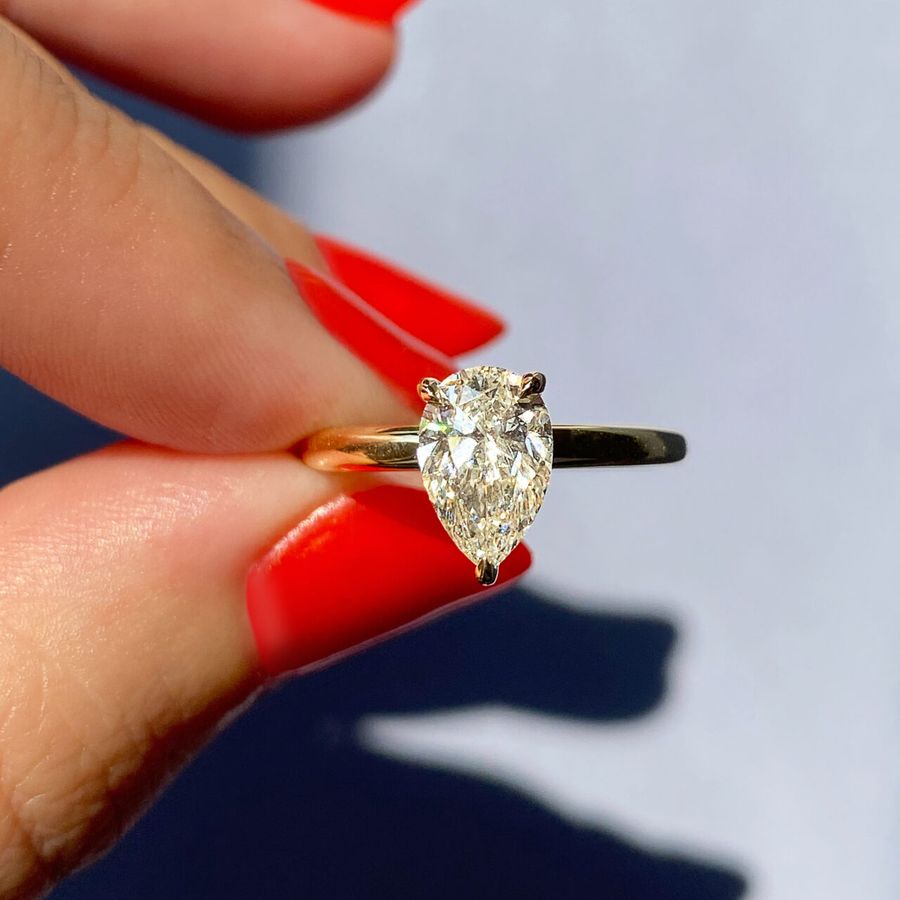 24.01.22
5 Reasons Not to Buy a Pear Shaped Diamond
On the hunt for pear shaped engagement rings? Get everything you need to know about shopping this unique diamond shape.
By Stephanie Dore
How do you find a good pear shaped diamond?
It's no secret we have a thing for diamonds around here. But the pear shaped diamond? It's always been a bit of a bummer. For one thing, finding a well-cut pear-shaped diamond is like chancing upon a needle in a haystack. They're short and stubby, too stretched out with flat sides, their supposed-to-be-smooth curves are lumpy and bumpy, or they're rocking the world's cheesiest bow tie.
Finding a well-cut pear-shaped diamond is like chancing upon a needle in a haystack.
Frankly, we'd recommend looking at more classic shapes, or at least more consistent ones, especially if you're shopping online.
After all, is this asymmetrical stone style one you'll still be smitten with after 20, 30, 40 years?
If you're still mulling over a pear engagement ring, we beg you to consider the following:
Are pear diamonds rare?
If you find a pear you like you should probably snatch it, because you'll never find one quite like it again. Next to the cushion cut, pear shaped diamonds are consistently inconsistent. They're short and stubby, too stretched out with flat sides, their supposed-to-be-smooth curves are lumpy and bumpy, or they're rocking the world's cheesiest bow tie.
So if you're in it for true pear love, by all means, hunt down your perfect match. Just be sure to get a good video or see it in real life before committing to your forever pear.
A bezel set pear engagement ring will further highlight any inconsistencies — so be sure to take into account your setting type when evaluating your forever diamonds symmetry, or lack thereof.
Pro tip: Opt for a pear in the 1.55 – 1.60 range for a perfectly plump lump of sparkle. More elongated pears tend to look too skinny, and chunkier pears end up look like poorly cut trillions with fat bottoms and straight sides.
Do pear diamonds show color?
Like other fancy shapes, pears are known for showing their color, especially at their point. If you really want your stone to shine bright white, you'll want to stay above an H color grade, which means you're going to spend a little more.
If you're shopping yellow gold, or you like a warmer look to your stone, you can go lower and still find something stunning. In contrast, pear engagement rings are pretty good at hiding their imperfections, so you can still be pretty safe with a lower clarity grade to balance this out.
Thinking about bezel setting your pear shaped diamond? Not only will the bezel accentuate the stone shape, but it will also pull the color out. This means your H color pear cut diamond will face up more like a J color in a yellow gold bezel. But don't stress — there's always two tone.
Do pear diamonds sparkle?
What is a pear shaped diamond exactly? A cross between a round brilliant and a marquise cut. Is it a fruit? Is it a teardrop? All of the above? Does anyone have an answer here?
All we know is that this asymmetrical shape can cause some sad fruit confusion, and someone out there will always assume your engagement ring is upside down. But on the plus side, the pear cut diamond's asymmetry means designers are having plenty of fun with modern pear engagement rings. If you're up for standing out, a pear shaped diamond ring may just be your secret style weapon.
Speaking of upside down —which direction do you wear a pear-shaped diamond? Point up or point down? While tradition has the point going up and away from the palm, we've seen plenty of pears flipped point down for a modern look, east-west, or even set just off-center to further accentuate their asymmetrical vibe. (You do you.)
Which way do you wear a pear shaped engagement ring?
Think about that old school pencil. The sharper the point, the more likely it's going to break on you. Pear cut diamonds can be just as frustrating. Diamonds are the most fragile at their points, and the pear cut diamond definitely has one of those. So if you must go for it, please do yourself a favor and ensure that the point is covered (and protected) by a prong, preferably a V-shaped one that cradles both edges. Thank us later.
And while we always, always, recommend insuring your ring, this is especially true with a pear shaped engagement ring which is more prone to chipping and cracking than its curvy counterparts. Not sure where to get started? Check out our guide to ring isurance do's and don't. It's easy, and it's way less expensive in the long run.
Are pear shaped diamonds more expensive?
Nope. Pear cut diamonds are cheap. Ok not cheap, but cheap-er in the world of diamond pricing and exorbitantly priced little white rocks. At the time of writing, pear shaped diamonds are about 35% less costly than round brilliants.
On top of being one of the more affordable diamond shapes available, pear cut diamonds will look about 15-25% larger than a round brilliant diamond of the same carat weight. And while we're certainly not complaining, this surprise sizing can also be pretty confusing.
You'll want to double check measurements and carat weights together to make sure you know what you're getting into, as fancy shapes vary much more widely than their round counterparts.
But that doesn't have to be a bad thing. After all, who doesn't like a good deal?
Are pear shaped engagement rings trendy?
Pear shaped engagement rings may be having a moment, blessing the famous fingers of Cardi B, Paris Hilton, and (albeit only for a split second) and Ariana Grande. But when first invented in 1475 by a Flemish cutter named Lodewyk van Bercken, the pear shaped diamond wasn't all that.
More of an experiment in symmetry by a diamond geek than one in true trendsetting, pear cut diamonds have always been a bit unconventional, especially when it comes to engagement rings. And just because a few it girls are following the trend doesn't mean you should opt it. Be sure it's a shape you'll be happy with forever.
How do you shop for a pear shaped engagement ring?
While there's a lot to dislike about the pear, there's also lots to love. Pear diamonds mask their inclusions more than any other shape. This means that 99% of the time you can drop that clarity down to VS2 – SI1 without worrying about seeing inclusions without magnification and push up on carat or size.
You'll want to be mindful of color to avoid any dark spots in the tips of the stones — unless you're going for that sweet champagne look which is exceptionally delicious.
Start with your target carat weight and ratio, set a budget, then use that budget to back into a color and clarity grade until you hone in your dream diamond.
Finding your pear-fect pear shaped engagement ring
If your heart's still set on a pear shaped diamond, head over to our diamond selector, where you can browse over 10,000 lab grown and ethically mined diamonds in full 360° video.
Or try designing a custom pear shaped engagement ring with a free sketch!
Don't see what you're looking for? Email us at hello@frankdarling.com. We'll curate a list of 5-7 exclusive stones that are just right for you.