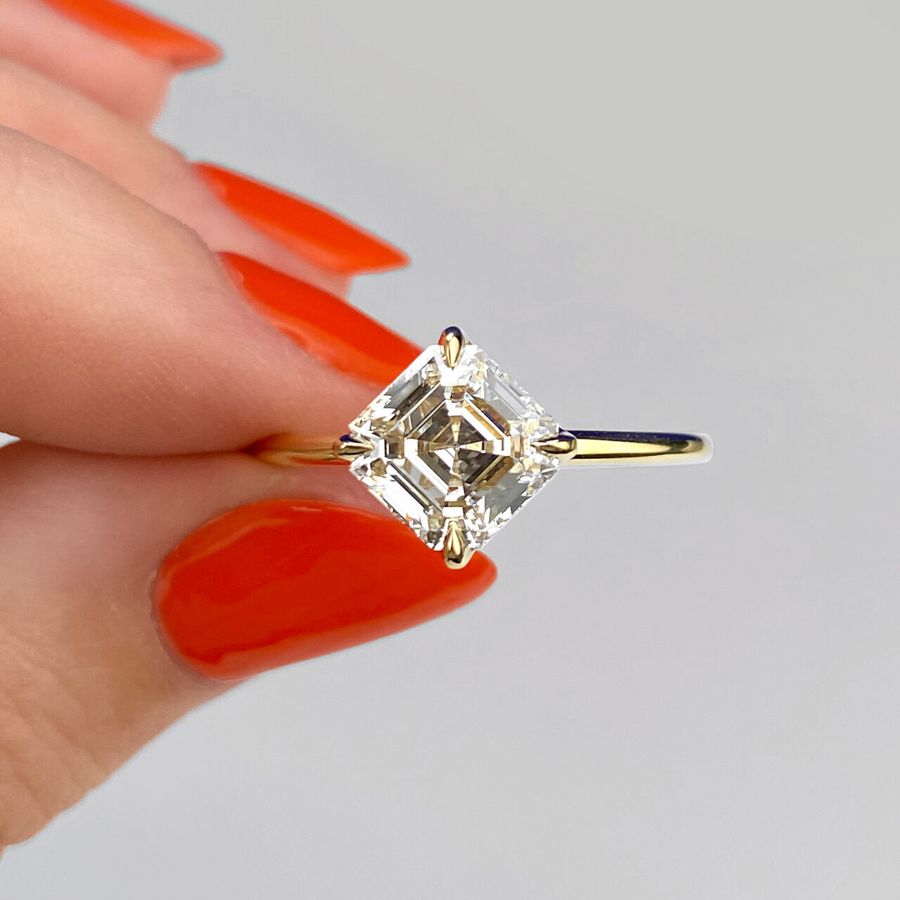 26.08.20
8 Simple Engagement Rings That Aren't Boring
Less can be more when it comes to minimalist engagement rings for every style.
By Stephanie Dore
By now, you've probably figured out that bigger isn't always better, especially when it comes to engagement rings. Economic reasons aside, putting a big, dull rock on your hand isn't going to win you as many compliments as a super-sparkly, unique style that screams "you" from a mile away. And we all love compliments, don't we? With that in mind, we know you're probably wondering just how much style a simple engagement ring can really have. Well, here are 8 simple engagement rings with thin bands that take subtle up a notch, turning minimalist into, well, the max.
Simple Doesn't Mean Snooze-fest
Why go for over-the-top trendy when the clean lines of a bezel (hello, oldest setting style in the game) will always be in style? Perfect for someone who's perpetually on the go, the low-key bezel setting is also a great lower-profile minimalist engagement ring with a true minimalist aesthetic.
We love this classic style so much we'd bank our entire rep on it. Not only are bezels the perfect minimalist look, but they are also perfect for those of us that are always using our hands (or are just naturally accident-prone). You'll lose a little bit of the profile shine, but you'll always have the comfort of knowing your diamond, or any other gem, is secure. Did we mention anything and everything looks great in a bezel? Because it does. In conclusion, bezels are the simple engagement ring blueprint.
Two for One
A simple way to stand out? A two-tone engagement ring. There are so many pros to the two-tone. Where do we even start? Platinum prongs or a platinum bezel will keep your diamond icy, while a warm yellow or rose gold band will complement any skin tone. Two-tone rings are perfect for those who love a solitaire, but with a little twist. The hybrid is sure to turn heads without looking gaudy. Oh did we mention this is the perfect way to mix your metals if you're only planning on wearing one ring? If you're looking for simple engagement rings with a little twist, this one is for you.
Bag It Up
Ok, so speaking of trends … the baguette eternity band is one we fully support. The rectangular, step-cut baguette diamond offers serious sparkle with a side of sophisticated understatement. But what about the baguette engagement ring? While you'll most often find this shape as an accent stone, they've taken off as the latest standalone statement for style trendsetters and we're not mad about it. Line 'em up in a solid row across the finger—or all the way around it in an eternity style band—and we're officially drooling. A bold choice as an alternative engagement ring, the perfect wedding band, or both!
The LBD of Diamond Rings
That's right. We're calling on the round brilliant cut solitaire, because who doesn't love a fuss-free, can't go wrong, literally goes with everything diamond engagement ring? Whether you're just a sucker for a classic or you're in the "I can't decide what they'll like and don't want to f*ck it up" boat, this understated choice is the epitome of simple stunners. Paired with a thin band wedding ring, a classic round solitaire is a timeless, simple engagement ring that's sure to stand the test of time.
Clutch and Call it a Day
Let us introduce you to the most modern way to keep it simple: the half-bezel. No matter how you orient your half-bezel setting one thing is certain. This is not your average solitaire. The clutch or half-bezel setting is perfect for minimalists that want maximum sparkle from their diamond. Not to mention, it looks good with most diamond shapes, so no need to sacrifice your cut of choice to achieve the perfect half bezel look. Function and form? Check.
Twinkle, Twinkle, Little Star
Is a 1-carat diamond ring too small? Not in our book. Small diamonds can still deliver big style while drastically decreasing the cost of your engagement ring, as carat weight is one of the biggest factors when it comes to diamond pricing. If you're trying not to cash in your 401K on a ring purchase, look for a smaller diamond with a high cut grade and you'll still have sparkle for days. Pair it with a thin band and you'll have an elegant, minimal look that's universally flattering.
Get Your Swerve On
Switching up the direction of your diamond setting can be a super easy way to restyle your simple engagement ring without completely breaking the mold. Scout's honor? It's not that complicated. Meet the east-west setting.
For a unique take on a classic style, simply turn your elongated diamond (think ovals and emeralds and such) on its side (facing across your finger instead of up and down). Ta-da! A whole new ring that's still simple and stunning.
Another way to swerve? The compass point setting. Turning those four corners slightly creates a totally unique way to up your solitaire game without adding accessory diamonds. Talk about a simple engagement ring that will definitely turn heads.
Stack 'Em Up
Is a center stone too clunky for you? Opt for a stack of thin wedding bands instead! Alternate pavé with solid bands of different widths for a simple look that's perfect for mixing and matching. No one said you have to have a honkin' diamond to be engaged! Band stacks are perfect for people who need the lowest maintenance possible and use their hands constantly. Plus, the options for wear are endless so you'll never get bored!
Go Minimal or Go Home, Right?
Well, now you can do both! Whether you're just trying to keep costs down or you're a modern minimalist at heart, there's no shortage of gorgeous, simple engagement rings and simple wedding bands to choose from. So choose the one that brings you joy, and do it from the comfort of your couch with our Try at Home Kit. For free!
Need a little more guidance? Email us with what you're looking for at hello@frankdarling.com. Our ring experts will help you decipher a style that suits you—and your wallet!