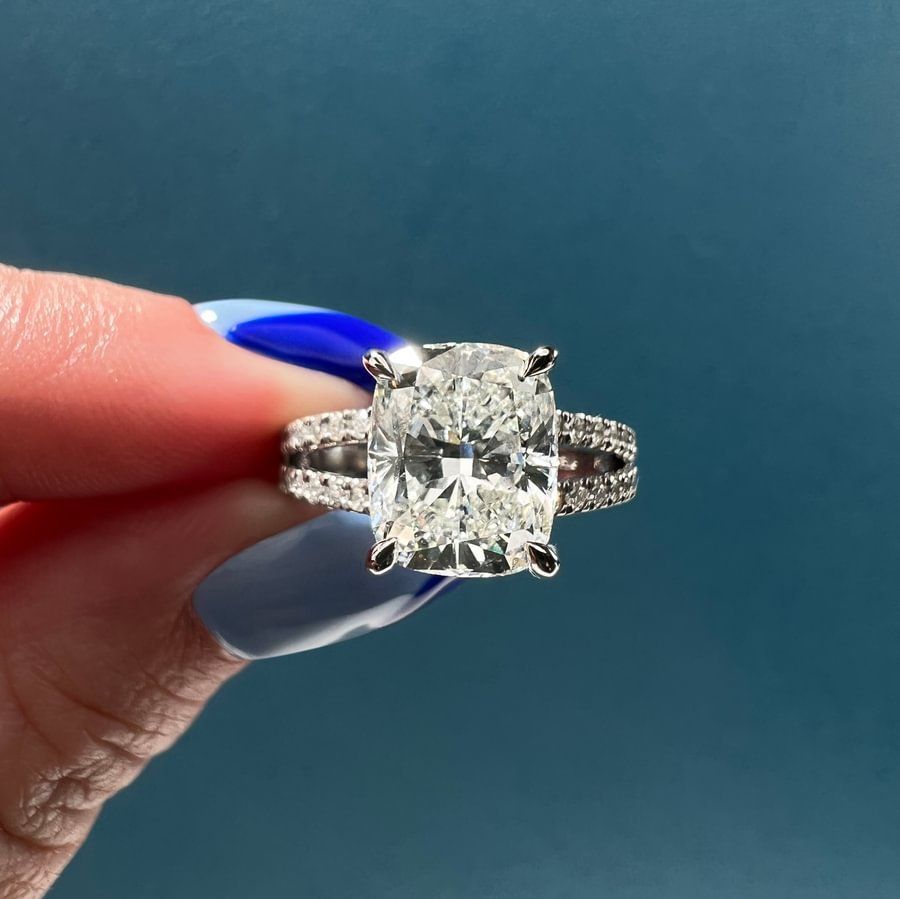 21.07.22
Anniversary Gifts: Your Jewelry Year Buying Guide
Now, you may have heard of the old school anniversary gifts like paper, linen, or pottery, which are all chill. But giving jewelry as an anniversary gift also has its own traditions, with different stones or metals for every year of your relationship. Because, of course. Now, we're of the mind that nothing will ever compare to the sentimentality of your engagement ring or wedding bands, but a little extra sparkle never hurt anyone, amirite? Here's our go-to guide to giving jewelry for your anniversary, year by year.
1st Anniversary: Gold
While you may have already conquered gold with your engagement and wedding rings, there's a few different ways you can add to the collection on your first wedding anniversary. If you like the idea of building a ring stack, we love adding a gold and diamond band to your finger to keep your wedding set company. Or go for a solo look with a bigger right-hand ring. This could be a plain gold band (we love a wide cigar band look) or a diamond eternity band, like our super sweet XO band, for instance. You could even engrave your ring with a special message for your love.
2nd Anniversary: Garnet
You know what's awesome about garnets? Get this: They come in almost every color of the rainbow. Ok, maybe not every color. But a lot. Like red, pink, green, orange, yellow, and brown. While some of these are more rare and expensive than others, some are also readily available and at a pretty sweet (i.e., affordable) price tag. Why not build a custom cluster ring out of garnets to give to your sweetheart for a second anniversary gift? You can use the wide range of colors available to create a gorgeous ombre effect, or choose contrasting hues for a bolder statement.
3rd Anniversary: Pearl
Ok, folks, get your grandma out of your thoughts. Pearls today are anything but stuffy, so we're super stoked they're the third anniversary jewelry gift. While you could certainly go uber classic with pearl stud earrings or a long, simple strand, why not edge it up a bit with something more modern. Add a pearl drop to a gold hoop earring, for instance. Or try a pearl and diamond two-stone ring like, ahem, Ariana Grande did. I mean, talk about inspo, right?
4th Anniversary: Topaz
Like garnets, topazes come in tons of different colors, which makes them super versatile. Blue topaz is the most traditional when it comes to jewelry, but even within the blue hue there are so many options. A light baby blue, a bright Swiss blue, or a deep, oceanic London blue topaz for instance. There's also white, yellow, pink…take your pick. While topaz is a bit soft for everyday wear in a ring, it's ideal for a pair of earrings or pendant that can be designed in countless ways to match your personal style.
5th Anniversary: Sapphire
By year five of matrimonial bliss, things are definitely getting more serious. And your jewelry collection needs a real statement to show for it. Enter: The sapphire. Because sapphires have excellent hardness, they're great in any type of jewelry and can be worn every day, and they come in tons of different colors. We love an ombre sapphire band, for instance, in sunny golden hues or a range of stunning pinks or blues. Or perhaps a sapphire pendant that your partner can wear every day.
10th Anniversary: Diamonds
Yep, took a whole ten years to get to them but they're finally here: Diamonds. And your ten year wedding anniversary is a time to really go big. We're talking statement diamond stud earrings — which we love in interesting shapes like emerald cuts, rose cuts, or ovals, perhaps — a major diamond eternity band that signifies your lasting love story, or a custom diamond necklace.
15th Anniversary: Ruby
The classic fifteenth wedding anniversary gift is the ruby, which, like sapphire, is suitable for everyday wear. Rubies come in fewer hues than sapphire (just red, actually) so you're limited in terms of color but their color is jaw dropping so no complaints there. Gorgeous ruby and diamond stud earrings oughta do the trick this year. Or even add a ruby and diamond alternating band to your ring stack for a little color!
20th Anniversary: Emerald
Tbh, we can't wait for y'all's twentieth anniversaries because we live for emeralds. There's really nothing like this lush green gemstone to win over even the coldest of jewelry hearts. Emeralds are stunning in any setting and work especially well with yellow gold if that's your flavor. We love an emerald pendant mixed into some layered gold chains, perhaps? Or emerald and diamond drop earrings would also be stunning.
25th Anniversary: Silver
We know, after all of those other fancy gemstones silver doesn't really sound like much, but who are we to mess with a classic? Our take? Use silver as a jumping off point and just go with the general white metal color — perhaps something in platinum instead to really capture the lasting power of your love and devotion. A platinum and diamond eternity ring should do the trick.
50th Anniversary: Gold
And by year fifty, we're right back where we started with gold, so you do you. You made it this far, didn't you?
Better than Elves
Want some help customizing your jewelry anniversary gifts? Our design team is fully at your service, no commission, no fees, no pressure, all fun! That's right, you can even use our direct line. Just email us at hello@frankdarling.com with a bit of style inspo and your budget and our team of gemological experts and jewelry designers will get you sorted in no time.