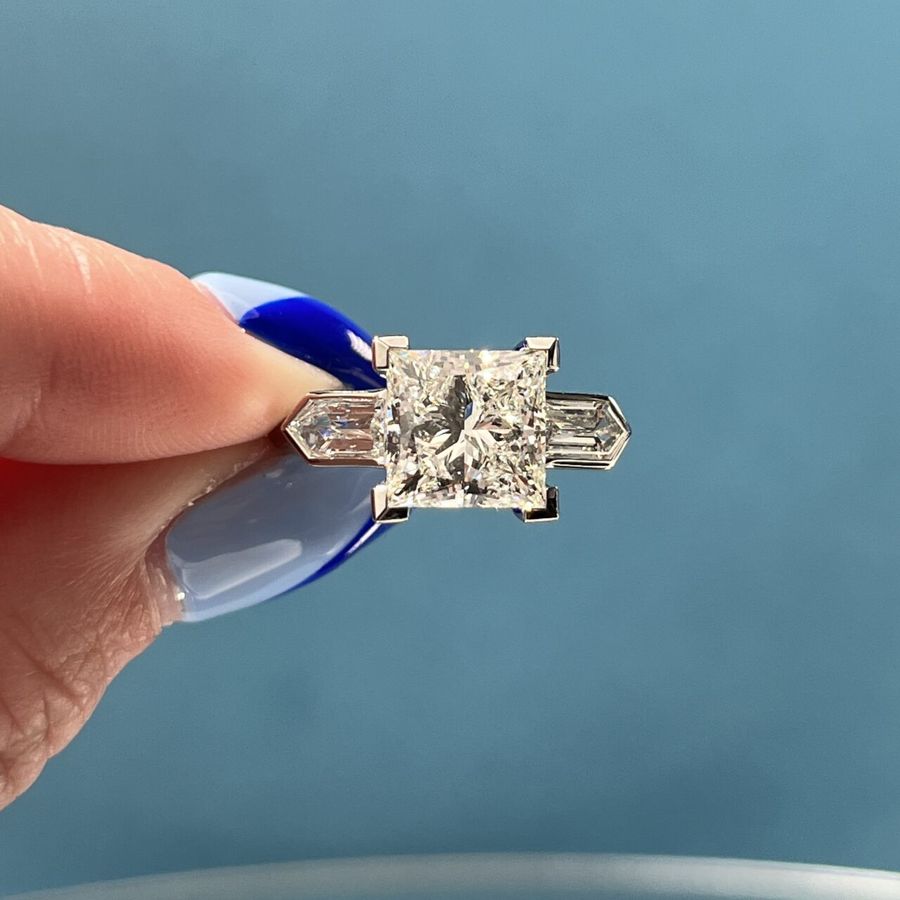 04.06.22
Is the Traditional Jewelry Store Out of Style?
We tap, we click, we swipe, we do literally everything online these days. Yet, this far into our digital lives and still only about 10% of diamond engagement rings are purchased online. That's right, folks, many people still prefer to purchase jewelry in a physical store instead of over the Internet. Why, though, when we can buy furniture, clothing, groceries, even cars, completely online? Well, for the simplest reason, really. People just don't understand diamonds! And to be frank, the traditional jewelry industry is counting on it staying that way. So, what's the right answer — is it better to buy a diamond online or in a jewelry store? Let's discuss!
The More You Know
First thing's first — as with most major investments, every diamond or jewelry purchase should start with a little research. There's tons of great education online that can help you know what to look for and give you a basic rundown of diamond education before you step foot into a store or click "search" in your browser window. The second thing to do before you ever start shopping is set your budget. There are no rules here, except for what you are personally comfortable spending. But you should at least have a ballpark in mind before you shop so you don't get your heart set on something that's super out of reach.
Jewelry Store Budget Blues
Speaking of budgets…we're often asked if jewelry stores are more expensive than buying a diamond online. And the short answer is: usually. Why is that? Well, usually jewelry stores have more overhead — physical rent, equipment, staffing, insurance — but they also have to hold all that inventory on hand. Not only does it take up space but they have to actually buy it before you do. Which can mean outrageous markups.
Most online stores, however, don't actually keep their inventory on hand. Instead, they provide a digital listing and don't receive the diamonds until you purchase it. And they can pass that savings onto you. Less inventory, less insurance, less space. You get the idea.
Choices, Choices
Because online diamond and jewelry retailers use a digital feed to show you available diamonds from the suppliers, instead of having to purchase limited inventory, means you get nearly unlimited selection. So shopping online means you'll have many more diamond and jewelry choices, and can more easily create your perfect combination of ring and diamond — remember, things usually aren't created until you order them, so they're literally exactly what you want. Jewelry stores on the other hand will often only offer you what they have in stock, and these items are usually pre-made in specific sizes and shapes and styles. It's like buying off the rack instead of couture, if that's relatable.
See It To Believe It
Now, here's where brick and mortar jewelry stores have been able to hold their industry ground. Yes, one of the benefits of going to a store to shop for diamonds and fine jewelry is being able to hold it in your hand, see it with your eyes, and even try it on. If you're the type who just has to touch and see before you spend, then a jewelry store might be the way to go. It's also a great choice to go and browse before buying online if that will help you get a better idea of what you're looking for.
Online shops like Frank Darling, however, now offer diamonds with actual 360-degree zoomed in videos and real photos, so you can get a much clearer picture of what you're looking at. We also offer a free try-at-home kit which lets you compare stones shapes, stone sizes and setting features at home, from the comfort of your couch. You simply select three sterling silver replica rings to try for free, then after five days, return the kit with the prepaid label. Easy peasy.
Make It Your Own
One of the major upsides of shopping online is your ability to customize your dream ring, choosing the exact diamond or gemstone you'd like, along with the setting, metal type, and any little details that make it your own. Like we said up top, most jewelry stores don't do this. It's kind of a what you see is what you get situation.
At Frank Darling, most of our rings and all of our jewelry are completely custom created just for you. How do we do that? Well, we have a cadre of expert craftspeople, trusted gemologists, and talented designers at our disposal. You can start by taking our design quiz, which asks you a few simple questions about your preferences, and puts together a free sketch based on your specs. And you can do it as many times as you'd like!
While customization means waiting a bit longer for your final product, you can be sure you're not settling for something that's not everything. Sure, a jewelry store might let you walk out with a piece that very same day. But if you're looking for something that's super, well, you, then a little time usually doesn't stand in the way. We usually suggest allowing at least 4–6 weeks turnaround at minimum. Our team can walk you through the customization steps whenever you're ready!
Looking for an LTR?
Jewelry stores might try to sell you on their ability to create a lasting personal relationship with customers, but don't let that fool you. That's usually a sign that they're just trying to hook you on more sales or costly maintenance plans. Today, any reputable online jeweler will offer a care plan — often free — for ongoing jewelry polishing and checking to make sure your stones are secure. Our team works closely with you (no pressure, no commission sales) to make sure all of your questions are answered, all of your purchases secured, and all of your long term care totally taken care of.
No Take Backs
If for some reason, you're not happy with your purchase, we offer free 30 day returns for all collection styles for an exchange or for a full refund, as any reputable online jeweler should. Traditional jewelry stores, however, don't usually allow any sort of return. No matter where you purchase, make sure to check the return policy carefully before making your payment.
Another way to secure your purchase and make sure you know exactly what you're getting is to only purchase diamonds with a certificate from a reputable grading lab, and make sure you get a stone with a laser inscription of its certificate number on the girdle, this way you (with magnification) can check your diamond anytime you like to make sure it's the one you bought!
Tap, Click, Swipe
Ready to see some diamonds for yourself? Check out our diamond search where you can view 360-degree images of more than 10,000 diamonds and don't forget to zoom out (because size can be deceiving), or book a virtual or offline appointment at our New York or San Francisco studio to view certified lab-grown and natural diamonds in person. Not finding what you want? Email us with what you're looking for at hello@frankdarling.com. We'll curate a list of 5-7 exclusive stones that are just right for you.