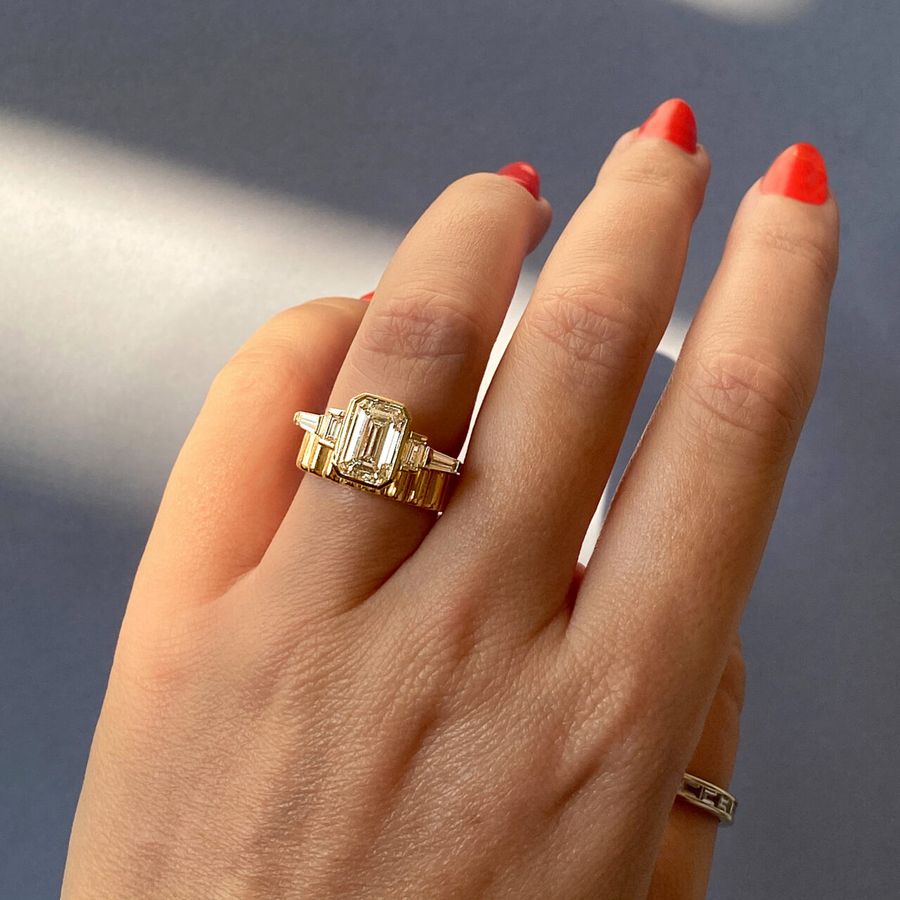 08.03.22
Delightfully Deco Five Stone Diamond Rings
By Stephanie Dore
Remember that one time Angeline Jolie got engaged with a jaw dropping 16-carat platinum and diamond, modern Art Deco-inspired ring? No? Just me? Well, darlings, it did happen and despite the failings of Brangelina that stunner is still top of mind when it comes to real life ring inspo around here. In fact, when it comes to five-stone diamond engagement rings, it's one of our ultimate references. Even if it definitely had more than 5 stones in it. See, a five-stone diamond ring is kind of the perfect solution to wanting a finger full of diamonds without going full on eternity band style. But if you're looking for a five-stone ring style, or to adapt the Art Deco influence into your daily life, inspiration doesn't have to stop there. Here's some ideas on how to make the five stone diamond rings your own:
What Does a Five Stone Diamond Ring Mean?
Five stone rings are kind of having a moment and we're not talking about those boring old anniversary bands your grandma was rocking. We're talking major statement pieces that can really pump up the volume on engagement ring style, taking a three-stone up a notch. And like we said up top, it's a truly perfect solution if you want the look of diamonds that don't stop but without the limitations or discomfort that can come with an eternity band (like not being able to resize it).
Choosing the Five Stones
We don't mean side stones, but don't worry, we'll get to that. When it comes to five-stone diamond rings there are two camps to pick from. Either a straight style or a tapered style. Straight meaning that all 5 stones are the same size, so you get a sort of straight-across the finger, all one width look to your ring. Tapered, or graduated diamonds usually start with the biggest diamond in the center and taper out to smaller diamonds at the sides where the diamonds meet the band of your ring (also called the shank if you want to learn some lingo). Which camp you sit in is one of the first choices you should make when designing your five-stone ring.
Straight Baguettes and Narrow Accents
The straight-style five stone ring might originate from the classic five-stone wedding ring or anniversary ring style, but darling don't for one second think we're going to stop there. Instead of 5 simple round diamonds set in silly little prongs, we like to rethink what this look can offer. For instance, changing up the stone size from subtle to statement, with 5 major rocks. Or choosing a unique diamond shape like the elegant emerald cut (a favorite of Art Deco designs). Or a different setting, like the half-bezel! Or all of the above, like in this ring that our founder is rocking for her very own! It even has a slim split shank that lends it an extra touch of sophistication.
Art Deco 5 Stone Ring Inspiration
If you want to go classic Art Deco for your five-stone ring inspiration, the emerald cut or Asscher cut diamond will be your BFF. Especially if you fall into the tapered five-stone style camp. This is usually more of a true "engagement ring" look with a larger center diamond and four smaller, graduated-size or shape side stones. One of our favorite ways to rock this look is with our Deco Asscher Five Stone ring which features a platinum basket, graduated bezel set baguette side stones, and delicate double claw prongs with our signature floral detailing. The vertically-set straight baguettes perfectly echo the step-cut facets of the Asscher giving you that hall of mirrors effect like whoa.
Your Best 5 Diamond Ring Angles
If you want to get a bit more playful with your ring, you can mix and match straight and tapered baguettes or play with their directionality, some vertical, some horizontal. Or try using trapezoid side stones and tapered baguettes to emphasize that gradation in size but keep the step-cut look going strong. Keeping the geometry of Art Deco in mind, we also love to mix bezel and bar settings for a super clean look (and a lot less snagging of your favorite sweaters).
Full Metal Jacket
If you really want low-maintenance clean lines you can also set all five stones in sleek bezels like this gorgeous ring with the most stunning tiered step cuts. It's super regal and mixes a center emerald cut stone with tapered trapezoid and bullet cut side stones, which perfectly graduate in size from big bling to delicate band.
Five Stone Diamond Rings: Shape Shifters
While emerald and Asscher cut stones naturally lend themselves to an Art Deco look, you can create a custom five-stone engagement ring with any shape diamond you like. Oval and cushion cut diamonds, for instance, will give you a softer, curvier look. But you can make these more Deco-y with sleek bezel settings or baguette side stones. A larger oval center stone could look spectacular with half-moon shaped side stones for that celestial inspiration as well. Or try a radiant cut center, which has brilliant facets and cropped corners, and add brilliant trapezoid cut side stones for super sparkle.
Color Outside the Lines
Who says your five stone ring has to be all white diamonds? Certainly not us, darling. You can create a sunny look with warm, champagne hued diamonds, or even an ombre effect from white to yellow if you're up for getting wild! We also love a sapphire and diamond five stone look, a mix of black and white diamonds, or any other mix you can dream up. Our Diamond Concierge service can help you get creative and source any special colored gemstones you might be craving, so don't hesitate to challenge us! Don't worry. We have connections.
Create Your Dream Five Stone Diamond Ring
Ready to dive in? Start with our design quiz to customize your style, complete with diamonds and gemstones. You'll even get a free sketch! Or reach out to our team at hello@frankdarling.com with your style inspo and a bit about your budget and our designers will get you sorted. Keep in mind that we recommend a minimum of 6 weeks to create a custom design — if you're planning to pop the question at a specific time.