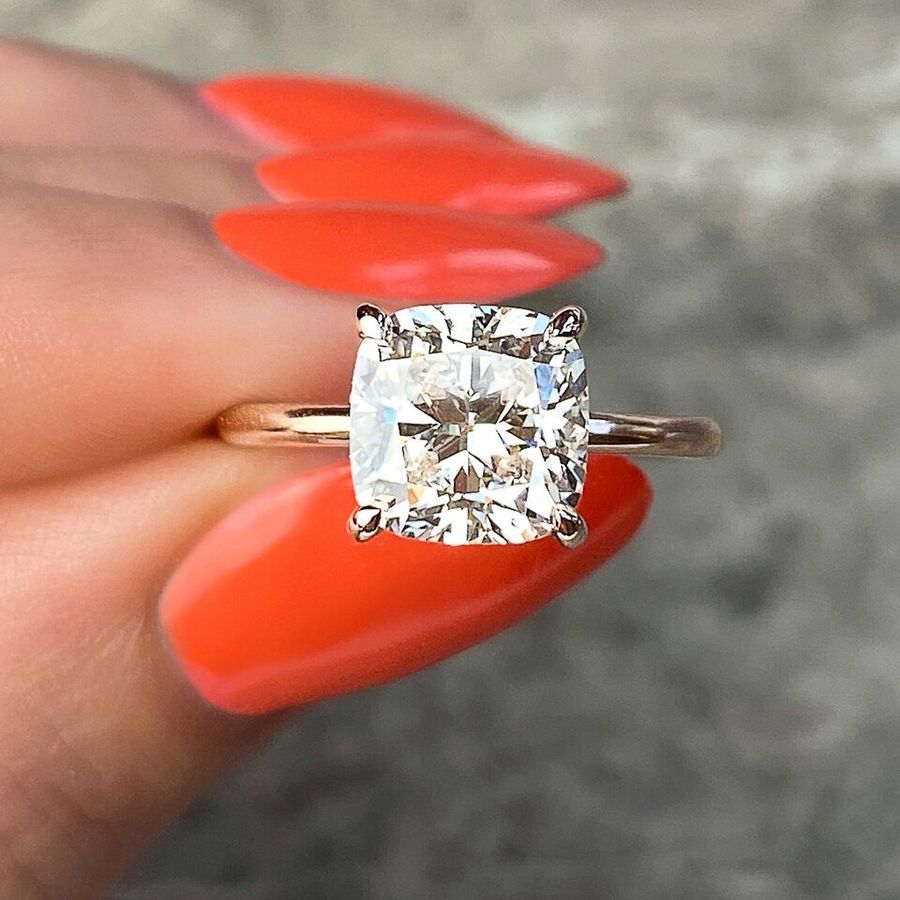 04.03.22
Five Reasons Not to Buy a Cushion Cut Diamond
By Stephanie Dore
Ratio What? The Low Down on the Elongated Cushion Cut Diamond
Let's talk about ratios. Yep. That math class might finally come in handy. In this case, we're talking length-to-width. And basically this is the difference between a square and a rectangle. Squarish cushions cut diamonds are pretty common, though it's more rare to find a perfect 1:1 ratio. Elongated cushion cut diamonds can be absolutely stunning, but also nearly impossible to find. It's definitely something to check for when shopping around, and videos or photos are essential to confirming what ratio suits you best.
A good rule of thumb? A 1-1.05 ratio is going to look square. 1.05 – 1.15 is slightly elongated, and 1.15+ is a true elongated cushion cut diamond. But – there's a tradeoff, and we're not just talking price and rarity. The more elongated a cushion cut diamond becomes, the more crushed the overall look. This means you're trading those big chunky facets of the cushion brilliant for a more all-over sparkly look. Worth it? We think so and it seems like everyone else does too? Elongated cushion cut engagement rings are definitely trending and a worthwhile alternative to the radiant cut diamond and its modern silhouette.
Ready to Design Your Cushion Cut Diamond Ring?
Check out our diamond search, where you can view 360-degree images of more than 150,000 diamonds (including countless cushion cuts) don't forget to zoom out (because size can be deceiving), or book a virtual or offline appointment at our New York salon to view certified lab-grown and natural diamonds in person.
Not finding what you're looking for? Email us with what you're looking for at hello@frankdarling.com. We'll curate a list of 5-7 exclusive stones that are just right for you.
Or take the ring quiz and design a custom cushion cut diamond engagement ring that's unique to you.