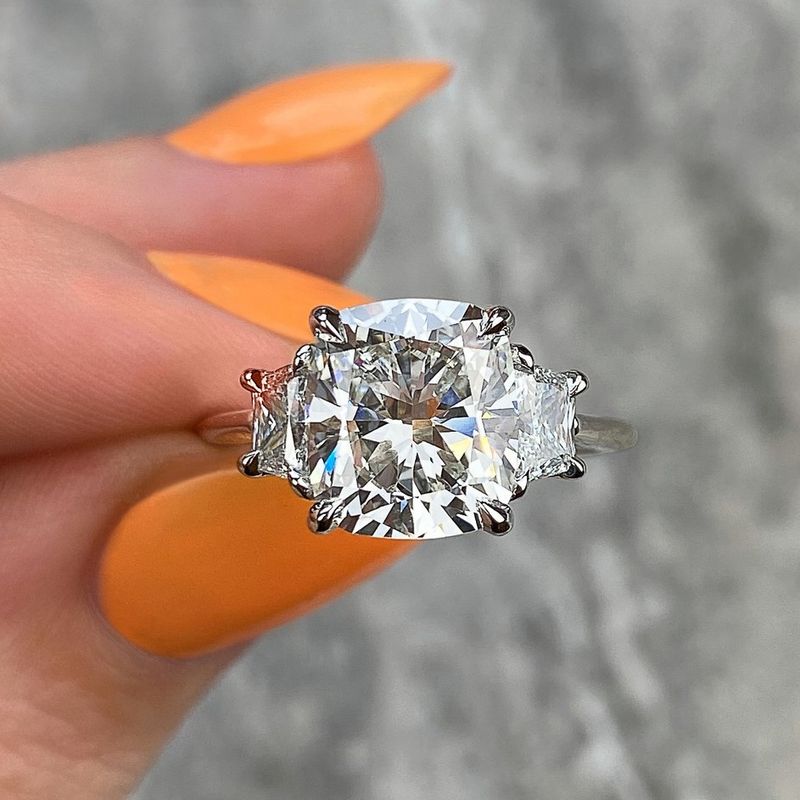 21.010.19
How You Should Actually Shop for a 3 Carat Diamond Ring.
By Stephanie Dore
Fancy shapes can not only save you dollar bills but some even look bigger! Take an oval for instance. A 3 carat oval diamond ring is going to look about 20% larger than a 3 carat round diamond simply because of its shape (and its cut, really). Because it's elongated and cut shallower in the pavilion, an oval's weight is more spread out, giving you more look for your money. Now…an Asscher on the other hand is going to look a little smaller than the same weight round. The visual size of a diamond is all about the shape and proportions (the length to width ratio and overall depth). Here's more:
Princess
Because a princess cut diamond is most similar to a rough diamond's natural octahedral shape, they do tend to offer some savings in price (you know, less wasted diamond and all…). But they're also the second most popular shape, so it's not that much savings. Also, they tend to be cut a bit deeper, so their diameters across the top may make them look a little under-sized for their weight. An ideal cut, 3 carat square princess cut will be about 8mm in length x 8mm in width.
Marquise
Marquise cut diamonds, like ovals, have a super elongated form and tons of spread. Cut pretty shallow, their weight is more visible face up than with other shapes. But also similar to ovals, they can have those annoying bow ties through their bellies, or super thin points that hold color (and are more prone to breaking). We love them turned horizontally for lots of finger coverage! An ideal cut 3 carat marquise diamond will be about 14mm long x 7mm across.
Saving Private Diamond
If you're looking to get the most size for your money (who doesn't love that?) then there are a few super easy ways to go about that. First? Buy shy. Little trick of the trade—diamond prices jump at the whole carat mark. Which means you'll pay a lot more for a diamond that's exactly 3 carats than one that's 2.9 carats…and you probably won't be able to see the difference. If you're cool with it, shop in the 2.7-2.9 carat range for some serious savings.
Ready to Find Your Dream Diamond?
If you're not sure on size, order a whole flight! We'll send you four cubic zirconia "diamonds," in your choice of size and shape, for free! Click here to get started. Check out our diamond search where you can view 360-degree images of more than 10,000 diamonds and don't forget to zoom out (because size can be deceiving), or book an appointment at our New York salon to view certified lab-grown and natural diamonds in person. Not finding what you're looking for? Email us with what you're looking for at hello@frankdarling.com and we'll curate a list of 5-7 exclusive stones that are just right for you.