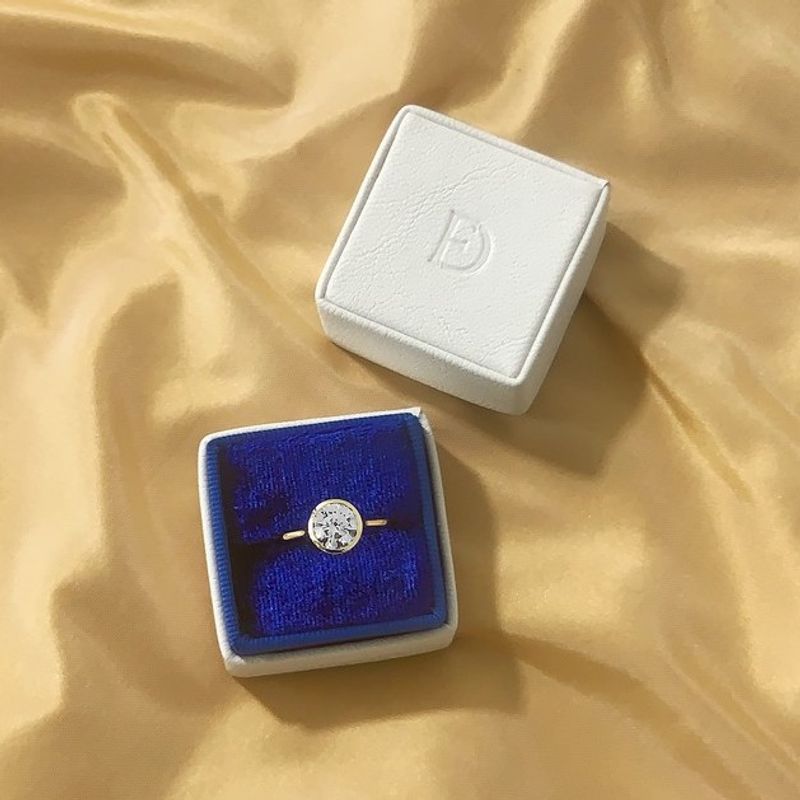 23.08.19
Which Diamond Shape Should you Absolutely Avoid?
The foolproof guide to finding your perfect diamond shape without leaving the house. And try them on too!
By Stephanie Dore
Every diamond shape has its own merits, but if you don't know what you're looking at, it can be hard to see through the sparkle to find the perfect fit. For instance, maybe you're an elegant emerald person. Or perhaps the subtle oval stunner is your thing. Maybe when it comes down to it, you're a classic catch and a round brilliant cut is really what you're after.
No matter which diamond shape you pick (other than a round brilliant), shopping online means a little bit of luck and a whole lot of research. And darling, you're not alone in feeling overwhelmed. So we're here to help you out with a foolproof guide to finding your perfect diamond shape from the comfort of home—how very modern of you!
Brilliant or Bust
Ahh, the round brilliant. So perfectly engineered and mathematically guaranteed to out-sparkle the competition. It's for this reason, and this reason alone, that the round brilliant cut diamond has dominated the engagement ring market for, well, as long as there's been an engagement ring market.
Six centuries of experimentation, research, and precision have gone into perfecting this diamond's design. So much so that today, the round brilliant is the only diamond shape the GIA will assign a cut grade for.
Over time, however, round brilliant cut diamonds have morphed as tools have improved. Their tables have become larger and their culets smaller. Their facets more perfectly aligned. The modern round brilliant is a more characteristic cone shape rather than the plump shape of the round brilliants predecessor, the old European cut, which displays a blockier play of light.
The little black dress of engagement rings, a round brilliant cut goes with everything. They look great in smaller and larger carat weights. They're perfect on their own or paired with others. There's a reason that they account for more than 75% of diamond sales while being upwards of 25% more expensive than other shapes.
Is a Round Diamond Right for You?
It's hard to find someone who doesn't love the round brilliant. Perhaps a better question is, "am I willing to pay more for several centuries of engineering?" You might ask yourself, "would I be happier with a larger, fancy cut diamond that is arguably more unique?" Only you, darling, can decide if this diamond shape is right for you.
What to Watch out for When Purchasing a Round Diamond
Besides their brilliance, round diamonds do come with one notable advantage—they are experts at masking their color and clarity. Sure, you'll pay more on a per carat basis, but you'll usually be able to purchase a lower clarity and color grade without concern. We recommend value-oriented shoppers start their search in the SI clarity and H-I color range. More discerning buyers can focus in the VS / G-H ranges. If you're choosing a setting with multiple stones, you'll want to be sure to color match the center and side stones. D side stones paired with an H center stone will be noticeably whiter. If you want a complete checklist for finding the perfect round brilliant, make sure to read our definitive guide before taking the plunge.
The Times are a Changin'
As times change, so do tastes, and trends have been shifting away from the round brilliant in favor of something a little more fancy. And by fancy, we mean fancy cut diamonds, which is anything other than rounds. Who doesn't want to show off their sparkling personality with a ring that screams "that is so you"? That said, we'd like to introduce you to a few of our favorite fancy friends.
The Effortless Oval
Oval diamonds excel at two things—looking larger than their size and being extra sparkly. In fact, a well-cut oval diamond will look more than 8% larger than a round diamond of the same carat weight. And that's never a bad thing, amirite?
While an oval's shallow profile is an advantage when it comes to their visual impact, it can cause an issue with their sparkle. The pavilion of an oval (its pointy, faceted lower half) has steeper facets near its midsection than at its narrow ends. This makes it very difficult to optimize light return, and results in light leakage. Light leakage is what it sounds like, less sparkle.
Is an Oval Diamond Right for You?
While ovals ebb and swell in popularity, they're unlikely to ever truly go out of style. Their subtle, sophisticated look is an excellent choice for long, slender fingers (and for those of us who wish we had them), and they wear well dressed down in a simple prong or bezel solitaire.
Okay, okay, they also look fantastic set against a pave band, surrounded by a brilliant halo, or taking a turn for the horizontal that gives them an uber-modern twist. And just as a parade of celebrities have chosen to adorn their ring fingers with this elegant shape, you too can opt for an oval that's both classic and a little clever.
What to Watch out for When Purchasing an Oval Diamond
Ovals, like all fancy diamond shapes, show their color more than rounds. But if you're looking to optimize value (you're not alone) then you'll be relieved to learn that oval diamonds mask their imperfections very well. So while you might spend a little more on color, especially if you're choosing a larger carat weight, you can go lower in clarity, comfortably down to an eye-clean SI1.
The number one hallmark of poor quality, though, when purchasing an oval diamond is a dark bow tie. And we're not talking tuxes and tails. You'll want to see a video of your oval before purchasing to ensure it is bow tie free. Check out our guide to the oval diamond bow tie to learn more.
Brush Up on Your Geometry
The emerald cut diamond is refined, classic, and sophisticated. And with its bold, orderly facet pattern, might remind you of geometry class. But those angles can pack a seriously polished punch, especially when it comes to larger carat weights.
Unlike the round brilliant and the oval, emerald cut diamonds are what's known as a step cut. Instead of having smaller triangular-shaped facets, emeralds have elongated parallel facets that flash in direct sun. This diamond shape is reserved for the most discerning of diamond buyers, willing to trade sparkle for elegance.
Is an Emerald Diamond Right for you?
While emeralds have grown in popularity, they lag behind most of their sparklier cousins. If considering the emerald, we recommend trying them at home, alongside our other solitaires, to understand the look and light return better. Choosing an emerald says you're bold, confident, and appreciate the timeless modernity of this geometric cut.
What to Watch out for When Purchasing an Emerald Diamond
An emerald's large, clear, flat table makes your choice of clarity and color extremely important. While emeralds are cheaper by carat weight than round brilliants (they lose significantly less material to the cutting room floor), you'll want to put at least some of those savings towards clarity and color.
If the emerald is being set in white gold or platinum, value-oriented shoppers will want to search in the VS / G-H range. For yellow and rose gold settings, color is less important. H – I is a better choice. The color of the metal will be reflected throughout the diamond, so, going higher in color gets diminishing returns. More discerning buyers should consider going as high as a VVS to ensure a completely eye-clean finish. The type and color of inclusions are just as important as the stone's clarity grade, and we recommend working with a gemologist to search for your perfect stone.
Step it Up
Asschers are having a moment. And we're having a moment for Asschers. They're bold, they're elegant, and they're a welcome alternative to the other square option (see ya later princess cuts). Step cut like emeralds, Asschers are known for their mesmerizing "hall of mirrors" effect and trademark windmill facet pattern. Frankly, they're more than a little luxe, and just talking about them has us swooning.
Reminiscent of Hollywood glamour and Art Deco indulgence, Asschers (like the famed Elizabeth Taylor diamond) have fascinated the discerning eye since their debut at the start of the 20th century. Whether you're into a bare solitaire or a halo of brilliance, Asschers make for an undeniably unique choice.
Is an Asscher Diamond Right for You?
Despite their good qualities, Asscher cut diamonds are a fickle beast, and a good one is hard to find. They're also more expensive than other fancy shapes because a well cut one takes master craftsmanship to ensure every facet is perfectly symmetrical.
Though Asschers are more affordable than round brilliants on a price per carat basis, their step-cut design (and see-through nature) means you'll want to look for a higher color and clarity grade. Even emeralds benefit from a narrower form, and can be more forgiving on color. If you're not easily intimidated, an Asscher diamond could be right for you.
What to Watch out for When Purchasing an Asscher Diamond
Color and clarity are where things can go wrong with Asschers. Most of the rules of emerald cuts apply. One feature that's unique to the Asscher is the point where it's pavilion facets converge. You'll want to pay specific attention to diamond symmetry as the four points of the windmill should kiss in the middle. Poorly cut are Asschers are easy to spot by their lack of detail.
Which Diamond Shape Should you Absolutely Avoid?
The only diamond shape you should always avoid is the one you haven't seen in person. Each shape has its own personality, and it's best to see them each in person before making a decision. Selecting a diamond shape can come down to your taste, style, budget, and even your level of patience.
The most important thing to do before selecting a diamond shape is to make sure to try them on. Diamonds look different online than on your finger, and our free try at home service is a great way to see how each shape looks on you, without leaving the comfort of home. Just take the quiz to get started and build your perfect box.