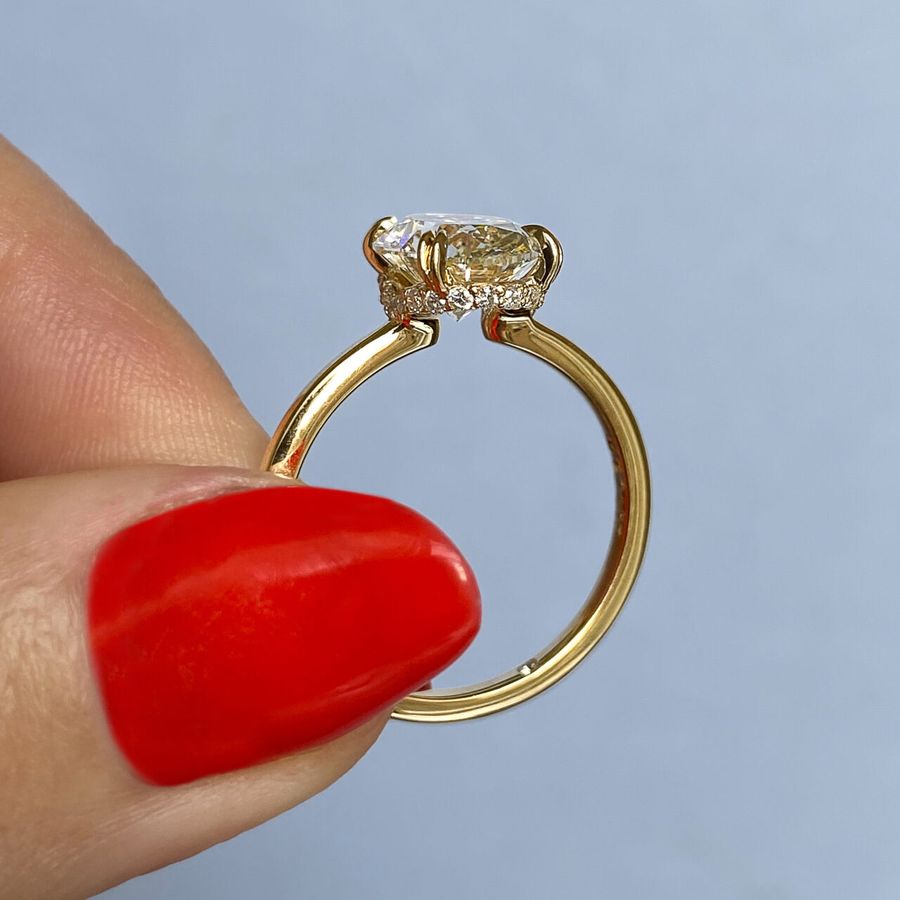 20.01.22
How to Customize a Solitaire Ring Setting
By Stephanie Dore
No boring solitaires. We repeat. No boring solitaire ring setting. Darlings, while solitaire diamond engagement rings are inarguably a good 'ol standby. They're simple, easy, classic, sophisticated. But, admit it, sometimes they can be a little bit of a bore. And there's just no acceptable excuse for this in our book. In fact, one of our favorite ways to play is within the bounds of a solitaire ring, but customized to reflect, well, you of course. Because if you're going to wear it every damn day, you might as well make it your own.
Twist and Shout
We'll come right out and say it, the east-west set solitaire isn't going anywhere. What started as a trend for it girls and alternative engagement ring styles is now a full on standard. But it does still feel like a twist. Literally. What's the east-west? Well, it's when you take any elongated shape, traditionally set north-south (parallel to your finger) and twist it 90 degrees to extend from side to side, horizontally across your finger. It's super modern now, but we think it'll stand the test of time. Our faves? An emerald, oval, or even marquise cut diamond set east-west in, well, just about any style setting.
Speaking of Styles
Prongs are prongs, but prongs can also have personality. The ultimate of classic solitaire setting styles, a four or six prong diamond setting is meant to lift the diamond up off of the ring shank (the band part) and into the light, letting that light easily bounce around and back out to your eye in what we call: sparkle. But you don't have to just go with straight and simple prongs. You can vary the shape of the prong itself or just the tip even — from pointed claw-like prongs to tight rounded tips to squared and angular. You can even set little tiny diamonds in those prong tips. We know, we know, then it's not "technically" a solitaire, but who's counting, really?
In Bloom
You can also change the entire shape and profile of the prongs. Can we interest you in some floral prongs, perhaps? They're one of our faves. This subtle nod to mother nature creates a pretty, curvaceous side profile for your prongs that's a little more sumptuous than the straight and narrow classic. You can also apply a floral feel to a three-stone or more, with a floral basket look that really emphasizes this detail. Want a more geometric prong? A double prong? Some sweet little hearts? Send us your inspo and our custom ring designers will get to work creating your dream ring with all the right details.
Secret Sparkle
Well, not so secret. But what's better than a big ol' diamond halo? A hidden one, of course. And let us just say, obsessed. The hidden diamond halo is truly a work of art meant for your own enjoyment. What does that look like? A subtle ring of diamonds that encircles your center stone from the side, around the middle of the setting to create a sparkly little cradle that you can see from the side (as in, when the ring is on your finger).
So Clutch
We've also taken it upon ourselves to design what we think might be the best style of solitaire engagement ring, well, ever. The clutch. And it's just that. The solitaire you've been waiting for. It's not prongs (which, yes, can catch on all your favorite sweaters), nor is it a bezel (more on that later). It's like the perfect meet cute between the two, darling, with a sleek partial-bezel look from above that clutches two sides of nearly any shape diamond you like. And then from the side you get this sweet, curvy, open air profile that lets literally tons of light in, sits low profile on your finger, and is designed specially to sit flush against your choice of wedding bands. Like we said, clutch.
Full Circle
Coming back to the bezel, we find that folks often forget about this modern beauty when it comes to solitaire diamond engagement rings. Because, we all know, prongs reign supreme in the market. But we love, love, love, love, love a bezel solitaire and let us please count the ways. For one, the bezel — which surrounds your diamond with a thin frame of metal — is the ultimate in modern simplicity. Even a little edgy, maybe? Its bold geometry (which you can emphasize with a thicker bezel if you like), while in fact quite an old style, has a clean modern look to it that is just undeniable. Plus, that smooth metal means you're super snag-free. No catching your ring on a glove, a sweater, a puppy. And most bezels also sit pretty low on your finger, so they're great for active lifestyles. What's the downside? If they're super low then you're not going to get a flush fit with a wedding band. But not to worry, we can customize that too!
Color Outside the Solitaire Ring Setting
You can also customize your ring by simply choosing a different color metal, a two-tone style (with platinum prongs and a yellow gold band, for instance), a colored diamond or gemstone instead of a colorless diamond…the list goes on. This is also a fun way to give your wallet a breather, as choosing a colored gem or champagne diamond can save you serious cash instead of a white diamond. Set a champagne diamond in yellow gold and you'll up the warm, sunny factor tenfold.
You Do You
Ready to create your own custom solitaire engagement ring? Explore our ring collection for a bit of inspo and then try your hand at our style quiz where you can answer a few simple questions to design your dream ring. You'll even get a free sketch! Need a little helping hand? Drop us a line at hello@frankdarling.com and our designers will help you zero in on your ideal style.