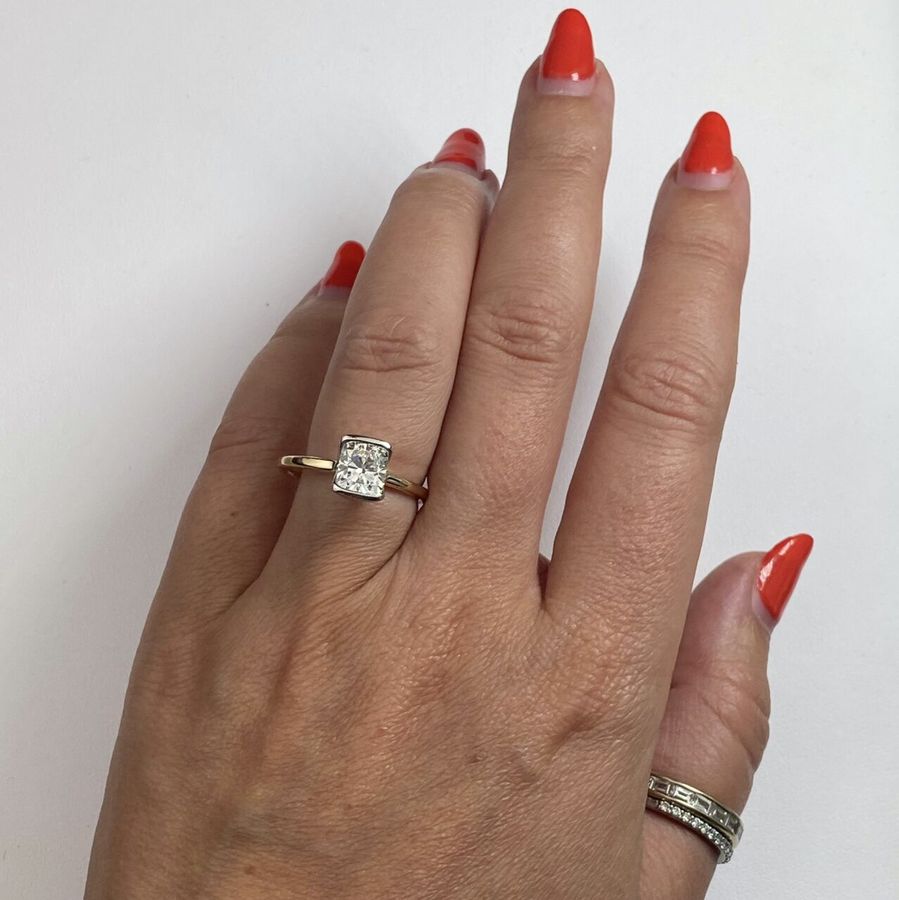 30.07.21
Mythbusters: Measuring Ring Size for a Perfect Fit
Does your ring leave a forever indent on your finger? Does your diamond always spin to the inside? If so, you probably need to resize your engagement ring. Don't have a ring yet? Not to worry, we'll get you sorted. In our time helping lovebirds find the rings of their dreams, we've learned a thing or two about ring sizing. First thing being—it's an art form. See, no two fingers are the same fit, folks. Whether you're into a curve-hugging band, like a little spin in your step, or just want something that'll flex with your finger no matter what life brings your way, we're here to help you measure your ring size with the best of 'em. And find the fit that's right for you. Bring us your slim digits, your short ones, your knuckles and all.
Hot Hot Heat
Hot or cold, morning or night, exercising or at rest…most of us have fingers that swell or shrink depending on any number of things. So when first measuring your ring size, it's good to try and measure the average. Mid-day, normal temps, normal activity. You might also want to measure at a few different times to see how much change there is and account for that variance when you purchase, though we still recommend removing your ring during heavy activity to avoid accidental damage.
Join the Resistance
When trying on a ring, know that it should fit just right. Yes, that's the answer. Really tho, your ring shouldn't be too tight or too loose. It should have just a hint of resistance going on and off, because you don't want it to simply fall off. Too loose meaning when you turn your hand upside down (fingers pointing at the floor), your ring slips off, or when wearing daily the top-heavy diamond spins around so it rests on the inside of your finger. Too tight, meaning you're left with a mark, the metal catches your finger as you turn the ring, you have to work to get it off, your skin is bulging on either side…you get the idea. The last thing you want is an ER visit to cut that beauty off.
For the Likes
Now, all that said, everyone likes a slightly different fit. Some people like to spin their rings, while others like them to never budge. Not sure what your preference is? Check out our try-at-home kit to sample a few ring styles and stone shapes and you'll get a ring sizer, on us! Keep in mind that super-skinny bands will fit looser (because they take up less finger space) than, say, a 4mm wide band, even if they're the exact same ring size. Funny how mass works, right?
Bumps Ahead
Some of us have tapered fingers that go from their widest at the base to thinnest at the fingertip. Others have knuckles that stick out a bit along the way. Those with knuckles might already know, this can make it trickier to size a ring. Often this is when you see folks with rings that spin because they're sized up to fit over the knuckle. One of our favorite solutions? A little thing we affectionately call speed bumps. What is this? It's cute, we swear. By attaching two tiny balls or bumps of metal inside the base of your band, you can get that larger size ring but prevent all that spinning.

Stack Secrets
Just like a single wider band will fit more snugly than a skinny, stacking two (or more!) rings will work the same. Consider this as you're considering ring size. If you're a perfect size 6 with a 2mm band…and you add a 2mm band to that you might be alright. But a 4mmdiamond eternity band? You're now working with 6mm total and might need to size up a half size or so. If you know what look you're going for early on, great, try on a few rings together to replicate what that'll feel like. If you're not sure…we say, try them on anyway! It'll help you figure out what you like, find the right finger fit, and have a little fun while you're at it.
Eternal Love
Speaking of diamond eternity bands…while most traditional style engagement rings and bands can be sized up or down at least 1-2 sizes (sometimes more), eternity bands can't. Those dang diamonds that go all the way around mean there's no extra metal space for us jewelers to work with. That means it's even more important to get your ring size right on the first go-round. Sometimes, eternity rings can be exchanged, but a fully custom item might be yours regardless of fit, so work with a pro to make sure you nail it on the head.

Size Matters
It's good to shop with your ring size, ideal fit, and preferred width already in mind, so don't save this til the end of the purchase process. It can help you to narrow down choices that fit your desired style—thin or wide bands, stacks, singles—and save you from weird fit surprises after the fact. Like, say that skinny band trend is super hot on someone else's finger but you don't love it on yours…you get the idea.
Explore our collection of engagement and wedding rings to get some ideas, try some styles on at home, or customize your very own with our design quiz and get a free sketch! Need a little extra love? Email our experts at hello@frankdarling.com for fit advice, style secrets, and a calm, zero-pressure bit of fun. We're here for you.