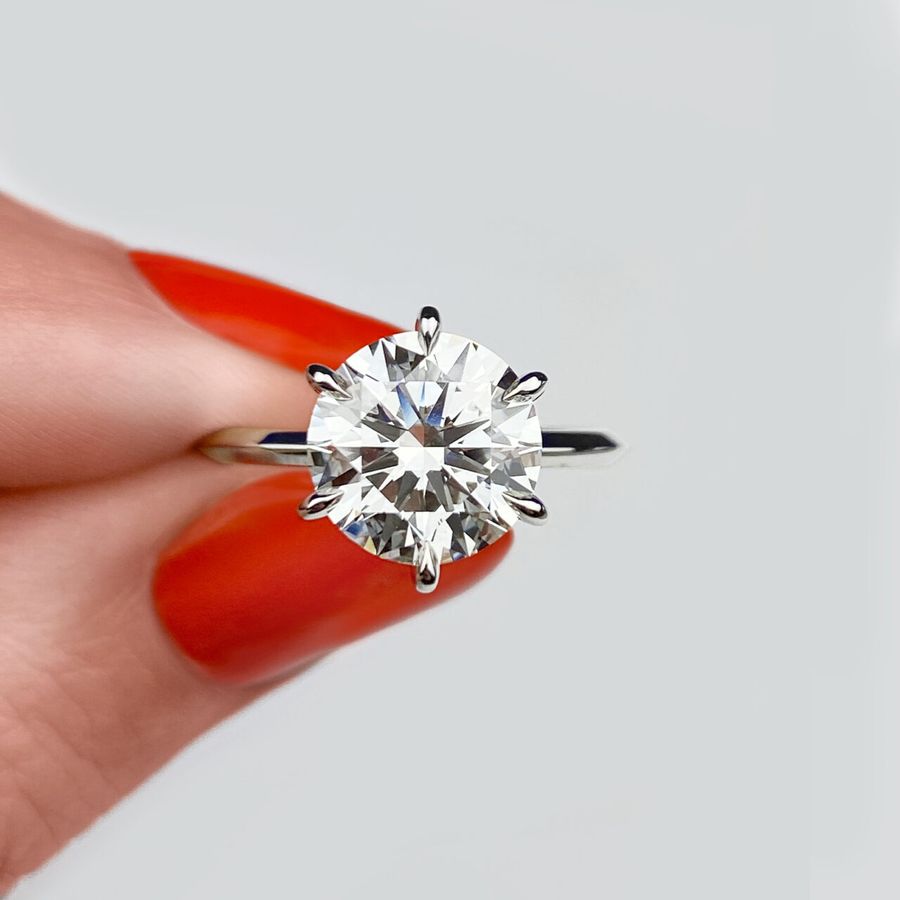 09.04.21
The Modern Alternatives to the Tiffany Engagement Ring
She has an Audrey poster on her wall, a sterling silver Paloma heart necklace … an O.B.S.E.S.S.I.O.N. with a very particular shade of robin's egg blue. You know the girl, you love the girl, you might be the girl. The Tiffany mystique, like any good ol' American icon, has withstood the test of time with little opposition. And many spend their formative years dreaming of a Tiffany ring on their perfectly-polished finger. But the term "Tiffany setting" is now used throughout the jewelry industry to describe just about any multi-pronged solitaire-style diamond ring. So what exactly are we all hankering for? And is a Tiffany engagement ring worth the hype?
The One (but Not the Only)
Among the oldest and most celebrated of American jewelers, Tiffany & Co. is a name we all associate with classic, feminine, timeless jewelry. And when it comes to engagement rings—even more so. Hello, Patrick Dempsey serving up THAT dream proposal, amirite? But what exactly is it about this historic style that we just can't get out of our brains?
Designed to lift a single brilliant diamond off the finger and into the light, the Tiffany solitaire setting was a revelation back in 1886. Before this, diamond ring settings were mostly solid bezels, sitting low on the finger, wrapping the diamond in a thin band of metal. But Charles Lewis Tiffany didn't want anything to get in the way of that sparkle, and thus the more open, elevated 6-prong setting was born.
What's in a Name?
A particular style in and of itself isn't what people are after when they're after a Tiffany engagement ring (after all, they carry many different styles), and it's certainly not what they're paying for. While jewelers the world over have adopted the 6-prong solitaire as a go-to classic, it'll still cost you a pretty penny to get the real thing. After all, the label (and box) itself is where you're going to clear out your coffers.
But are the increased costs of the iconic Tiffany ring name really worth it for a style that's prone to snagging your best sweaters and looks like the ring on every other woman's finger? Shrug.
There's a New Girl in Town
The skinny, stackable alternative to the Tiffany-style setting that's just as elegant without being in-your-face. Just as classy without overcompensating. Our version of quintessential, the Harper offers a modern twist on the classic style with a thin band, rounded prongs that are less likely to snag, and a perfectly raised diamond so your ring will sit flush with your wedding band. Hallelujah! Not only that, but she'll save you significant dollars because you won't be overpaying for a brand that, well, now kind of looks like everything else.
And She's Bringing Friends
We've gone well beyond your basic round brilliant to bring you six shapes in the Harper collection, each with its own understated elegance—and any of which can be paired flush with a plain or pave diamond band and set with your choice of lab-grown or ethically sourced natural diamond.
Two Tiffany Rings in One
The classic solitaire has been done a million times. No need to reinvent a timeless, but that doesn't mean you can't if you want to! There are several ways to tweak your solitaire to make it unique and, let's be honest here, interesting. A gorgeous diamond can speak for itself, but a standout setting can really start a conversation. Some of our favorite ways to mix it up? Two-tone! You know that icy diamond we mentioned? Why detract from that icy tone with yellow or rose gold prongs when you can do platinum! You'll still get that beautiful warm metal against your skin (which looks great on everyone btw) without adding any warmth to your diamond.
Spice it Up
Believe it or not, you can keep the sleek solitaire look AND incorporate accent diamonds. It's called a hidden halo and it is, like, totally the thing right now. There's a lot of ways to do it, but we're biased towards a few. The first option is to coat your prongs and gallery with diamonds, creating a gorgeous profile shine from every angle. Another way to do it (this puts the halo in hidden halo) is to wrap a small ring of pavé diamonds around the base of the gallery. A super simple addition that looks stunning on! The last one miiiight just be our favorite though. The plunge has delicate pavé accents crawling up the prongs like vines, but the profile is open which doesn't detract from the diamond's brilliance!
To Be Frank
Obvi there's a reason why a Tiffany engagement ring is so universally beloved, however if you're looking for the best way to spend your bucks, there may be a better alternative to consider. Handmade in NYC from recycled gold, the Harper collection delivers the same classic, feminine elegance as the icon, while simultaneously offering a barely-there band that's safe to wear and stacks flush for a modern fit and ease. It's also as low-profile as possible, with smooth claw prongs to keep from snagging. So you tell me, what's really in a name?
Ready to shop? Explore the Harper engagement ring collection or dive head first into a bevy of other beauties. And not to worry, if you need a little extra nudge, we're happy to help. Just email us with what you're looking for at hello@frankdarling.com or try our dream ring quiz to design your own, complete with a free sketch!