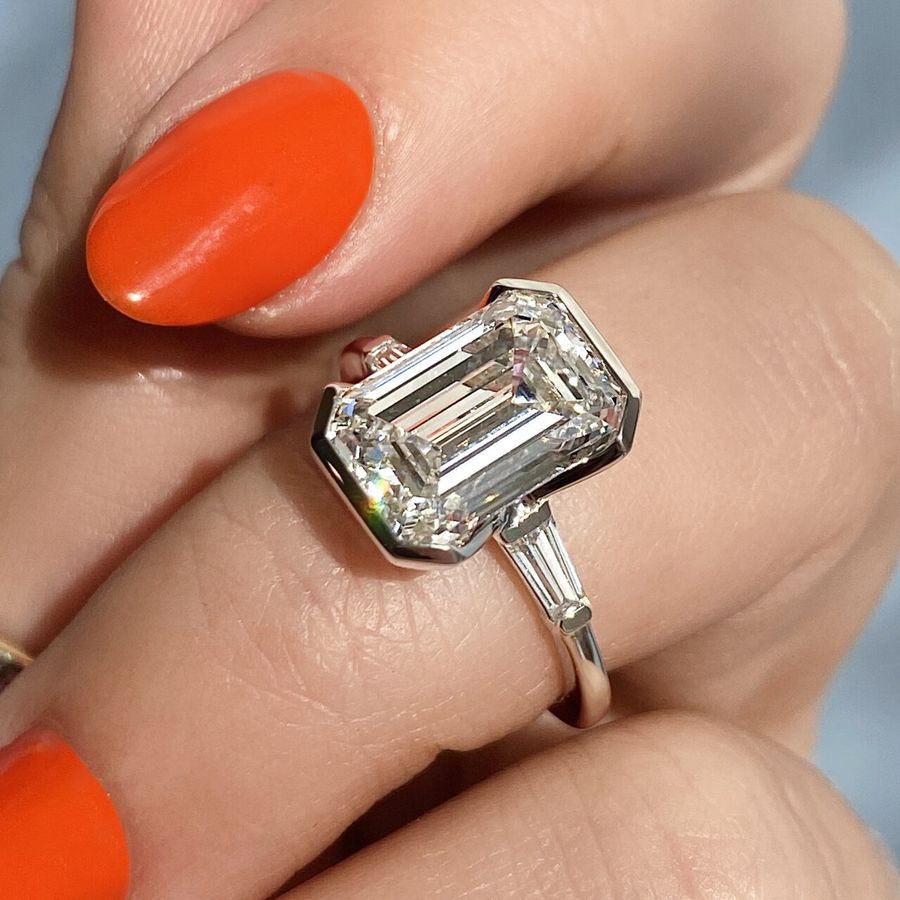 29.03.22
The New Era of Art Deco Rings
By Stephanie Dore
They say what goes around comes right back around and that definitely applies to Art Deco style diamond rings, darling. They're truly all the rage right now and we're not mad about it one bit. After all, who doesn't like a little gilded glam with a side of champagne? It's hard to ignore Art Deco's influence on not only engagement ring style, but architecture, interiors, homewares and more — even 100 years after the fact. But why has this style made such a significant resurgence? And how can you make the most of art deco rings in a thoroughly modern way? Let's discuss.
Beautiful Little Fools
You can't talk about Art Deco design without talking about the Roaring (nineteen) Twenties — a period associated with America coming out of a serious wartime slump to, well, a roaring new society. In France, the time period was even referred to as "the crazy years" if that tells you anything. There was new industrialization, new cars, new clothes, new music, and definitely new money.
Sign of the Times
If it sounds at all familiar, it's likely in the comparison to current times, as we start to tiptoe out of a pandemic. The idea of joy and glamour and a more social life sounds pretty great, right? Well, as we rebound from deep quarantines to reconnect with the world, we're also distancing ourselves from the simple and spare in favor of rich histories, more color, unique details, and maximalist style. In a way that's totally today, of course.
Art Deco Rings By Design
Now, what does all that look like when it comes to jewelry? Known for being both bold and delicate, Art Deco jewelry features strong geometric forms, jewel toned gemstones, fine metalwork details, and ornate, sparkling pave diamonds. It also features a lot of platinum, as 100 years ago, platinum became available for jewelry use instead of just the war, and its strength in delicate designs became a trademark of the time.
Dec'd in Diamonds
When it comes to the centerpiece of, well, most pieces of jewelry, the diamonds of Art Deco are known for being real showstoppers. How so? A lot of them were old European cut diamonds, the direct predecessor to today's modern round brilliant cut diamonds. That means lots of sparkle, sure, but let's not forget about the stunning simplicity of the famed step cuts — emerald and Asscher — of the time. Known for their elongated, window-like facets and cut corners that echo the geometry of those period designs, these step cut shapes are kind of our first love when it comes to a modern take on Art Deco-inspired engagement rings. Pair one with some sleek baguettes and you'll have jaws dropping in no time.
Crispy Colors
Now, while diamonds were certainly at the forefront, color was also a major thing in Art Deco jewelry, specifically in bright, bold gemstones. Think deep red rubies and bright green emeralds, as well as black onyx and luminescent white pearls. Remember, bold was big at the time. As was an Eastern influence. Modern takes might mean trying a ruby or emerald center stone with small accent diamonds, or a black diamond, even, if you want to really get edgy.
Setting it Off
While many original Art Deco jewelry pieces incorporated large areas of focus lined with delicate milgrain edging, we also love a smooth spin on this with a bold bezel style setting. It gives you the same geometric framing of your diamonds and gemstones, only a bit less fussy for today's modern lifestyles. If you want to get really into things, though, you can do a bezel setting with a halo of diamonds, or even two! Art Deco was all about this bold shapes and we're not hating on any of it.
DIY Without Getting Your Hands Dirty
Ready to start dreaming up your own Art Deco-inspired diamond ring? Try our design quiz, where we'll walk you through a few simple questions to zero in on your style and you'll even get a free sketch! Or reach out to our super sweet team of designers at hello@frankdarling.com to start customizing a totally unique engagement or wedding ring. No commission, no pressure, all fun.