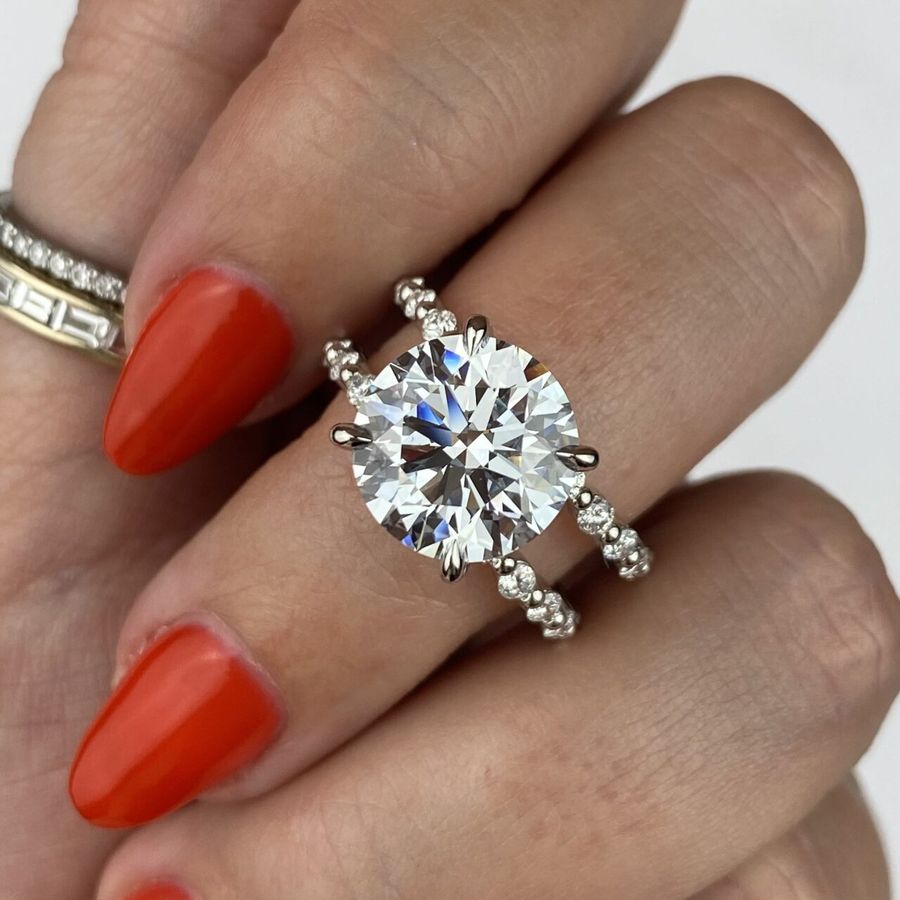 20.08.21
The Sleek Style of the Split Shank Engagement Ring
They say it takes two to make a thing go right, don't they? Well, we're already believers. Hence our love affair with the split shank engagement ring. A classic style that creates a seamless transition from a narrow band to a wider center stone setting, the split shank has real staying power. But styles with staying power don't have to be a snooze-fest. In fact, we love turning the split shank on its classic lil head with some eye-catching, modern twists.
What is a Split Shank Ring Anyway?
For starters, it's exactly like what it sounds, no trick titles here. A split shank is basically any ring style that splits from a single band into two, typically at the shoulders, where the bands then meet the center stone setting. You'll often see it on settings that are larger, either for big center stones, halo style settings, or similar. But you can find more delicate split shanks for smaller stones if you're just into the look. Our designers, however, have really gone all in customizing some split shank styles that stand out. Some of our favorites below.
Easy Breezy
For a super classic, sophisticated style—think old world glam, celeb fingertips, Art Deco—with a modern, ultra-wearable twist, our breezy Harper No. 6 three-stone emerald cut engagement ring fits the bill. We designed it to provide plenty of finger coverage (more sparkle!) with minimal metal. Its open gallery lets you stack it freely with a number of different wedding band styles, and it's split shank, comfortfit band transitions beautifully from statement diamonds to skinny band with ease.
Peek a Boo
The east-west set engagement ring (a horizontal elongated diamond, rather than vertical) is super on-trend. But you don't usually see them with a split shank because they tend to be narrower on the sides. We didn't let that stop us, tho. Our Parker No. 2 East West Oval Half Bezel engagement ring features a peek-a-boo split bezel that gives you just a hint of that same split shank style but keeps your ring super slim.
Double Trouble
Not one to shy away from a statement? We've been loving customizing these full double-band engagement rings that take split shanks to a whole nother level. The hyper-mod style is also a great way to play with the stacking rings trend but all in one sweet package. The added width also helps balance out the look of larger center diamonds and keep them from spinning to the inside of your finger. Want to turn up the volume even further? Add diamond accents for double sparkle too!

Make it a Double
Two-stone engagement rings are kinda having a moment. We blame (and thank) Emily Ratajkowski for her bold statement two-stone band. The two-stone has a super playful nature, which lets you mix and match stone shapes and colors to perfectly suit your style. Try colored gemstones, unique pear shaped diamonds, a bit of blue. Or go two of a kind, slightly offset. You do you. It's a very modern look, but adding a sleek split shank gives it a touch of classic cool, like in this stunning, custom oval and emerald diamond cluster ring now adorning the finger of an FD client!
Cinq You Very Much
If you're into the look of a diamond band as an alternative to the classic solitaire or want an eternity ring (but not the bulk between your fingers) try a five-stone engagement ring! Five statement diamonds offer plenty of spread (diamond coverage across your finger) but still a slender, more comfortable fit along the inside. You can customize the look with different stone shapes and sizes, a tapered row, or in the case of our founder, this all-emerald half bezel knockout complete with a delicate gold split shank.
Make it Your Own
The real beauty of our engagement ring collection? Changing it up! Fall in love with two different styles? Mix and match. Want a special detail added just for you? We can do that too. See, custom engagement rings are kind of our thing. So whether you're looking to add a split shank to an existing style or create something altogether unique, our team of jewelry artisans is ready to help! Try out our design quiz to start crafting your custom engagement ring and get a free sketch. Or drop us a line at hello@frankdarling.com for a helping hand.