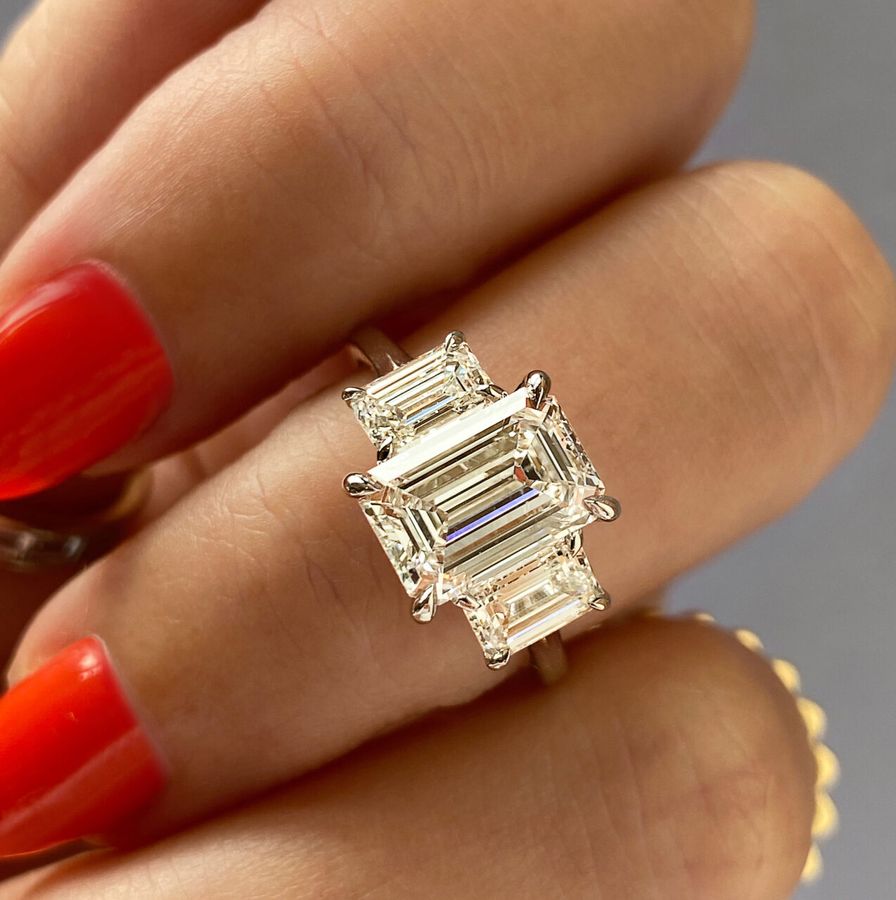 13.01.22
Three Stone Engagement Ring Trends to Watch
By Stephanie Dore
Is tripleting a thing? Because we're about to turn it into one. That's right, y'all, the days of solitaire engagement rings are limited and three-stone engagement rings are all the rage! We kid. Kind of. We know solitaires aren't going anywhere, but we're actually not kidding at all when it comes to three-stone rings tipping the trend scale in their favor. And we're talking about an all-out love fest. Whether it's three classically matched diamonds, a single stunner with two smaller sides, a mix-and-match palette, or a setting style that blows your mind, here are the three-stone engagement ring trends that have us literally swooning.
Three Ring Circus
Hold the peanuts, tho, darling. We're obsessed with the three-stone bezel set engagement ring. It's bold, bright, and because most bezel set engagement rings are for a solo stone, it's just the right amount of over the "big top". Someone stop us. The beauty of a bezel — what with its smooth, snag-free finish — offers extra protection for your precious stones while also making a modern, graphic statement. Choose oval shaped diamonds for your bezel three-stone ring and you'll have all the super-trends covered in a style that really won't go out of, well, style. You'll also up the ante on finger coverage, getting both the horizontal three-stone spread and the vertical elongation of the oval, which faces up about 15% larger than a comparable carat weight round stone.
Go Halfsies
Don't want to go all in on the bezel, but still want some graphic elements? Our Sidney No. 13 gives you the best of both worlds, with a prong-set center stone and dainty (but not too demure) bezel-set baguette side stones. Is it a three-stone? A five-stone? Who cares! It'll give you a similar look, with a center showstopper and smaller sides, plenty of finger coverage, and zero to argue with. While it was originally designed for an Asscher-cut center stone that will give you a full-on Art Deco-inspired look, our team can help you customize any style to suit your stone shape dreams. Just ask.
The Deco Three Stone Engagement Ring
What's the ultimate Art Deco-inspired three-stone engagement ring setting? An Asscher or emerald cut center with trapezoid side stones, obviously. The trapezoid is like taking a dainty baguette (the forever classic three-stone side shape) and turning up the volume. Like, way, way up. Their tapered shape creates the perfect balance for larger center stones, easing you into a narrower band. And their step cut facets pair perfectly with the emerald and Asscher. You can go with a super classic prong setting or we even came up with a super airy bezel version that's, frankly, to die for. We also made sure to design them to stack flush with a band, because we know you.

Fly Me to the Moon
If you want the oval version of this look, it's not three oval shaped stones. It's actually the half-moon three stone engagement ring. By pairing brilliant cut half-moon diamonds with an oval shaped center stone, you can get a similarly proportional look but with brilliance and curves instead of all those straight lines. Or forget everything and mix and match your stones with an oval center and brilliant cut trap sides. You really can't go wrong. And like we said up top, ovals are a big thing both in size and in savings. Choose one if you like the classic look of a round but you want more for your money.
Roses Aren't Red Anymore
What's old is always new again, and no more so than in this stunning rose cut diamond three-stone engagement ring. Yes, we said a rose cut three-stone. It's not what you'll usually find for this vintage-y cut, which is super low profile and full of rainbow flash instead of the typical round brilliance. But we're not hating it at all. Not even close. Tiny claw shaped prongs will give it even more vintage flair but, check us on this, doesn't it look so modern?
Pear Perfection
Not a trend, really, but we can't ignore their prominence — pear shaped three stone rings are definitely a thing. But we love how our clients are making this super classic look their own with colored gems, bezel settings, or even black diamonds! Pear shaped side stones look especially stunning with curvy centers like rounds, ovals, or yes, pears. But you can get creative and match them with whatever you want, really. We also love them when used to create an elongated east-west style look with a smaller center stone.
Top of Mind
What's most important when creating your own three-stone engagement ring is to think about proportions. Here's the deal: if you want a super classic look, aim for side stones that are about 60% of the size of your center. But honestly, anything goes here. You can keep your side stones smaller and let a big center stone shine. Or you can even have all three stones the same size! Just remember that finger coverage is a thing, and the bigger you go across the board, it might not all really fit in there, especially if you have a smaller ring size. Find a good balance of the right total width (across all three stones combined) for your finger size, and the look you're going for, and you'll be golden!
Here For It
Ready to find your own three-stone engagement ring? Explore our collection of modern engagement rings, complete with style details that won't ever look outdated. Or design your own dream ring with our style quiz. You'll even get a free sketch. Need more help with the details? Ping us at hello@frankdarling.com with some style inspo and a bit about your budget and our team will get you taken care of in no time.