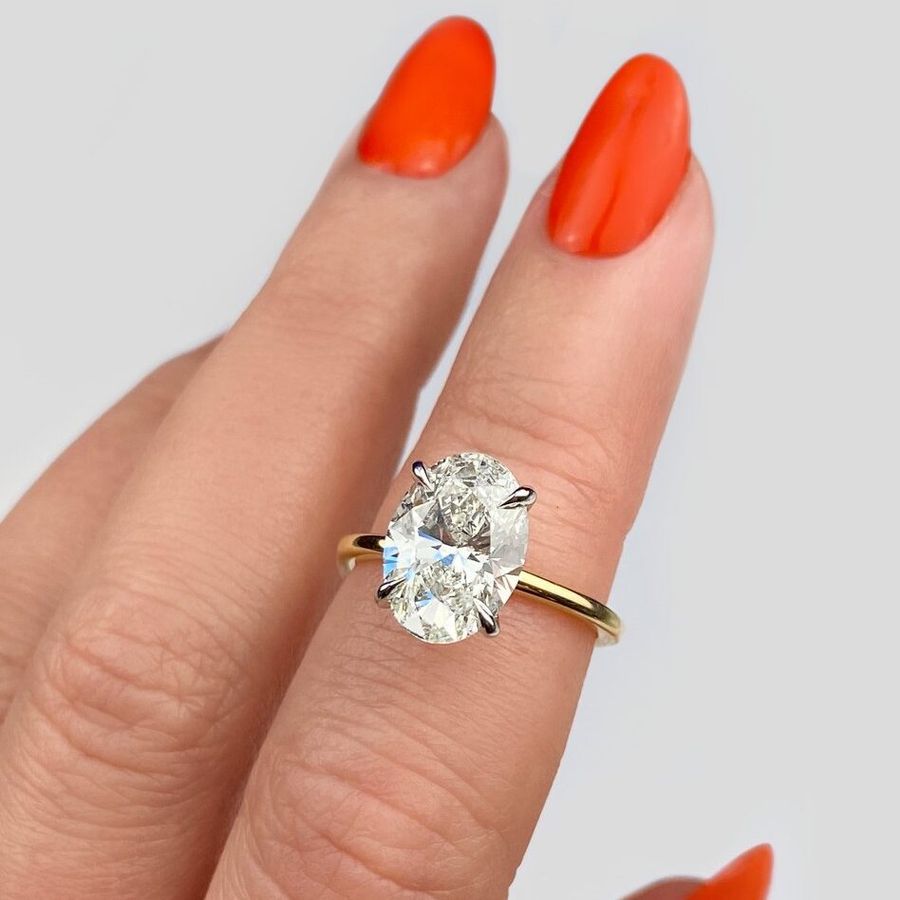 26.08.21
5 Reasons You Want a Two-Tone Engagement Ring
By Stephanie Dore
Wearing one metal color is, like, so last season. But what if we told you there's a way to take your love of mixed metals to the next level? We're talking about the two-tone engagement ring. Whether your goal is to keep your icy white diamond looking, well, icy white or you just can't decide between platinum and yellow gold, this modern style is for you. Let's get into the details of the engagement ring trend of the moment.
It's all About the Two-Tone
When it comes to designing your dream engagement ring, your choice of metal reflects who you are. But it also reflects in your diamond. And when it comes to loving yellow gold, but wanting a colorless diamond….well, that doesn't really work in your favor. That's where a two-tone engagement ring can help. Go yellow gold (or rose!) for the band, but set your center diamond in platinum prongs, keeping the gold tones at bay for a brighter, whiter looking diamond. Super functional, secure (platinum prongs are great for setting due to their inherent strength and platinum's durability), and brilliant. You really CAN have it all.
Mirror, Mirror
Yes, diamonds reflect light, but cut with all those little facets, they also reflect everything else around them. If having a super white or colorless diamond is at the top of your priority list, then the last thing you want is to set it in yellow gold and have it look like it's a lower color grade, right? Right. We totally agree that spending money on things you can't see is a major no-no. A two tone engagement ring will keep your diamond bright and white.
Double, Double
One of our favorite fixes is to mount platinum prongs on a yellow or rose gold band (or shank as we say in the biz) so that your diamond still reflects colorless but you get the overall gold look you desire. Plus, you can do this with (almost) any setting. Almost, because, well, if the diamond prongs or bezel are super integrated with the band, then it gets more complicated. But that's another story for another day. Just ask us if you're not sure what's possible, we love to customize!
Ballin' on a Budget
Don't want to shell out your hard-earned dough on a high-color diamond but still want it to look like you did? Shop in the I-J range and DO set it in yellow or rose gold, and you get the opposite effect. That extra diamond color will be disguised by your gold ring setting and you'll save some serious cash in the process. Hello, honeymoon! Still want that extra platinum prong security? No problem, we can attest that warmer diamonds still look amazing on two-tone engagement rings. Best of both worlds!
Warm it Up
If you think the above is nuts because you actually love the look of a warmer-toned diamond, then we love the way you're thinking. Also called champagne diamonds (um, who doesn't want a tall glass of that right now), you can definitely find a diamond in a lower color grade that's still way before you get all the way to fancy colors. This can save your wallet a little whining. It can also be a standout look for someone looking to, well, stand out. Skip the two-tone and set it in white gold or platinum for contrast. Or emphasize the warmth with a reverse two-tone (this is what you'll often see for fancy yellow diamonds) and go with yellow prongs on a platinum or white gold band!
Stylin' Profilin'
Back in the day, it was considered quite the style faux pas to mix metals, thus you'd see someone in all yellow gold or all silver…never the two shall meet. Then it was on-trend to mix them with abandon. So darlings, you do you. If you just like the look, hate to choose, or want the freedom to mix and match, then a two-tone engagement ring might be the way to go. You can create your own totally unique style by mixing metals, whether stacking bands or doing the setting and prongs in different colors. Or go all out and try three colors together! White, yellow, and rose gold for a tri-color palette that indulges in everything.
Our Advice
You just read it, darling. There are two-tone engagement ring and wedding band options to suit any style, and any budget, it really just depends on your priorities and style. Explore our collection of two-tone engagement rings for inspo, or take our style quiz to design a dream ring that's all your own. Need more help? Holler at hello@frankdarling.com and our jewelry experts will be at your service.