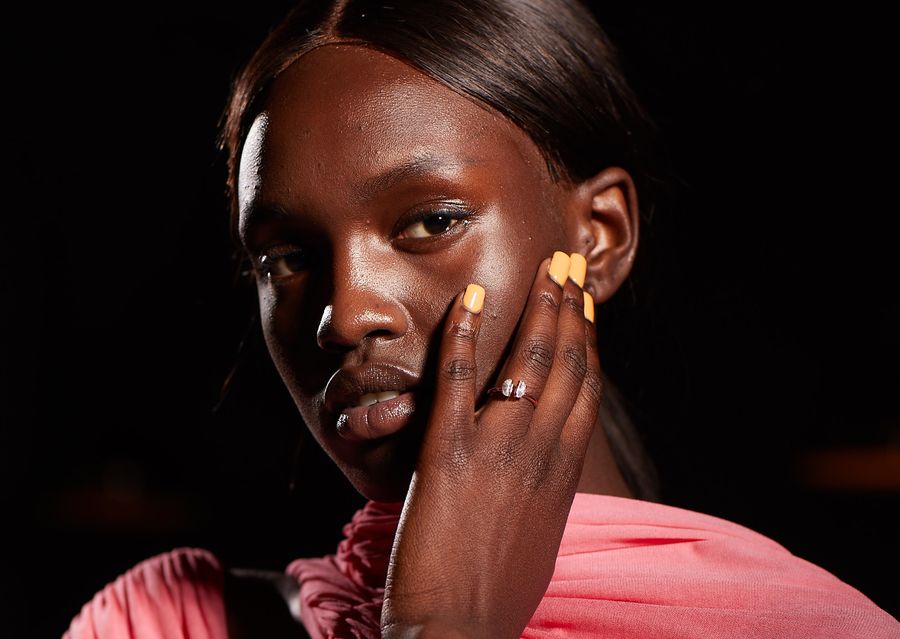 16.04.20
How to Design Your Own Engagement Ring
By Stephanie Dore
Why might you want to design your own engagement ring? Because my dear, the internet is full of rings that are close but not perfect. The band is too thick, the prongs are all wrong, maybe it comes in a bezel but there's no diamond halo option. But even if you think you're in touch with what you or your partner wants, finding it can feel like searching for a needle in a haystack. And you've got allergies. Whether you're frustrated with the available options or you knew you were gonna go for one-of-a-kind from the start, creating a custom engagement ring can be daunting, and frankly, unromantic at best.
After all, this ring is supposed to be forever. You need to make damn sure it's right. And having a hand designing your partner's dream ring—or yours—is the best way to get exactly what you want. So you start researching only to run into design fees and non-refundable contracts, or waiting forever for the perfect ring only to receive a monstrosity you're now stuck with. The struggle is all too real, but it doesn't have to be. Here's how to design your own engagement ring without a side of risk.
Step One — Get Inspired
At Frank Darling, our design process starts with you. While it might sound scary to design your own engagement ring from scratch online, rest assured, it's pretty straight forward.
Forget what we've created for other people—with other tastes (though they can provide great inspiration). Whether you're simple and sophisticated or a design rebel looking for something that stands out, the only thing we don't do is generic.
Not sure what you're looking for? Have a general idea for a three stone but undecided about side stone shape? Need to figure out how big is too big?
Take the dream ring quiz to get started. You'll answer about 20 detailed questions and get a free sketch of your ring later that day. Not loving the result? Take it again. In fact, you can request as many sketches as you want until you find what works for you. Because there's no better way to get exactly what you want.
Need a Little Inspo? Check out Some of our Favorite Custom Engagement Rings
Step Two — Book a Consult
When you're ready, book a consultation with a designer to talk through things like the setting height, side view, and get answers to all those nagging questions you have.
We'll pick your brain with some simple style and budget questions and then work up a 2D sketch to help you visualize your dream ring!
Step Three — Choose Your Stone Size and Shape
We can also send you a try-at-home kit so you can compare diamond sizes and setting features in the comfort of, well, wherever you want. Lounge it up in the living room, or rock one at the office to see if it's the right fit for your everyday. Then simply return the kit to us after five days, with our prepaid label, of course.
Maybe you're going au naturel—in terms of diamonds, of course—or maybe you're into lab-grown diamonds. Maybe it's a Moissanite, a birthstone, an exotic gem. We don't judge. All we do is find the right stone for you, and for your budget.
You don't even have to trust us. We know purchasing a diamond or gemstone over the internet can be a cringe worthy affair, so our experts can view the stones, make sure everything's kosher, and send you video footage so you don't ever have to just take our word for it. And because, sometimes, size really does matter, we can also send you a cubic zirconia sizing kit to help you pick the right carat weight for your final design.
If you're in NYC or nearby, book at appointment at our Brooklyn salon to view diamonds and try on engagement ring settings IRL. There's no easier way to design a custom engagement ring in New York.
Step Four — Try Before you Buy
Once we've settled on a design in 2D, we'll make a custom 3D model of your ring. You'll receive 3D images of your design and up to two rounds of free revisions to make sure we're capturing all the unique details you're looking for.
You'll also be able to request a wax sample of your design once all the features are approved, so you can try on your exact ring at home, sans its final sparkle. This gives you the opportunity to see your design at scale before it's created in fine metal by our expert craftspeople.
If you're in NYC or nearby you can come by our salon to see your diamond "set" in the sample, and if you're remote we'll send you a sample with a mock diamond printed in.
Sit Back, Pay, and Relax
Once you're super satisfied with every last detail of your custom engagement ring design, our team will help you complete your purchase and your ring will be made from scratch here in NYC in three weeks or less. All our rings are made locally to order from 100% recycled gold.
While most jewelers don't allow returns on custom-designed engagement rings, which means you're stuck with something sight unseen, we like to keep things a little more low-key. After all, making this huge purchase is enough pressure already. So we offer free, 30-day returns on all custom rings.
So, How Much will a Custom Ring Cost?
We don't believe in charging a premium, or a design fee, for our custom engagement rings, which means they're priced the same as our non-custom rings, based on the cost of raw materials and labor. No scandalous markups. No rip-offs. Just your dream ring made of the highest-quality materials, lovingly crafted by artisans who care.
Ready to Design Your Own Custom Engagement Ring?
As more and more couples decide to ditch classic for something a little more low profile or unconventional, it can be tough knowing where to start. But getting a custom engagement ring doesn't have to be all pressure and no play. It can often be the easiest way to get something that's totally you. And it doesn't have to break the bank. Take the quiz to get started!