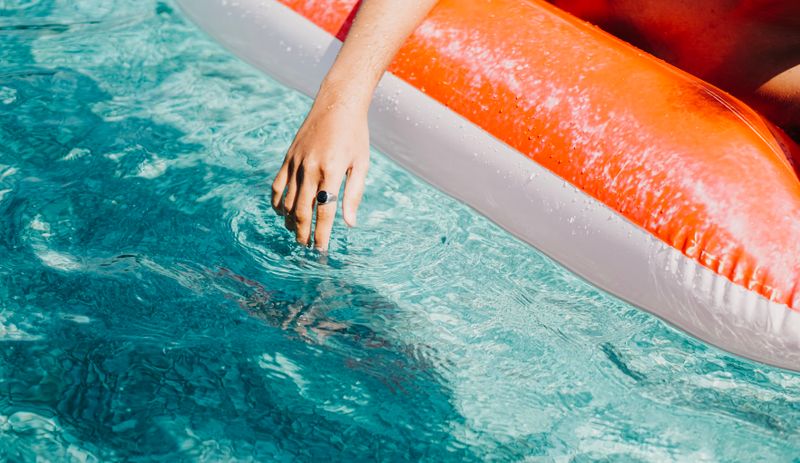 02.07.20
You should absolutely take off your diamond ring when doing these five things — summer 2020 edition
Wondering whether you should be wearing your diamond ring on vacation? Everything you need to know to care for your new jewelry.
By Stephanie Dore
Well, my dear, congratulations. You just got a diamond ring. And chances are, you want to wear it all day, every day. We beg of you … don't.
The reality is, owning fine jewelry is like owning a fancy car. To keep it around—and looking its best—long enough to pass it down to future generations, you have to take really good care of it. And get it some regular maintenance while you're at it. The reality is, there are just certain things you should and shouldn't do with your jewelry on.
Skinny Dipping
Nude or not, pool or lake, swimming—especially in cool water—can make your fingers shrink. And that can make your ring fall off. And the last thing you want is to have to call the lifeguard to drain the pool … or hire a diver to skim the bottom of the lake. Talk about cringe-worthy.
Beach Please
Ditto for the beach. We know all you want to do is put your toes in the sand and let the sun bounce off that bling, but the beach is notorious for lost rings. And if it doesn't get lost, it's likely to get dirty. Grains of sand caught in the fine crevices of your diamond ring is a big no-no. Don't do it. However, if you're here because you've already lost it and aren't sure what to do, these fine folks can help you find it.
Yes Way Vacay
This one is a toss up. While you can wear your ring on vacation, you'll want to make sure your insurance has you covered (please, please, puhhhlease do this anyway) just in case anything goes awry and your ring is lost or stolen. One of our favorite solutions? Leave the real thing safe at home and substitute a simple band. Or, even better, we can make you a sterling silver travel ring—like a body double for the real thing that will keep you feeling like you're rocking your diamond without the risk.
Cleanin' Up Your Act
Maybe you've got the spring—ok summer—cleaning bug. Take off your jewelry. While your diamond might withstand an antibacterial dip, your metal won't be so happy. Chemicals (including hairspray, perfume, and cleaning solutions) can cause your ring to change color, eat away at the metal, or worse. Running? Take it all off. This goes for gardening as well.
Beach Body Boot Camp
We always recommend taking your diamond ring off while doing ANY kind of exercise—outdoors or in. When you're working up a sweat, and working with your hands, the last thing you want distracting you is your jewelry. And in our many years of experience, we've seen it all. Don't wear it rock climbing, weightlifting, scuba diving, mountain biking … don't even wear it for goat yoga. Instead, here's a cute thing you can buy to wear it on your wrist and keep it close.
Summer Summer Summertime
Beyond those five things, it's normal for the heat to cause your fingers to swell in the summer. If it starts to get uncomfortable and your ring is feeling too tight, don't sweat it. While you could resize it, it's likely that, come winter, it will fit right on again. Instead, just remove your jewelry (and store it in a safe place) if it feels tight or consider a silicone band for when it's just too hot. This is especially true with thicker bands like cigar bands and wide wedding rings.
Time to Sit Back and Unwind
Now that you know the basics, here's a few extra tips, on us:
1) Insurance. If all else fails, jewelry insurance can really save your butt.
2) When taking your jewelry off, keep it in the same place every time so you won't forget where you put it.
3) Always put your diamond ring on last. Lotions, makeup, perfume, etc. can just gunk up your jewelry, making it look dull and well, a lot less sparkly, if not also damaging the metal and gemstones.
4) Get regular maintenance. At least every 6–12 months. Have your diamond ring cleaned and your setting checked to make sure you don't lose any diamonds. That really is the absolute worst.
If it comes down to it and you just want to zhoosh up your ring in between professional checks, you can soak it in a solution of warm water with a couple drops of dish soap and give it a gentle rub down with a soft, old toothbrush to bring it back to life. And don't forget, all Frank Darling rings come with a complimentary care plan including free cleaning, polishing, and prong tightening for life.
Ready to Find the Diamond Ring of Your Dreams?
Take our dream ring quiz and get a free custom sketch. Or try on engagement ring styles in the comfort of your home with Frank Darling's free try at home kit. You'll receive four sterling silver replica rings set with cubic zirconia along with a ring sizer. Everything you need to find the perfect ring and make it yours.