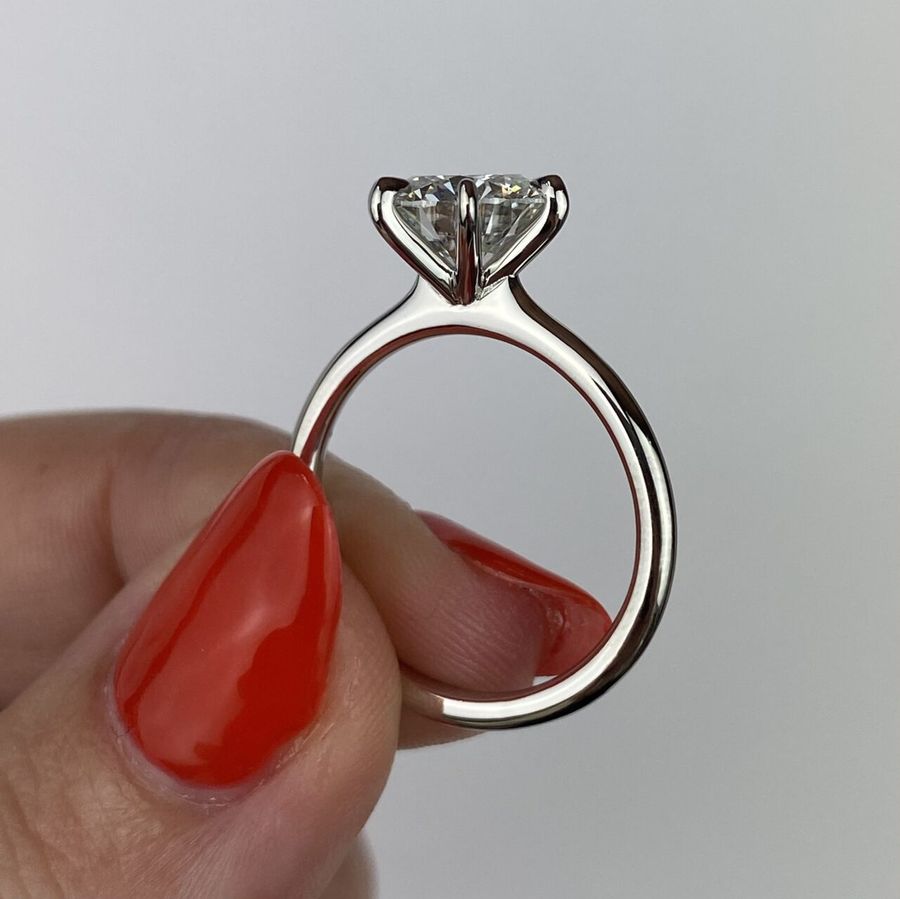 10.08.21
5 Reasons to Ditch the Prong Setting
Prong, p-prong, prong, prong. Yes, we're singing this song. And now it's probably stuck in your head too. No apologies though. Because we're here to tell you, classic prong set engagement rings — despite being like, whoa, pretty — are a pain in the you know what. They sit up high, snag on everything, and rarely fit flush against a wedding band. So for the love of, well, love (and our favorite sweaters) we can't explain why prong settings are so here to stay. But you bet your bottom dollar we're sure going to try.
The Long Con
Look, we're not going to play here, prong settings are the ultimate classic. But why? It all starts with the natural properties of a diamond. You know, that whole sparkle thing. Because sparkle comes from light reflecting in and out of a diamond, a diamond needs light at certain angles. And prongs, with their skinny selves, raise a diamond up in the air, with minimal metal around it, to let light in…and therefore back out to your eye.
Take the classic "Tiffany setting" for instance. You know the one. A big diamond set in a multi-pronged solitaire mounting on a skinny band. All shimmer and glimmer and big name about itself. Now, it's a stunning style no doubt. But why go for the same ol' thing that everyone else has? Classy without overcompensating, our Harper solitaire has a raised diamond that allows for a flush fit band, smooth rounded prongs for less snag, and plenty of shape options so you can stand out from the crowd.
Speaking of Snag
That's right, we mentioned rounded prongs. See, prong settings are known for easily snagging on your favorite, well, everything. Not only can that mean sweater damage but catching a prong can pull it out of place, with enough force, leaving your diamond at risk for loss. And that's no good. There are a few different prong tips to choose from, like rounded ones that offer a smooth finish with less snag. Or a claw style if you still like a point, but more smoothed out and rounded at the tip.
Now that we have you worried about losing your diamond, don't. But just in case, get insurance. Yes, engagement ring insurance is a thing and it's super important, whether you choose a prong setting or not. The last thing you want to worry about every day (which is how often most of us will wear our rings) is damage and loss of your precious gem. Jewelry insurance is meant for those moments when the worst happens, to replace your ring with something comparable, and not leave you at a loss.
But Aren't You All About Bezel?
Yes, yes we are. Bezel settings are the best. Prongs are boring. Right? Nah. We love 'em all. But a bezel setting does block more light than a prong setting, which is why so many people don't go for that. Want to strike a balance? A half-bezel setting lets in more light, is a bit more delicate than a full bezel, and yet is smoother and lower profile than most prong settings.

If you want prongs and a low profile, though, we've got you covered. A rose cut diamond is one of our favorites. This old school diamond cut is flat on the bottom, allowing for a super low look that hugs your finger. Our compass point rose cut setting has super minimal prongs that let your diamond really shine. Or go for vintage detail with a double prong look that steals the show. Want to stick to a classic cut? That Harper solitaire is designed specifically to sit as low as it can go.
Sparkle Up
Think prong settings are super dull? Not if you cover them in delicate micro-pave diamonds, they're not. Diamond prongs are a gorgeous way to add a little extra detail and sparkle to your classic diamond solitaire engagement ring. Or go with a diamond gallery, or hidden halo for something modern with a twist. Want to keep it more on the low, hide a secret diamond inside the band for a little something special. Just keep in mind that the more little diamonds you rock, the more chance there is for wear and loss of those lil guys. They can definitely add a streak of delicacy to your engagement ring. So if you're super active, we say maybe nay.
Whether you go with a single diamond or many, a regular maintenance plan is the ticket to jewelry happiness. Yes, just like owning a car, your ring needs regular checks from a trained jeweler. This usually involves cleaning, to remove any oil and dirt build up (yes, this just happens, no matter how clean you are) and check all your stones for tightness. A jeweler can then tighten any prongs that might have loosened with wear (this is normal) and make sure nothing more serious is at stake. At Frank Darling, we suggest a check every 6-12 months, and offer this at no cost to all of our engagement clients.
Who Are We Kidding
We love prongs, we can't deny. They let light in for the ultimate diamond sparkle, they protect the points of a pear or marquise cut diamond, they put your diamond on full display for all to see. If you want to spice them up though, maybe try a two-tone style? Set a warm colored diamond in yellow gold prongs on a platinum or white gold band. Or go the other way around with platinum prongs to bring out the whiteness of a colorless stone. You can even mix things up and add some rose gold in there just for fun.
No matter how you like your prongs, we're here to help. Check out our engagement ring collection for prong settings featuring just about every shape diamond you can dream up. Or design your own with our style quiz and get a free sketch. Want a little more help from our team? Drop us a line at hello@frankdarling.com with a bit about what you're looking for (and your budget) and we'll get you sorted.