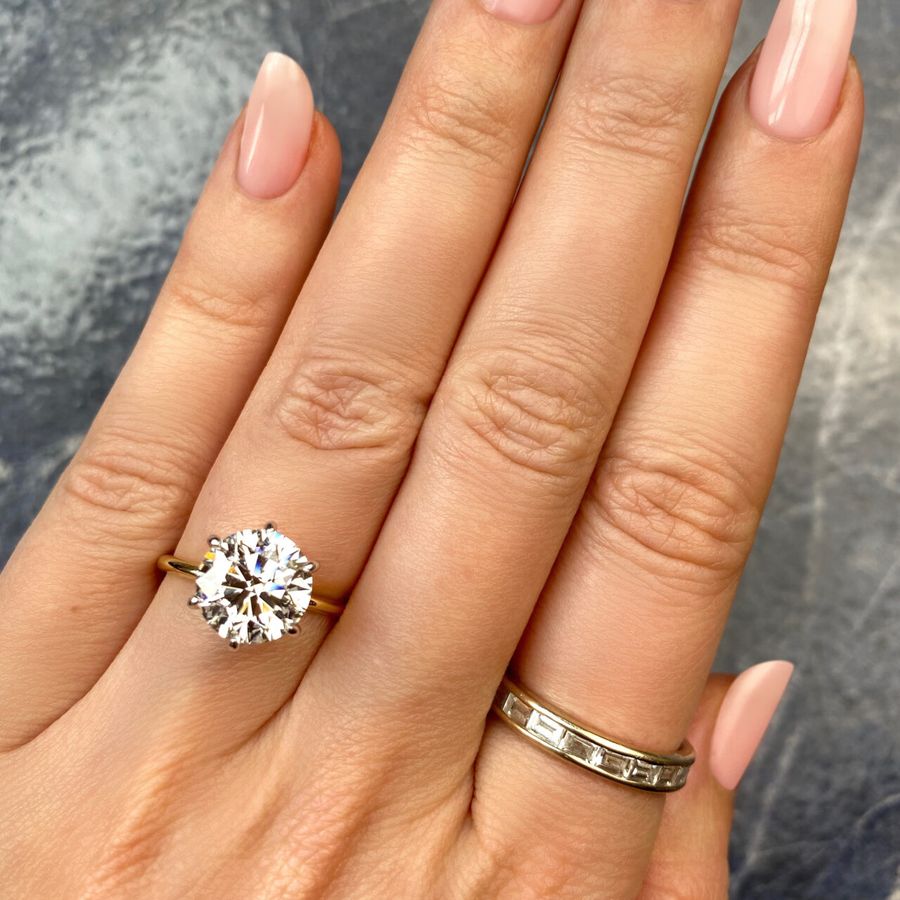 06.12.20
5 Ways to Make your Solitaire Engagement Ring Less Basic
By Stephanie Dore
So, you've decided on a solitaire engagement ring. Basic? Maybe. Boring? We wouldn't stand for it. A solitaire is utterly timeless and, honestly, going to save you some money (in the world of exorbitant engagement rings, a solitaire is relatively affordable)! That means more budget goes to your center stone instead of an over-the-top setting. Only, what if you want something in the middle? Like, the business class of engagement rings, perhaps? No worries, we're here to help, with six of our favorite ways to make your solitaire engagement ring look a little less basic.
Just The Tips
If you want to keep things simple but not all-out boring, the easiest way to personalize your solitaire engagement ring is with a little twist on prong style. They don't all look the same, you know! They can have a more ball-like shape, or look like little talons, or even be squared for an angular effect. Depending on your personal taste (soft and curvy or sharp and geometric), this simple prong style choice can make a surprisingly big difference.
Up The Ante
Want a little more? Mini diamonds can still have a major impact, adding sparkle to even the tiniest setting surface with pave prongs! These delicate stunners aren't for everyone, though, as they can be rather delicate. So if you're someone who works with your hands on the reg, then maybe reconsider.
A Milli, A Milli
If you're looking for a lower-maintenance option that still stands out, add some milgrain detailing to your engagement ring. This technique is where thin rows of metal beads are added to create intricate patterns on your ring. This might be on a bezel, on the edge of a band, or just about anywhere you like, really. They can be machined or hand-made, with slightly different aesthetics, and will give your ring a slightly vintage feel.
Subliminal Sparkle
Want to keep a modern, minimalist style but make it your own? Add a hidden gem! Whether under the setting or inside the band, a hidden gemstone accent (this could be a diamond, or another colored gem or birthstone) can act like a special little secret that's just for you (and your partner) to enjoy beyond what everyone else gets to see.
Hide and Seek
If you're looking for something a bit more showy, but still surprising, try a hidden halo. Instead of your standard halo, this one goes around the lower part of the diamond setting, facing outwards (instead of up) so you can really only see it from the side view. It's a fun way to add sparkle without making your ring too flashy.
Mix it Up
Mix it up with a yellow gold band and platinum prongs for an engagement ring style that keeps your diamond looking sparkly and white.
Mix and Match
If you really want to go all out, mix and match a few of the above to come up with something completely your own! Use our dream ring quiz to work out all the details and get a free sketch of your design to see how it will all come together! Try adding different diamond details, changing the color of your metal, and more, and our design team will help you refine your look to make sure it's just right before you pop the question.