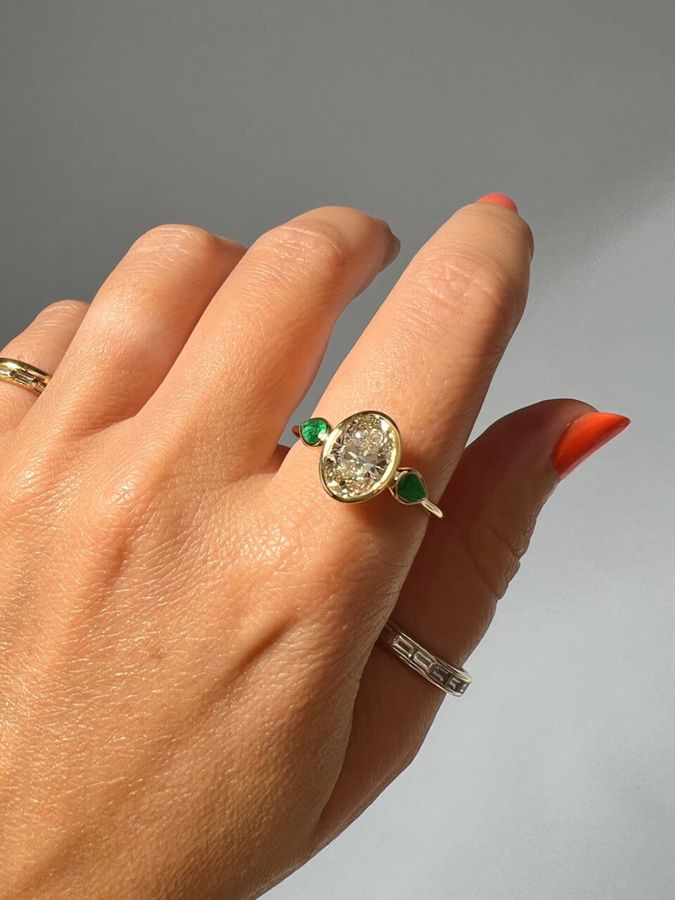 23.02.23
Battle of the Diamond Shapes: Oval vs Marquise
By Afton Thomas
We totally get it-deciding on diamond shapes can be a real challenge. And when it comes to deciding between the uniqueness of an oval cut diamond and a Marquise diamond, it's like trying to choose between a Manhattan and a cosmopolitan. That is, impossible. While their incredible sparkle and impressive finger coverage may appear similar at first inspection, these two diamond shapes are actually exceptionally distinct. But don't ring your bell just yet because below we break down the blow-by-blow of each shape. Two diamond shapes remain but only one can reign…let's begin.
Meet the diamond shapes: Oval
Oval cut engagement rings have been around for ages but have only recently become some of the most requested center stone shapes. Riding on the coattails of its cousin, the round brilliant cut, oval shaped stones became most popular after the 1920s Art Deco era. This was thanks to their rounded and smooth lines that created quite the contrast from the edgier, angular, step cut stones of the time. Ovals are clean, chic, and quickly becoming the latest classic.
Notable Oval Shaped Engagement Rings: Princess Diana, Blake Lively, Hailey Bieber
Meet the diamond shapes: Marquise
Marquise cuts have been making ring fingers sparkle since the 18th century. Worn by the likes of French royalty, golden-age Hollywood actresses, and some of the most unapologetically stylish celebs today, their tapered, pointed edges embody the essence of romance. Marquise cut diamonds marry antique drama with modern sophistication. As one of the more unique diamond cuts on the market, you won't see this shape everywhere, and that's exactly the appeal. Stepping out with a Marquise demands attention, and only the best kind.
Notable Marquise cut diamond engagement rings: Jackie O, Catherine Zeta Jones, Victoria Beckham
Round 1: Shape
Oval and Marquise stones are all about the golden ratio, as in, your golden length-to-width ratio. You can find ovals and Marquises from super thin and elongated (think supermodel sleek, ~1.6 LW ratio). To chubby and full-bodied (think chonky, ~1.3 LW ratio). To even the perfect almond shape in between (~1.45 LW). The best silhouette? Up to you. And, of course, Frank Darling is here when you need us to recommend the perfect ratio to get your desired vibe.
In terms of durability alone, we're gonna give this win to the ovals. You can set those bad boys practically any way you want without worrying too much about wear and tear. Marquise cuts are a bit trickier, you GOTTA protect those pointed, sleek tips. But if there's a will, there's a gorgeous way. And honey, we have a wide variety of secure and stunning setting options that will show off the beauty of your Marquise cut diamond while keeping those tips protected. Check them out here!
Round 2: Cut
Here's where it gets a little tricky for both of these stunners. If you're choosing either of these shapes for your engagement ring, zeroing in on cut is going to be priority numero uno. Ovals and Marquises are prone to little dark shadows in the center of the stone called bowties. Bowties aren't very difficult to spot with the naked eye. You can see them whether you're peeping an image on the web, or perusing in person. You'll notice a lack of light refraction right in the middle that creates a black looking void in the shape of a, well, bowtie.
While this can happen in a few other elongated, brilliant cut shapes like cushions and radiants, bowties tend to be most visible in ovals and Marquises. While bowties can be, at times, unavoidable we're able to curate a flight of diamonds that maximize the sparkle and flashes of light while making sure that the brilliance outweighs any shadows. So while it's not something you need to be too concerned with, it's just a lil' something to watch out for when you're shopping for your special stone.
The winner? This one's a toss up, with an ever slight edge towards the Marquise since they're a bit narrower which creates less space for a loss of light. Shine on, you crazy diamonds.
Round 3: Finger coverage
Okay, we've been really looking forward to this one. Both of these shapes were BORN to take. up. space. They're the best bang for your buck out there if we're talking maximum real estate and minimal carat weight. Why? Because their elongated, rounded shape gives the illusion of a larger stone at a lower carat weight, AND they hold that weight extremely well. Especially compared to their step cut sisters. No matter how you set them, North-South or East-West, these are THE shapes to lean on for big impact.
One quick watch-out: depth ratio. If the majority of the stone is too deep or shallow, you'll lose even more of that light refraction we talked about earlier. Plus, you might be paying for extra carat weight that isn't really reflected in the size of your stone when it's facing up. For ovals, an ideal depth ratio range would be from 58 to 65%. For Marquise, go for 63 to 68%.
The winner? Well, Marquise is going to the chapel with this one. While ovals create a lovely spread and make any finger appear longer and leaner, the Marquise with its stunning pointed edges is even more extra.
Round 4: Clarity & color
Usually these two categories would be pretty important to break out on their own. But not for these shapes. We'd give the same advice for those seeking either of them, resulting in an unanimous tie for both of these beauties.
Let's talk clarity. Since these stones are both brilliant cut, you don't need a perfect IF (Internally Flawless) rating to turn heads. If budget is in consideration, you can totally head in the SI (Slightly Included) direction, as brilliant cuts tend to hide inclusions particularly well. As always, be sure to check out the stone in person when possible to make sure that you're comfy with how the stone faces up. In fact, head over to any of our showrooms and we'll pull a flight of gorgeous eye-clean diamonds for you to see for yourself.
Color? It shows. Compared to other cuts Marquise and oval diamonds do tend to show their true colors. So, if you're into all things iced-out, go for colors in the D-H range with a platinum or white gold setting. Can't get enough of that golden warm hue of champagne diamonds? Feel free to push it on the color scale. Start with I grades and work your way down to however warm you want it. Hint: we loooove amping up the romanticism with antique-y champagne Marquise and oval diamonds.
Round 5: Price
The topic everyone's curious about. And we're here to tell you, it's another tie. While ovals are becoming more and more popular in the market (and typically that means a price hike) the sheer spread you can achieve versus other shapes creates an incredible value.
Likewise, with Marquise being a little less out and about on the market, you need even less carat weight than an oval to make a statement. In this category, it's really up to what you envision your dream ring looking like. Do you want a big flashy halo? Or, a luxe bathtub bezel? How about a three-stone stunner? An east-west minimal vibe? A mod chunky look? With an oval or Marquise diamond ring, you can truly have it all!
Diamond shapes: The wrap
This was a tricky one, folks. We get that ovals are the current belle of the ball, but there's something just so unassuming and chic about a Marquise. In fact, we'd say that the Marquise ever so slightly edged out their sister oval this time.
Still can't decide between either of these stones? Want a little something in the middle? Not to throw a wrench in the plans, but there's a little thing called a Moval for that. The perfect Mix between an oval and Marquise. We can source those for you too. Ready to start shopping? Browse over 10,000 diamond profiles complete with 360-degree images online, or drop us a line at hello@frankdarling.com to chat. Need more in-person sparkle in your life? You can always visit us in our New York, DC, or San Francisco showrooms and we'll show you all the sparkle your heart desires.