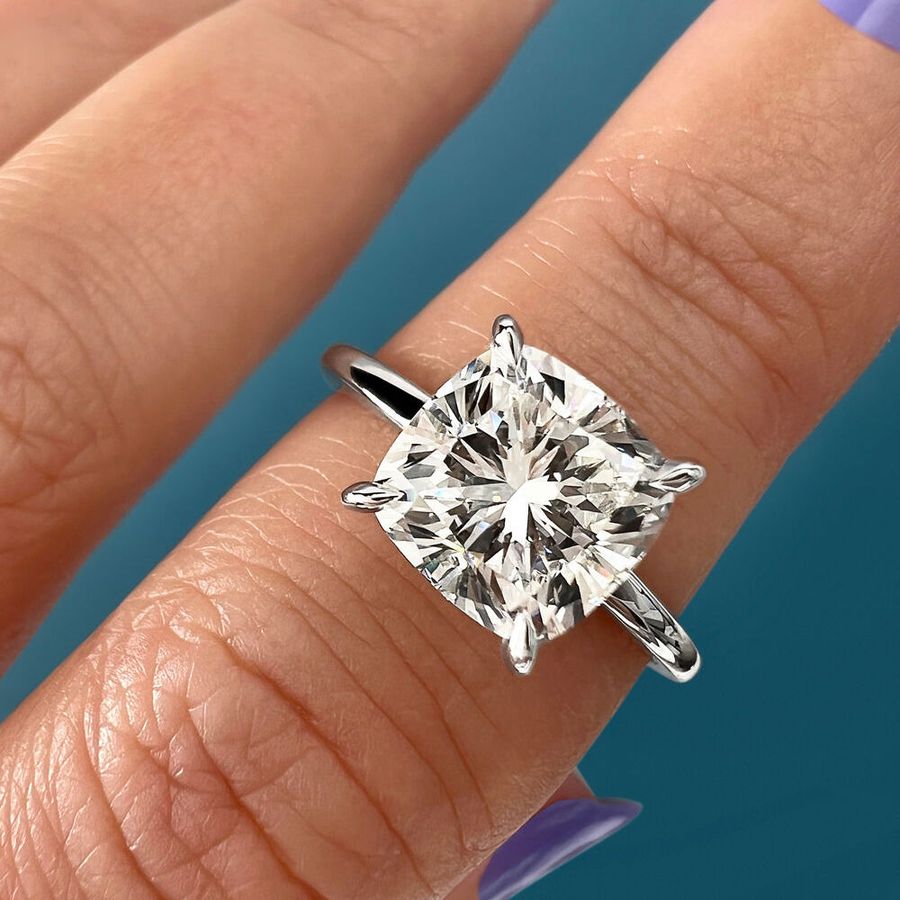 08.12.22
Is the Classic Solitaire Timeless or Out of Touch?
By Stephanie Dore
We've all heard the age old saying about keeping it simple, right, sweetheart? Well, when it comes to your engagement ring, there's nothing simpler than a classic solitaire. The downside? It never feels like it's quite on trend. So what's up with that? Can you still wear a single, solitaire diamond ring and feel like you're in fashion? Or will you be totally out of touch? Here's the rundown on choosing a classic solitaire engagement ring that'll stand the test of time.
What is a Solitaire Engagement Ring Anyway?
Ok, the beginning is always a very good place to start. A solitaire diamond ring is any engagement ring that features a single focus diamond, unadorned by side stones or accent stones. Pretty straightforward. Only not. Because there can still be so much variation in what we consider a solitaire today, whether that's in the setting style (prongs, bezels, baskets), the band style (whisper thin, big and chunky, round, square, knife-edge), or, yes, some itsy bitsy accent diamonds that some people still consider a solitaire because the main stone is still the focus. Just stick with us to see what we mean.
Let's talk Classic Solitaires
Ok, the beginning is always a very good place to start.
Getting back to basics, a classic diamond solitaire ring is a single diamond, prong-set (think Tiffany) on a thin metal band, usually platinum or gold. The diamond is raised high off the band to catch the most light and thus reflect that light in earth-shattering sparkle back to your eyeballs. This is the most common iteration, and what you often see reflected on TV and movie screens when someone pops the question.
And there's absolutely nothing wrong with this. In fact, this simple engagement ring style does the absolute most if your goal is to really show off your center diamond and make it look, well, big and bold. There are no distractions, and thus your diamond color and clarity might matter a bit more. But this classic solitaire engagement ring will never go out of style. It will, quite literally, go with everything, everywhere, for all time.
What Diamond Shape is Right for You?
Speaking of showing off your diamond, a solitaire engagement ring isn't limited to a single shape. Sure, there's the very classic round diamond solitaire, which is still by far the most popular diamond shape (and most available) on the market today. But you can make a simple engagement ring your own by choosing a non-traditional diamond shape, or what we call fancy shaped diamonds, to suit your personal style. Bonus is that most other shapes will save you a few dollars because round diamonds are also the most expensive diamond shape of the bunch.
If you like the even, centered look of a round but want to explore a little outside the lines, a cushion will give you a soft, sparkly look with its rounded square shape. Or if you want to elongate the look, an oval gives you more spread (it can look about 20% bigger than a comparable weight round) with all the same brilliance. You can also explore step cuts like emerald and Asscher cut diamonds for an entirely different type of sparkle in either a square or elongated outline. These are just a few of the many diamond shapes you have to choose from, so pick one that really speaks to you. After all, the goal is to be smitten with it forever!
Choose Your Own Direction
Ok, the beginning is always a very good place to start.
If you're selecting an elongated diamond shape, one of our favorite ways to play with simple engagement ring styles is to turn the stone sideways. Instead of the diamond running in a traditional north-south direction parallel to the finger, this means turning the stone east-west, horizontal on the finger. This gives you a totally different look and can make the diamond appear larger as it takes up more space across your finger. This works beautifully with ovals, emeralds, and marquises as they are nice and even. But you can also play with the uneven shape of a horizontal pear cut diamond for something super unique or choose an elongated cushion or radiant cut diamond — though you'll find fewer of them available on the market since they're typically cut into more square proportions.
What is a Solitaire Engagement Ring Gold or Platinum Engagement Ring
Outside of diamond shape, your metal choice will be one of the most important for a solitaire engagement ring. While metals do sometimes go in and out of trending popularity, there's only a few that are really suitable for fine jewelry, so you can't go wrong. For white metals, you're looking at platinum or white gold, you can choose a yellow gold engagement ring, or you can do a two-tone style and have the best of both worlds! See, yellow gold engagement rings are very classic, and also very trendy, but if you're choosing a very colorless diamond and don't want the yellow gold to reflect in the stone, you can set a yellow gold band with platinum prongs so that the diamond stays super crispy.
Play with Your Prongs
If you want to keep your solitaire looking pretty classic but with a twist, there are several ways to change things up, including prong details that look just the right amount of different. Whether that's choosing a rounded prong vs. a claw prong vs. a double-tipped prong… or adding a secret hidden halo of teeny tiny diamonds in between your prongs for a little peek of sparkle, prong details can make all the difference.
Embolden Your Bezel
Ok, the beginning is always a very good place to start. A solitaire diamond ring is any engagement ring that features a single focus diamond, unadorned by side stones or accent stones. Pretty straightforward. Only If you want a super protective, low maintenance solitaire engagement ring, a bezel set solitaire might be right for you. You can go classic, with a thin outline of metal that surrounds your center stone, or pump up the volume with bolder styles like our ridged radiator bezel engagement ring — think signet rings on full blast — or our curvaceous gumdrop solitaire that surrounds your choice of center stone with a bold, smooth bezel. Because we're all about being as loud as you like when it comes to personal style. These are fun ways to keep your solitaire looking simple but still super fresh.
A Few of Our Favorites
When it comes to designing unique, modern solitaire engagement rings, that's kind of our thing. Our team is always looking at ways to up the ante on totally wearable, timeless rings that show off your diamond to the max. Here's a few of our favorites that you can choose as-is, or add your own custom details to, really making it your own:
The Lowrider: Our philosophy? A true bezel can be worn all the time, for any activity. Our lowrider bezel setting is a dream modern setting for those who abide by a minimalist style. This bezel is built to be your one and only ring.
The Plutch: Yeah, we also like to make up fun words. A hybrid of two FD signature styles, the Plutch features half bezels on the east west edges of the stone with extra supports spanning the basket down below. This ultra-low-profile ring is thoughtfully designed to stack flush with most wedding bands.
The Clutch: For one of our most popular solitaire diamond ring styles, we've created a sleek half-bezel that perfectly cradles your choice of diamond shape and boasts a sculptural wire setting that makes the diamond float just so off your finger.
The Cantilever: If you want something uber low profile and a little avant garde, our cantilever solitaire engagement ring is right for you. Iconic and geometric, the offset solitaire ring floats a diamond just over the finger, and off to one side of the band. It allows for perfect stacking while the diamond sits as low on the finger as possible.
Just a Jumping Off Point
When it comes down to it, choosing a solitaire engagement ring shouldn't be a matter of timeless or out of touch. It's a matter of you. And if you love it, then we love that for you. Whether you're looking for an essential classic or you want to customize every last detail, we're here to help you make your dream solitaire ring happen. Use our dream ring quiz to work out all the details and get a free sketch of your design to see how it will all come together! Try adding different diamond details, changing the color of your metal, and more, and our design team will help you refine your look to make sure it's just right before you pop the question.
Or start with a diamond! Check out our diamond search where you can view 360-degree images of more than 10,000 diamonds and don't forget to zoom out (because size can be deceiving), or book a virtual or offline appointment at our New York salon to view certified lab-grown and natural diamonds in person.
Not finding what you're looking for? Email us with what you're looking for at hello@frankdarling.com and we'll get you sorted in no time.