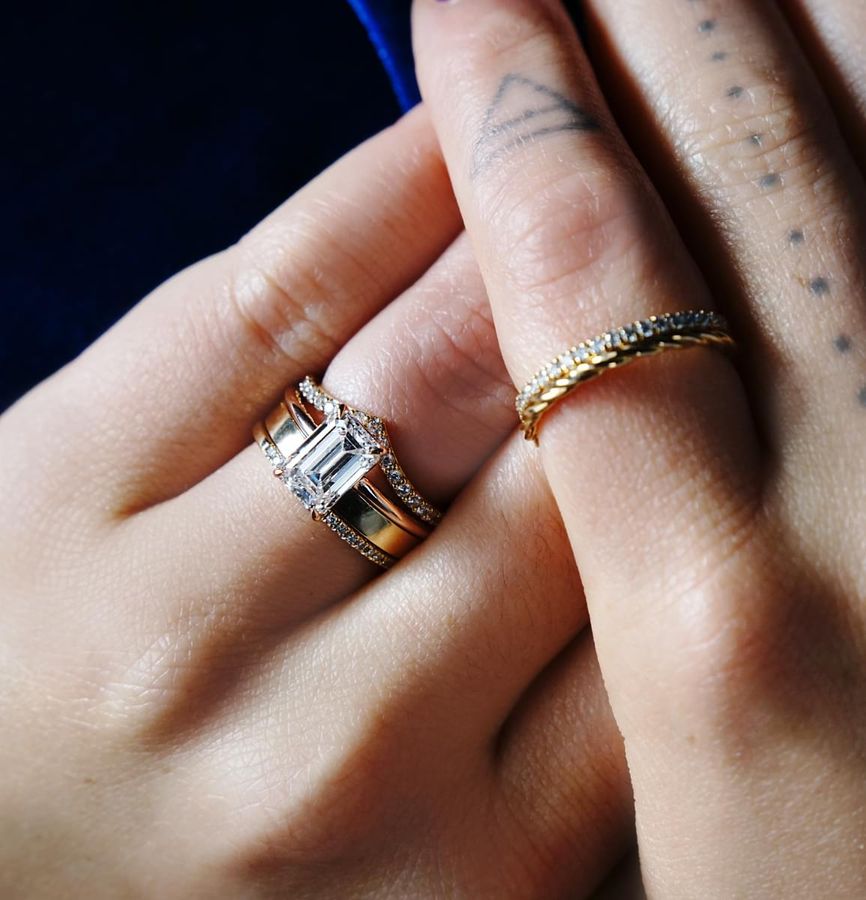 17.03.23
Which Goes First? Wear Wedding Ring Sets with Style
By Afton Thomas
Which goes first, the engagement ring or the wedding band? Should your rings match? What should a wedding ring even look like? What does it all MEAN?! You've got questions, we've got answers, and all the ring inspo to go with it. We'll let you in on what tradition says, then you can let your mind run wild with all the possibilities.
The Basics
Throughout many different cultures, exchanging wedding rings is a time-honored way for couples to show the world that they are taken fo' life. It wasn't until the early 20th century that engagement rings became a thing (much to our delight) making two rings the norm for the proposee. In the US, it's most typical to wear your engagement ring on the fourth finger of your left hand, AKA the "ring finger". But then where does the wedding band go? Tradition says that the wedding band should be worn first, or closest to your heart, with your engagement ring stacked on top of it. But we're here to say rules are made to be broken, all in the name of sparkle and shine.
These days it's okay to wear your wedding jewelry, you guessed it, however, you want to. There is nothing wrong with sticking with tradition, but it's all up to you. Some just wear one band, some wear 3, 4 or more! Some wear their engagement ring on the left ring finger, with a wedding ring on the right. In some countries in Europe, they stack 'em all on the right ring finger. So, march to the beat of your own drum. Do what feels right for you and for your partner. It's the L-O-V-E that counts.
Wedding & Engagement ring trend: Flying Solo
There are two ways to do this trend right.
1. Minimal with BIG impact: Go for a diamond eternity band and use that to represent your engagement ring AND wedding band. Try an unexpected shape, like Ovals, Asschers, or a Mix & Match for a unique take, or go bigger with the Emerald 5-Stone to wrap that finger in a whole lot of love. We love a clean, simple queen.
2. Center of Attention: Does your engagement ring do all the talking? Did you go larger than life? Is your ring a low-profile setting, so it won't stack flush with a band? Let her be the star of the show. You can always use your right hand for a wedding band if you so choose.
Wedding & Engagement ring trend: Stacks on Stacks on Stacks
The latest ring style that's not going away any time soon? Stacks. for. days. Some couples opt to start with a few bands to pair with their engagement rings and keep adding as time goes. Whether it's to commemorate milestones or just for aesthetic, we stand by this trend. There are endless ways to switch it up. Mixing it up with different widths is an ultra-mod way to go.
Wedding & Engagement ring trend: Pump up the Volume
An elevated stack with peaked flair. Piqued your interest? If you're into a low-sitting engagement ring and don't love the gap, the Peaked Eternity is your gal. Even better—frame your center stone ring with two of these rings. Picture, perfect. We can customize this look to hug your engagement ring and achieve the ethereal goddess status you deserve.
Wedding & Engagement ring trend: Living in Color
WE. LOVE. COLOR. Emeralds, Rubys, Sapphires, Tourmaline—you name it, we can incorporate it. Adding some color to the mix is a great way to represent your partner, children or loved ones via their birthstones or just simply mixing in your fave color. Pro tip: get super custom with an eternity band featuring half diamonds and half gemstones or add just a few statement stones hidden in your band that are meaningful to you. Choose the diamond side for your everyday no-fuss look, flip it around for special occasions, date night, or if you're just feelin' fun and flirty.
Wedding & Engagement ring trend: Mixed Metals
For jewelry lovers who can't decide, for those who love bling in any metal, going for a mix is your move. Boost your stack with a rose gold, platinum, yellow gold combo. Work from your engagement ring out—opt for a classic eternity band in your fave contrasting metal, and add an element of surprise with a thicker statement band to really up the drama. The options are truly endless, and you can make it your own. If you're into matchy-matchy, this is the perfect way to jive with your partner's style but with your own signature vibe.
Wedding & Engagement ring trend: Carbo-Load
Foodies, take note. At Frank Darling, we believe that pasta is the way to anyone's heart. So, we started a line of wedding bands inspired by the noodles you know and love—and they're absolutely as craveworthy as your favorite dishes. From the originals, The Rigatoni and The Lasagna, to their offspring: The Canule, The Barbine, The Capellini, and The Rigatini, there's plenty of eye candy waiting on the shelf. These bands are not only an incredible topic of conversation, but they're the perfect way to mix up your stack—whether you're pairing them with your engagement ring or matching with your partner.
Wedding & Engagement ring trend: Blackout
Black diamonds get a bad wrap. Often neglected, but never overshadowed. If you find yourself inspired by Wednesday Addams, keen on a little edge, a knack for moodiness, but a whole lot of heart—black diamonds are probably your answer. They've got the perfect balance of masculine energy with timeless, goes-with-everything class. (And they're durable AF.) Truly a no-brainer in our books.
How To Choose
We're so sorry, we can't choose for you. But with all the options out there, we can help create a one-in-a-million stack that you will cherish forever. Best way to decide? Visit us in our New York or San Francisco salons to try on a few combos to see what feels right. There's truly no wrong answers, and the best part is you can always add on later. Anniversaries, anyone? Drop us a line at hello@frankdarling.com to start designing you and your partner's perfect stack.