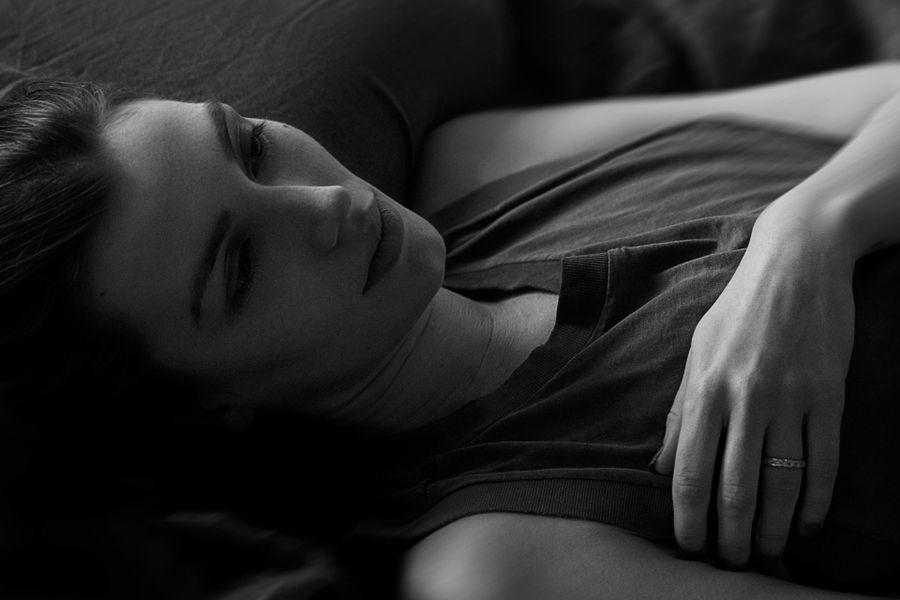 04.07.19
Our Favorite Low-Profile Lab Grown Engagement Rings
For many, the quintessential engagement ring is the Tiffany setting. A triumphant display of light that celebrates a diamond's brilliance with a minimum of metal, a maximum of height, and a knife edge band for added discomfort. Designed by Charles Lewis Tiffany and the company's gemologists, the claw basket was designed to let the diamond do what it does best — attract light. A thing of beauty best suited for sitting, reading, or tea parties. It might be a bit risky for anything more vigorous than croquet. If ballroom dancing, nanny supported child-rearing, and an otherwise physically inactive lifestyle are your life goals, it might just be the perfect ring for you. A ring for the modern working woman it is not.
If your anything like us, it's hard enough to keep your nails from chipping two hours after leaving the salon, you wear gloves in the winter for goodness sake, and that Peleton bike isn't going to ride itself. You don't have time for the overly fussy styles of centuries past. So if the most iconic, classic ring just isn't for you, what's a modern woman to do?
Engagement rings have been getting lower profile as women have been gaining upward mobility. Profiles have been going down so low that some women are ditching engagement rings for eternity bands in favor of the no-prong channel set look that never catches a snag. With no further ado these are our favorite low-profile lab-grown engagement rings.
HARPER No. 5
Harper No. 5 is a classic three stone setting with a round center, and two paired side stones. The side stones slant downward creating a continuous line across your finger that mirrors its natural curvature. The diamonds are set low to the band with their culet posied just a hole that protects the diamond from chipping while allowing light to penetrate the diamond. If you're looking for a low-profile setting, a three stone can be the maximum sparkle with minimal rise to it.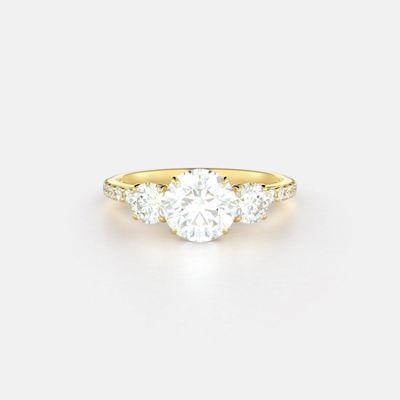 MASON No. 3
The Marquise cut is the flattest of all the diamond shapes, and the least expensive. Do you see a pair of lips? That's by design. Its origin dates back to the 18th century when King Louis XV commissioned a jeweler to design a shape resembling the lips of his mistress, Madame de Pompadour. The marquise lies flat and spans the width of the finger. Dramatic, vintage, and unique; this vintage cut is highly wearable and very affordable. Set with a .75 carat diamond, this low-profile lab-grown engagement ring is only $2,460.
PARKER No. 5
One of the oldest techniques for setting diamonds is back in style and better than ever. A bezel setting such as Parker No. 5 makes for an unbeatable everyday ring that's low-maintenance, low-profile, and high sparkle. Expert tip: Diamond cutters tend to cut emeralds a little too deep. This helps the stones fetch a higher carat weight and price, but you can't see all that extra stone hiding under there, and they can get a bit too tall. When shopping for an emerald look for stones with a total depth percentage of 56% to 65%. Any more than 65% and you're going to have something that stands too tall and costs more than it ought to.
SIDNEY No. 5
It should be no surprise that larger diamonds are also taller. Stones increase proportionally, and a 3 carat round brilliant diamond sits significantly higher on the finger than a 1 carat. If you like the look of a larger diamond, but don't want the height, consider the cluster setting. A favorite of Katy Perry and southern women alike, this Georgian inspired motif breaks up the center diamond into a floral array of smaller stones. This fun, flirtatious style became famous in 1747 and has gone through many iterations from Georgian to Victorian clusters featuring more delicate prongs, Edwardian clusters similar to the halo designs we see today, and finally, art deco clusters are known for their geometric motifs.
BILLIE No. 1
Our best-selling eternity band is generally thought of as a wedding band, not an engagement right. But, to hell with the rule book, it's your party do what you want. There is no lower-profile diamond setting than a channel set eternity band. No prongs means no catches or snags. No basket means no stones can fall out. The only risk you face with an eternity band is that resizing can be difficult or impossible. The other bonus to this low-profile lab-grown 2-carat eternity band slash engagement ring — it's much more affordable than traditional mined diamond eternity bands.
So to recap, if you're searching for a low-profile engagement ring, what should you look for? Stay away from the cathedral settings and Tiffany solitaire. These are designed to elevate the diamond. Consider a three stone. While these can often seem "bigger" in photos, they're quite a bit easier to wear. If you're stuck on a solitaire, bezel set styles are set lower and perfect for everyday wear. Finally, cluster styles and eternity bands are alternatives to the classing engagement ring that are right at home with modern life, and look stunning from ballroom to boardroom, and anywhere in between.