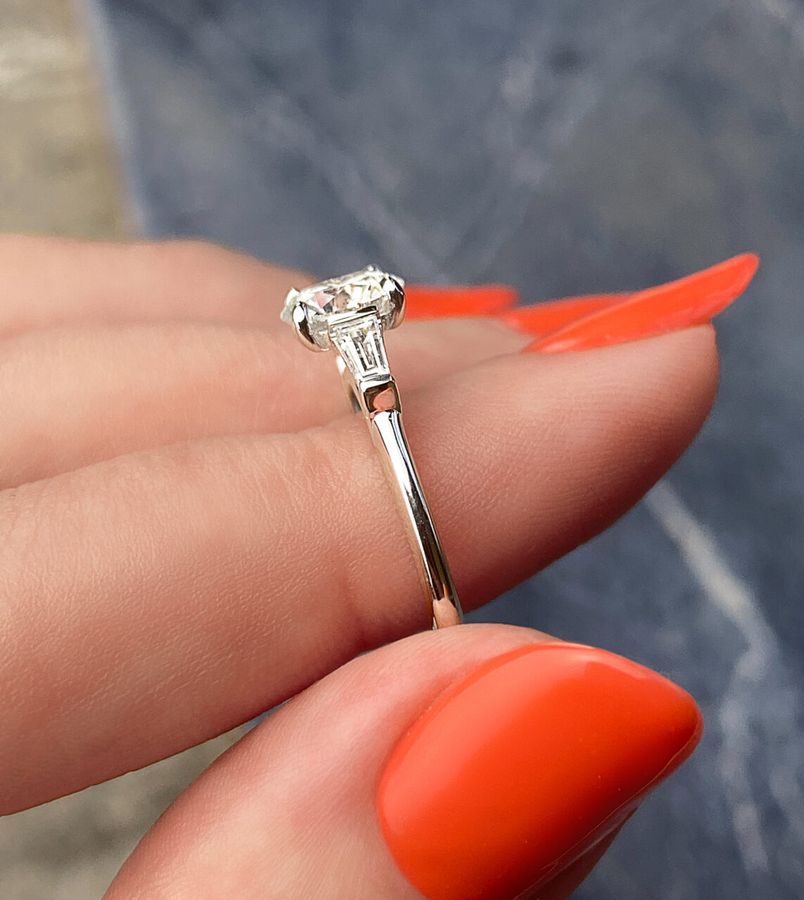 02.02.21
Thin is In. The Skinny on the Thin Band Engagement Ring
By Stephanie Dore
We're not talking body, folks. But when it comes to engagement and wedding rings, thin is decidedly in. Why? Because it makes your diamond pop, of course. A thin band gives even a modest center stone a larger look by contrast, so everyone's all like "how low can I go." Well, we're here to tell you that you can go pretty low. But, well, you might want to gut check first. After all, the skinnier the band the less structure and strength…and for something you're going to wear all the time, you kind of want it to hold up, right? So here's your buyer's guide to buying a thin band engagement ring, and some common sense to boot.
Sizing You Up
While our fantastic (with a capital F) jewelers can customize any of our ring styles up to 6mm in width, a thin engagement ring band primarily sits in the 1.5mm-1.8mm range. That's width, mind you, not thickness, which can also vary based on style and whether there are any small pave diamonds set in the band (which requires a bit more thickness). Many of our engagement ring bands are created in a round, comfort fit style that will give you a pretty consistent thickness throughout and is ultra-comfy to wear day in and day out.
How Thin is Too Thin?
There's always someone. Look, when it comes to putting a limit on thin, we recommend not going below 1.5mm in width, but we will go as thin as 1.35m depending on the ring, stone size, and band height. This comes down to structure, really. Any thinner than that and your ring just won't hold up to regular wear. If you do go for a ultra thin engagement ring, we also suggest going a little higher in the height/thickness to retain some structural integrity. Our jewelers can help determine a good balance for you based on your desired look and fit.
Stacking it High?
Ring stacks are still totally on trend. But, is it a trend if it never really changes? No matter. A good thing to remember is that the wider your band (whether a single one or a stack of several smaller bands), the more real estate it takes up on your finger, which tends to mean you might need a larger ring size. So if you're aiming to stack a few wider bands, consider sizing up a half to full size to accommodate.
Science is Real, Darling
The fact is, different metals have different strengths and overall properties, which means some might allow you to rock a thinner band with ease while other metals, well, we wouldn't recommend. For instance, platinum is pretty strong and doesn't wear away over time, so you can get a more delicate look out of it. Just note that it does move around, so if it gets caught on something or banged up, the metal can get bent out of its original shape, as it's softer than gold. On the other hand, white gold is pretty hard and, when scratched, loses metal. That means that even with regular wear, it can get thinner over time. So…if you're starting out at the minimum width, keep in mind that you'll likely need to have metal added (it's called re-shanking) somewhere down the line to keep your thin band engagement ring durable enough for daily waer.

Ring Leader
If you're a trendsetter, then you probably already know this, but mixing band widths is all the rage. Think a super-skinny platinum band with an ultra chunky diamond eternity ring like our XO band. Or a thin diamond engagement ring with a wide gold band. You can also get a cigar band style with a stack of thin rings, too, which lets you mix up your look with ease. Just keep in mind, again, that the wider you go, you might need to size up!

Skinny Band Engagement Rings we Love
The Thick of It
Ultimately, the size of your engagement ring or wedding band comes down to personal preference. Do you like a thin band with a big diamond? How about a thick engagement ring / thin wedding band? Do you like a wider look overall? You do you, my darlings, and we're here to help. Take our style quiz to customize your dream ring, try some on from the comfort of home to see what you like, or email us at hello@frankdarling.com for a little extra, well, everything.