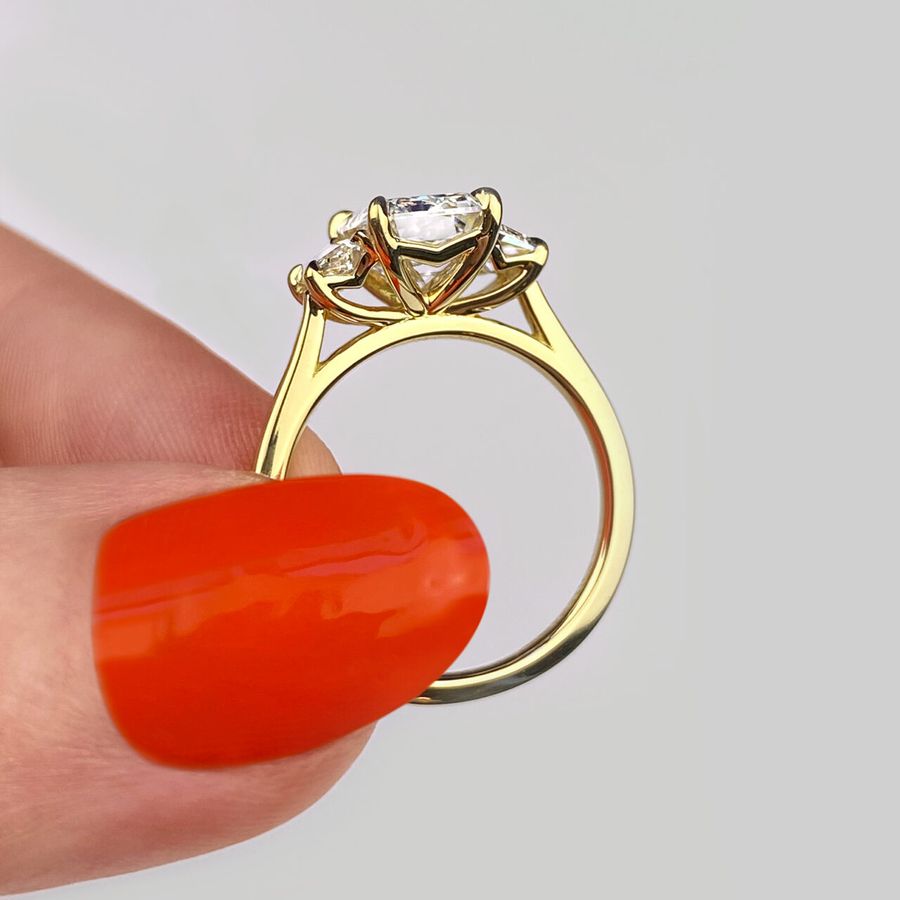 17.04.21
Yellow Gold Engagement Rings: 2021's Trendiest Metal
Pull out your grandmother's jewelry box because yellow gold engagement rings are in vogue. But, to be honest, yellow gold was never really out. A perennial favorite that looks good on everyone will always be in style. So, are we surprised that yellow gold is having (another) moment? No way. We're debunking some yellow gold engagement ring myths and praising this classic color. Yellow gold engagement rings are always a showstopper, but there's plenty of ways to incorporate yellow gold in your ring stack. Read on to discover why we love this metal's sunny disposition.
Yellow Gold is Universal
Yellow gold looks great on anyone. Its warm color is eye-catching on any skin tone, but it's particularly striking on people with warm skin tones. The warmth of the metal contrasts with diamonds, gems, and even other metals in ways that make it acceptable to pair with pretty much anything. Thinking of going with a sapphire ring? Yellow gold will add depth to the hues of your stone like no other. Set on a diamond? Yellow gold can bounce off your near-colorless diamond to make it appear even icier or enhance the depth of your warm stone. Love yellow gold but have to go platinum on the engagement ring? Stack your platinum with a yellow gold wedding band for the mixed metal stack of your dreams!
What is Yellow Gold Made of?
24K yellow gold is made of, you guessed it, gold. It's a deep, rich golden color, yolky in intensity.
24K gold is rarely used for jewelry because it's very soft and can easily dent or bend with wear. Instead, we use 14K gold and 18K gold which are alloys. Our 18K gold alloy is 75% gold, 15% silver, and 10% copper.
There's lots of yellow gold out there, which is why we opt to recycle our metals. We use 100% recycled yellow gold to make our custom pieces, which is great for the planet and your wallet.
Not all Yellow Golds Are Created Equal
Have you ever seen a yellow gold ring that is super yellow, another that is more green, and another so pale you're not even sure it's yellow gold? That's the alloy. The color of yellow gold can vary tremendously and tends to follow the price tag. 14K gold can be very pale, and for that reason, we recommend purchasing 18K yellow gold if you want that bright, classic yellow. If you like a more muted look, 14K may be just what you're looking for!
Will a Yellow Gold Engagement Ring Make my Diamond Look Yellow?
Definitely, and that can be a good thing. When diamonds are set in yellow gold, they can't help but reflect all of that beautiful metal. It's normal for even a colorless diamond to appear more yellow when set in yellow gold. This is especially true with bezel settings.
If you're considering a yellow gold engagement ring, consider shopping for a diamond in the G-I range. You'll enjoy a discount on the diamond, and sleep easy knowing that it's just as beautiful as a more expensive colorless stone.
But, if your heart's set on a stone in the D-F range, consider a two-tone setting like Harper No. 1. The platinum prongs will disappear into the diamond, minimizing the reflections, and keeping the yellow undertones to a minimum.
Are Yellow Gold Engagement Rings High Maintenance?
Yes and no. Yellow gold doesn't require the regular re-plating that white gold does. It is, however, quite soft and can dent or scratch with wear. You'll want to take your ring off if you go to the gym, hiking, or any kind of high-output activity. But, unlike white gold, you won't have to routinely send your ring off to be replated for it to maintain its color. You'll want to get it polished once a year or so to buff out the scratches and maintain the finish and shine. Bottom line: every metal requires maintenance, so just weigh the pros and cons with each!
What's not to Love?
Yellow gold engagement rings have almost all the benefits of platinum without the price tag. Their only real drawback is a little wear and tear. Scratches and dents are a risk to consider if you're coveting this sunny look. But even with a minor scratch here and there, yellow gold hides its imperfections better than most metals. Yellow gold is malleable, but it is also extremely durable.
It's a Classic for a Reason
Yellow gold engagement rings have popped in and out of trend for decades. One thing is certain, though. You will never regret a classic color that YOU love. So if you've always had your heart set on yellow gold, why question it?
It's a favorite of vintage lovers (and celebs) for a reason. Yellow gold is romantic, low maintenance, and goes with everything. Even other metals!
There really is no other metal that can look hyper-antique or hyper-modern depending on how it's styled, which gives you endless options. Love that antique look? Set a rose or old european cut diamond (bonus for champagne color!) in your yellow gold solitaire. Want major mod vibes? Opt for a half-bezel or two-tone look for the perfect contrasting look.
Not Sure if a Yellow Gold Engagement Ring is Right for You?
If you're still not sure if yellow gold is right for you that's OK! This is one of the last decisions you'll have to make so why not leave it until the end. There's plenty of other things to decide in the meantime. Like your stone shape, setting height, and whether or not to get pavé diamonds on the band.
In the meantime, order up a free try at home kit to try on some white gold settings and see how they look on your skin tone. Or, if you're still waffling between stone shapes (who isn't) request a free sketch of your dream ring. There's no limit, and we can help you visualize the carat weights on your actual ring size.