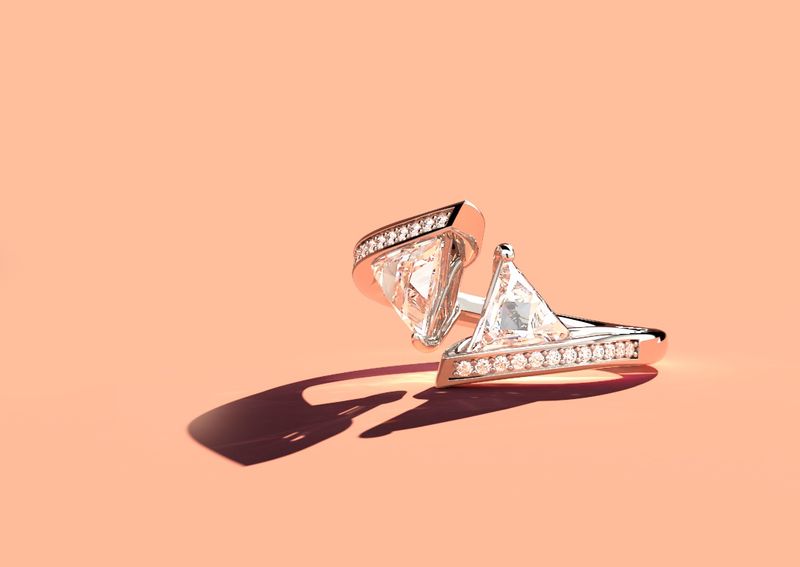 05.09.19
Don't Want a Solitaire? Consider an Alternative Engagement Ring.
Our favorite types of alternative engagement rings that'll have you saying "I Do"
Let's face it. A traditional solitaire engagement ring isn't for everyone. There's a myriad of reasons to consider an alternative engagement ring. It could be that your lifestyle just isn't compatible with attaching a $10k rock to your finger, or maybe"classic" and "timeless" solitaires just sound like a snoozefest. Luckily, passing on the solitaire doesn't mean you miss out on the fun. There have never been more options for alternative engagement rings, or different ways to wear them. The only rule we've found is that there are no rules. Whether you're looking for something a little less conventional, or you're on a mission to reinvent the engagement ring entirely, here are some options to consider.
ALTERNATIVE ENGAGEMENT RING NO. 1 — THE ETERNITY BAND
Who came up with the rule that an engagement ring has to have a center stone? (Probably DeBeers, so, there's another reason to break it). Large center stones are generally less practical for everyday wear than eternity bands. A three-carat diamond is much better for ballrooms than ballpits. So, for the young at heart, the lifestyle change that comes with a solitaire might not be appealing. If, acceptance-speech-chic is not the look you're aiming for, the eternity band may be a perfect fit.
Eternity bands are a low profile, low-maintenance alternative to an engagement ring. This no-fuss style can be endlessly stacked, mixed, and matched. They pair well with diamond and non-diamond rings. A great eternity band is a perfect complement to virtually any outfit.
They can flex from daytime to evening, and while we don't recommend it, they can even go to the gym. If less fuss is a must, an eternity band might be your new best friend.
Carat for carat they're also much more affordable than a single center stone. That's right, more carats, less money. So, why isn't everyone wearing eternity bands as the new engagement ring? We wanted to find out for ourselves, so we dug into that question here.
NO. 2 — THE SEMI-PERMANENT TATOO
Some couples are choosing to skip the metal and stone, and seal their engagement with ink — tatoo ink. While tattoos were once reserved for wedding bands, companies like Ephemeral are making it possible to get a tattoo that lasts the length of your engagement. Even better, it's an experience you and your SO can share when you co-propose at the parlor and declare your love with an inked out diamond. How decidedly modern.
ALTERNATIVE ENGAGEMENT RING NO. 3 — THE STATEMENT PIECE
Maybe you want an "engagement ring" as in; you want a very nice piece of hand jewelry, but, you're not interested in something conventional.
While some plan to wear their engagement ring every day for the rest of their lives, many don't. Wearing an engagement ring might not make sense for your work, your lifestyle, or it could just be something that you do when you feel like it. Does this sound like you? If so, feel free to throw your inhibitions to the wind and focus on finding the ring of your dreams, something truly unique and daring.
NO. 4 — THE MINIMAL BAND
For some, even an eternity band can be too much. A simple pavé band worn as an alternative engagement ring can be a delicate and minimalist way to say it, without screaming it. And, yes, it can also double as your wedding band. Alternatively, consider our bar set baguette for an understated "engagement ring" that adds just a touch of sparkle.
ALTERNATIVE ENGAGEMENT RING NO. 5 — THE GEMSTONE RING
Diamonds may be forever, but, they're not for everyone. If you love the idea of an engagement ring, but, you're less excited about the actual diamond, consider a gemstone. Not only are gemstones are a great way to add a pop of color and personality to your style, but, most of them are more affordable than diamonds. Choosing a gemstone can mean getting the size you want. The combination of these three things makes then an enticing alternative engagement ring.
Before you rush headfirst towards your birthstone, or that emerald you're coveting you'll want to learn about stone hardness. The Mohs scale ranks hardness on a 1-10 spectrum. Diamonds are a 10, which makes it perfect for everyday wear. Morganite is a recent favorite with brides to be, but, it's softer (7.5-8). That means the facets will become less crisp, and it will become less sparkly over time. And a stone that doesn't sparkle is just a stone.
Ruby and sapphire both score a 9 on the hardness scale, which makes them safe choices for engagement rings. They will resist scratching and abrasion, and can be worn everyday. If you're not planning on wearing your engagement ring everyday, softer gemstones like tourmaline, spinel, and garnets can also be an excellent choice for occasional wear.
NO. 6 — THE LAB GROWN DIAMOND
If you love diamonds, but, you're not sold on diamond mining or the traditional price tag, a lab-grown stone can be just the way to have your cake and eat it too. Molecularly identical to mined diamonds — and half the price — it's hard to hate these stunning alternative engagement ring stones. Check out our favorite low profile lab grown engagement rings, and wedding bands.
READY TO GET STARTED?
Every great ring starts with a great setting, but picking a setting out online is hard — or at least it used to be. At Frank Darling, all our engagement ring settings are available for free home try-on. It's like the internet, but in real life.
Get started by selecting your favorite four rings. We'll send you sterling silver size seven replicas set with 1 carat CZ stones.
Each try at home kit comes with a pre-paid return label, ring sizer, and The Handbook. A practical guide to purchasing a diamond for the matrimonial inclined. So, what are you waiting for? Let's get this party started.