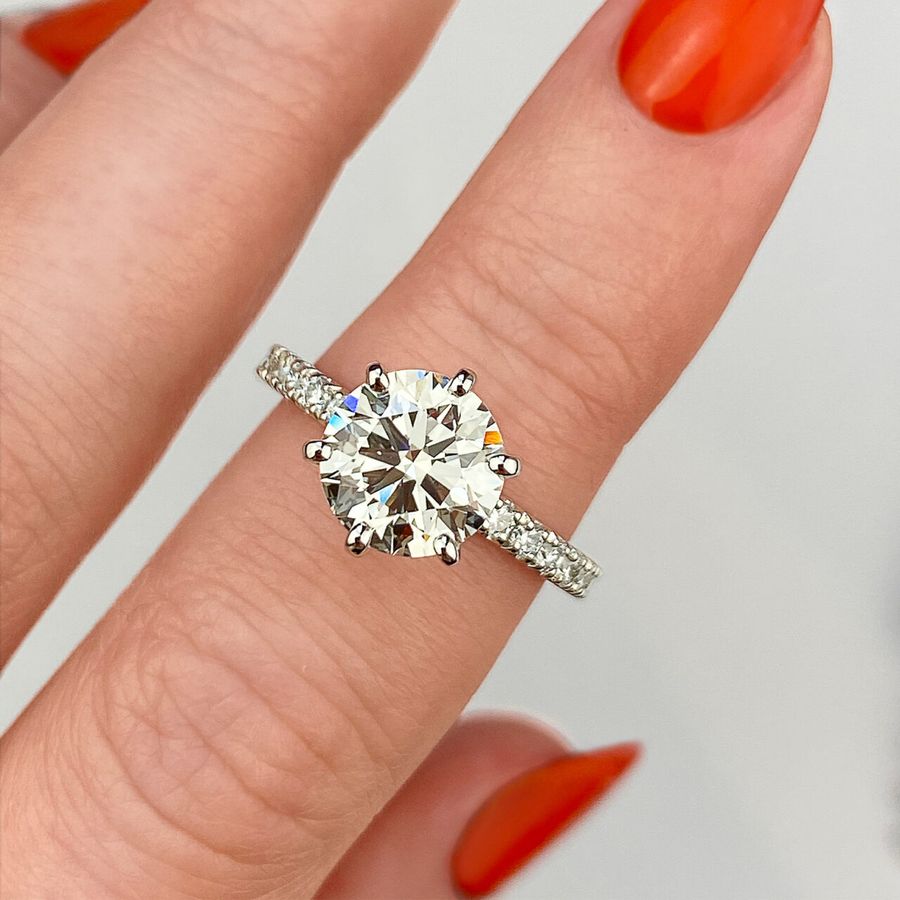 21.03.22
Shopping for a 2 Carat Diamond Ring? Avoid These Mistakes
By Stephanie Dore
Is a 2 carat diamond too big? Do chickens fly? Is the avocado trend ever going to end? 2 carats is our most requested carat weight. But what even is carat weight? And how do you know you're getting the most for your money? Deep breath, darling. We're about to fill in all those blanks to help you find the most dreamy 2ct engagement ring without falling for size over substance.
2 Carat Diamond Weight Watchers
First of all, carat is a measure of diamond weight. Not size. Which means that different diamond shapes will also hold their carat weight differently, just like the old-school pear-shaped, square-shaped, upside-down-triangle-shaped charts of human bodies. Same same. What are we getting at? Well, a round 2 carat diamond averages about 8.1mm in diameter. An oval is about 10.5mm in length x 7mm in width—so it's going to visually look bigger. Meanwhile, a 2 carat Asscher cut diamond will measure approximately 7mm across.
Round
Only round diamonds have cut grades, which standardizes their size a bit more than other fancy shapes. An excellent or ideal cut round will pretty much always be about the same. Where you get into trouble is if you go lower on cut grade, risking a thicker girdle, or heavy pavilion instead of more visible carat weight. An ideal cut 2 carat round diamond will be about 8.1mm in diameter.
Princess
Princess cut diamonds make the most of a rough diamond's natural shape, so they tend to offer a more affordable alternative to rounds. But in doing so, they also tend to have deep pavilions. shallow crowns, and smaller diameter across the top (which is the part you're going to see). What does that mean? They're likely going to look under-weight. An ideal cut, 2 carat square princess cut will be about 7mm in length x 7mm in width.
Oval
Oval diamonds are where you can get a big look for your bucks. Cut shallow, ovals have tons of spread (more diamond visible from the top view) and all the brilliance of a round. But you do have to be careful for things like bow ties and uneven symmetry. An ideal cut 2 carat oval diamond will be about 10.5mm long x 7mm wide.

Emerald
The elongated outline of an emerald cut diamond can definitely give you a lot of look, but finding a really well cut one? Not the easiest task. You also can't sacrifice on clarity grade here, given how open the emerald's facets are, so this is a shape that requires a more well balanced 4Cs than some others. An ideal cut 2 carat emerald diamond will be about 8.5mm long x 6mm wide.
Asscher
Similar to emeralds, the step-cut faceting of an Asscher cut means you probably don't want to sacrifice on clarity. But Also, Asschers tend to be cut with deep pavilions and face up small like princess cuts, so they're going to look a bit under-sized for their actual carat weight. The most important thing for an Asscher is going to be its cut and symmetry, so you get a stunning hall of mirrors look that's just oh-so-mesmerizing to stare into. An ideal cut 2 carat Asscher diamond will be about 7mm in length x 7mm in width.

Radiant
Radiant cut diamonds are, well, radiant. But they're not big. They are a mixed-cut diamond shape that typically has a deeper cut and smaller face up measurements. You can find some more elongated ones that might maximize on length. Just make sure they're not hiding weight in a thick girdle (so you're not paying for what you can't see). A 2 carat ideal cut radiant diamond will be between 7-7.5mm in length and width.

Cushion
Every cushion cut diamond is totally unique, making it harder to say what you're going to get for your carat weight. Elongated cushions can give you tons of spread and a crushed-ice look that is totally on-trend right now. While squared cushions tend to be cut a bit deeper and therefore have a smaller overall look for their weight. Aim for a depth percentage under 70%, and a table under 70% for best results. An ideal cut 2 carat cushion diamond will be about 8mm long x 7mm wide.
Marquise
Similar to ovals, marquise cut diamonds have a super elongated form and tons of spread. They are cut pretty shallow, so their weight is more visible than other shapes. But also similar to ovals, they can have icky bow ties through their bellies, or super thin points that hold color. An ideal cut will be about 13mm long x 6.5mm across.
Pear
A classic pear cut diamond will be somewhere in the middle, obvi. It's a cross between a round and a marquise, and it looks it. Deeper under the head (the round end) and shallower under the point (the marquise end), an ideal cut 2 carat pear shaped diamond will measure about 10.5mm long x 7mm wide, giving you the best of both worlds.

Buy Shy of a 2 Carat Diamond
No matter what shape diamond you prefer (but most especially with rounds), diamond pricing jumps exponentially at the full carat marks. That means you can save significant wallet stress by purchasing just shy of the 2 carat mark. Say, a 1.90 carat weight diamond. If you buy a well-cut one, you won't notice a difference in visual size. But you'll notice a lot more money left in your bank account.
Diamond Life Balance
Important to hit the 2-carat mark? Try balancing out the other 3 Cs. For instance, on a well-cut round brilliant diamond, you can go lower on color and clarity to save a few bucks. Or go with a champagne colored diamond (yes, on purpose) and spend more on getting a larger rock. We love warm diamonds set in brilliant yellow gold, gleaming in the afternoon sun. Diamond buying really comes down to priorities, so figure out what's the most important to you and use the other Cs as levers you can pull to find a nice balance.
Freestyle
It's also important to find a balance between diamond size and setting style. A super thin band with a 2 carat diamond can either give you an on-trend "floating" look or just look plain off-kilter. Meanwhile, a super wide band will take away from the size impact of a smaller diamond. The best way to know what look you like? Try a few on!
Other Fish in the Sea
A one carat diamond is the most popular size for mined diamonds. But it doesn't hurt that a two carat lab created diamond is about the same price. Coincidence? We think not. If size matters but you're working with a tight budget, there are some super stellar diamond alternatives you shouldn't rule out. Lab-grown diamonds have made larger diamonds more affordable than ever before, and are becoming more widely available in larger sizes and a variety of shapes to suit any style. Moissanite, a durable, affordable diamond simulant is also a fan fave.
I Think We're Alone Now
Check out our diamond search where you can view 360-degree images of more than 10,000 diamonds and don't forget to zoom out (because size can be deceiving), or book an appointment at our New York salon to view certified lab-grown and natural diamonds in person.
Not finding what you're looking for? Email us with what you're looking for at hello@frankdarling.com. We'll curate a list of 5-7 exclusive stones that are just right for you.