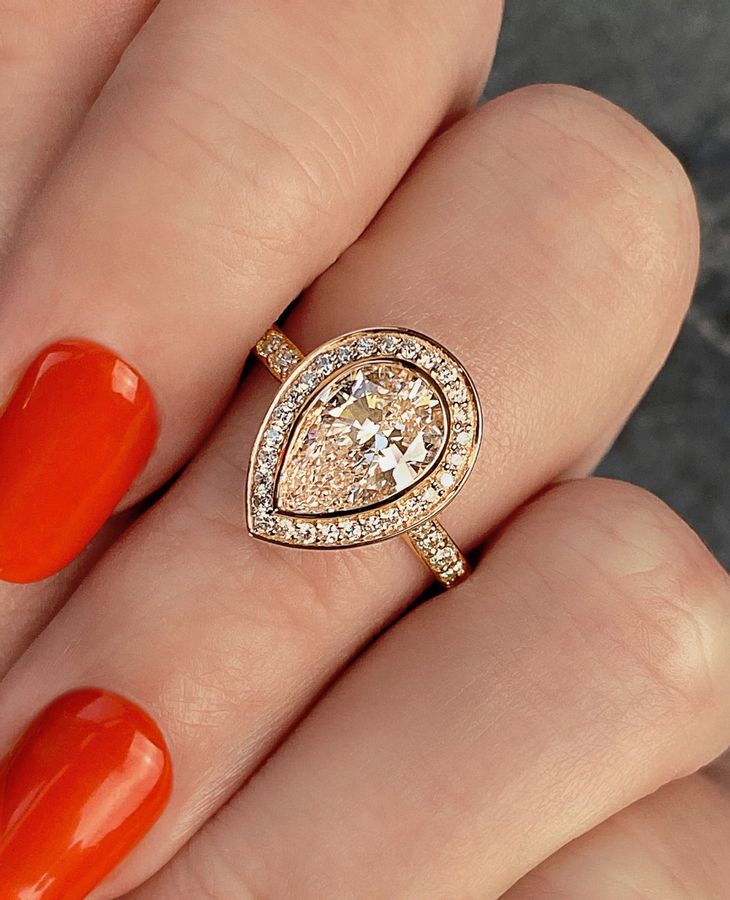 17.01.22
Rose Gold Engagement Ring Dreams?
Rose gold is soft, not very durable, and fades with time. Right? Wrong.
Rose gold is a lovely blush colored hue that complements nearly every skin tone and looks great stacked with other metals. A rose gold engagement ring has a vintage appearance, romantic character, and subdued appearance — but our reasons for loving the metal are a bit more practical. Let's dig in.
Rose Gold is Very Durable
Somewhere on the internet, a rumor got started that rose gold engagement rings are very soft and prone to breaking. Not true! In fact, it's the opposite.
The copper content in rose gold makes it more durable than either white or yellow gold, and thus less likely to scratch or dent with wear. If you're active with your hands, a rose gold engagement ring could be the perfect choice for you. Choose a low profile setting like Mason No. 3 for an even lower maintenance look.
Rose Gold Doesn't Tarnish
Again, there's a myth circulating on the internet that rose gold tarnishes and that the color fades with time. This is untrue. Rose gold isn't plated. Its metal makeup makes it naturally rosy. Its color is permanent and will be retained for as long as you have it.
Rose Gold Ages Gracefully
Similar to platinum rose gold gains a patina over time that gives it a darker, vintage look. Prefer the out of the box shade of pink? A quick trip to the jeweler will polish it right up. But, many customers crave that broken-in look that comes with 1-2 years of daily wear.
Rose Gold Engagement Rings are Very Low Maintenance
Again, unlike white gold, rose gold doesn't require the annual pilgrimage to the jeweler for its regular rhodium re-plating. It's a get it and forget it type of metal, and very low maintenance. Opt for a rose gold bezel setting for the lowest maintenance look and a lovely pink frame around your diamond.
Rose Gold Engagement Rings Look Great on Everyone
Unless you're a Smurf, rose gold looks great on you. The reddish hue of the copper content pulls out your rosier undertones and compliments them, rather than contrasting. It's a versatile color that sometimes gets a bad rap because of its relative newness.
Considering Rose Gold Engagement Rings?
The first thing to know — not all rose golds are created equal. The rosiness of the color can vary from a pale pink to a deeper more coppery color depending on the alloy and karat.
18K rose gold is a paler pink color white 14K rose gold is more reddish-brown. Our 18K rose gold is 75% gold, 24% copper, 1% silver with trace elements of zinc. The zinc accentuates the color of the copper and gives it a lovely blush pink hue.
Not Sure?
If you're still not sure if rose gold is right for you that's OK! This is one of the last decisions you'll have to make so why not leave it until the end. There's plenty of other things to decide in the meantime. Like your stone shape, setting height, and whether or not to get pavé diamonds on the band.
In the mean time, order up a free try at home kit to try on some white gold settings and see how they look on your skin tone. Or, if you're still waffling between stone shapes (who isn't) request a free sketch of your dream ring. There's no limit, and we can help you visualize the carat weights on your actual ring size.