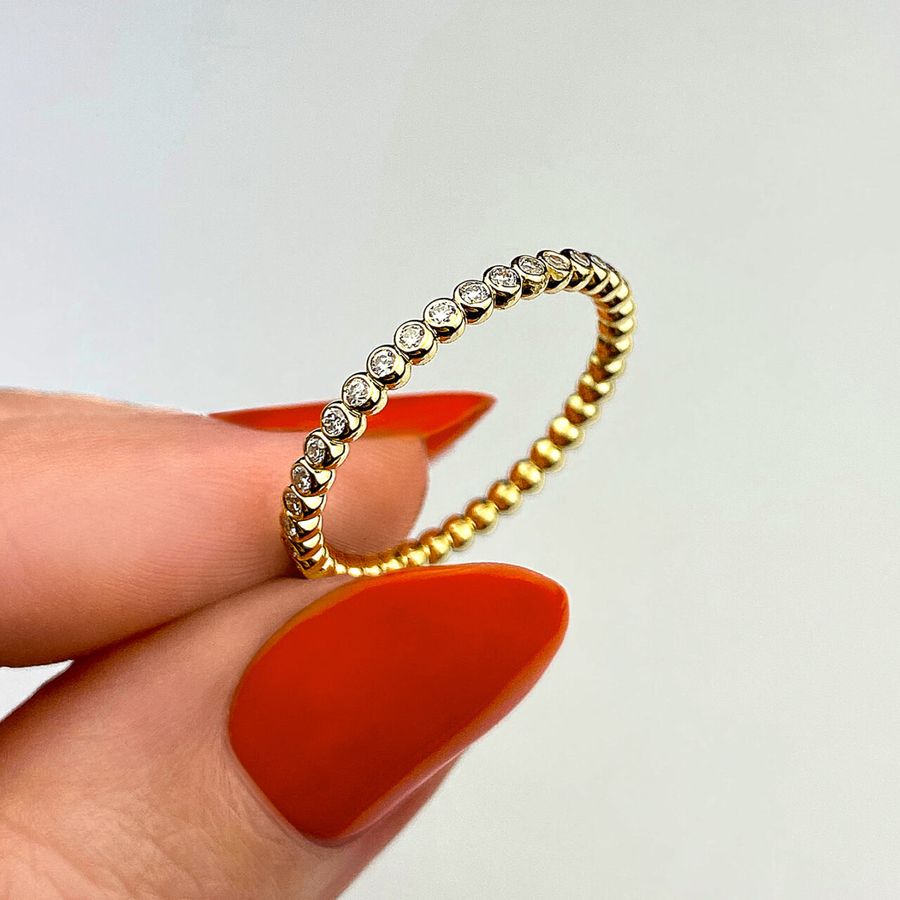 21.06.21
Gender Neutral Jewelry: How to Build a Fluid Engagement Ring
Love is love, and jewelry is for everyone—or at least that's the Frank Darling way. Everyone deserves a little sparkle, a little shine, and something to celebrate their love story. Whether that's a giant gumball of a diamond engagement ring, a sleek gold wedding band, or something totally custom in between. We're here for all of it. But we also know that while there are some unisex jewelry brands popping up (finally!), navigating the uber traditional jewelry landscape isn't necessarily a piece of rainbow layer cake. So just in time for #weddingseason here's our go-to guide to gender neutral jewelry. Peruse with pride.
Know What You Want
Look, the first part of choosing an engagement ring, regardless of gender, is figuring out your or your partner's style. Do you like to make a statement? Are they all about monochrome dressing? Do you wear gloves all the time (shout out to all the first responders!)? Are they into the latest trends? Do you like simple and subtle? You get the idea. Try to identify what you want to wear every day. Okay, fine, that's really up to you. But if you're planning on rocking your rings all day, everywhere, then no matter what retailers tell you is in style, you want to choose an engagement ring that works for you.
The Second?
Figuring out your budget. Whether you want to go with a two-month salary thing or spend to your heart's content, it's best to decide on your budget (and any wiggle room) before you get all gaga over the sparkly stuff. Remember, diamonds aren't everything. Sure, if you want 'em, they're going to likely be a big chunk of your overall cost, but the band or setting should be in the picture. Want a plain band? Metal choice will make a bigger difference for you, as in platinum vs. gold. Or 18k gold vs. 14k gold. Even a ballpark number is good to have in mind before you start shopping.
Keep it Simple
If you're not naturally a jewelry person, or pair, or just don't know where to begin, then stick to the basics. What is that, exactly? Bands, of course! Nothing says subtle glam and "I do" more than a sleek gold ring on a certain finger. But not to worry, basic doesn't have to mean boring. There are different color metals to choose from, whether it's platinum, gold, rose gold, white gold…and different shapes, profiles, and textures too! Want a matte finish? Definitely doable. Want a skinny, round band? Something wide and flat? You can do that too. Braids, bubbles, edges, engraving, a gender neutral engagement ring or wedding band should be just as personal as any traditional style. So add the details you want, or don't.
Mixed Company
Want a "plain" metal band but with a twist? Mixed metals are hot hot hot and there's about a gazillion ways you can be on top of this trend. You can get a three-color braided metal band, for instance. Or a layered style with cutouts that show through. Try white gold with a subtle edge of rose gold, perhaps? Really, you can dream up just about anything here. And not to worry, mixing metals has actually been around for, like, ever. So it's a trend that won't ever really go out of style.
Pump Up the Volume
Want to kick things up a notch? This is where the sparkle comes in. Diamonds scream engagement, of course, but don't get it twisted—they can definitely scream subtly as well. Diamond eternity rings make a great unisex band that doesn't have to be over the top. Try scattering small diamonds like stars, doing a row of small diamonds all the way around a wider band, or going diamond-forward with bigger stones and less metal. The fun part is making it your own. Choose classic round diamonds, geometric Asschers, simple (but super sophisticated baguettes), or any other diamond shape you like. Or mix and match a few for a unique pattern.
Singular Sensation
We also love the super trending throwback to vintage men's diamond ring styles, typically chunkier metal with a low-profile statement diamond on top. Yes, totally appropriate for any gender! Modernize the look with a sleek bezel setting, a two-tone band, or a colored diamond or gemstone that stands out from the crowd. Champagne diamonds for the win. Or try five or seven stones channel set into the top of the band for something even lower-profile but still brilliant.
Keep it Sleek
Here, diamonds are EVERYONE'S best friend (sorry, Marilyn). We believe you should wear your dream rock regardless of your gender identity, whether that's a lab or natural diamond, a moissanite, or even a gemstone. Hello, sapphire! With the perfect stone, no frills needed. Set your dream gem in a simple, sleek bezel for a timeless look that will last forever. Trust us, a bathtub bezel looks great on everyone.
Keep it You
Ultimately, the best way to choose a gender neutral engagement ring is to choose the ring you love, that reflects your style and your story. And we're here to help. You can check out our design quiz to get started customizing your dream ring and get a free sketch. Or work with our Diamond Concierge by sending a quick note (and any style inspiration pics!) to hello@frankdarling.com and we'll be at your service.