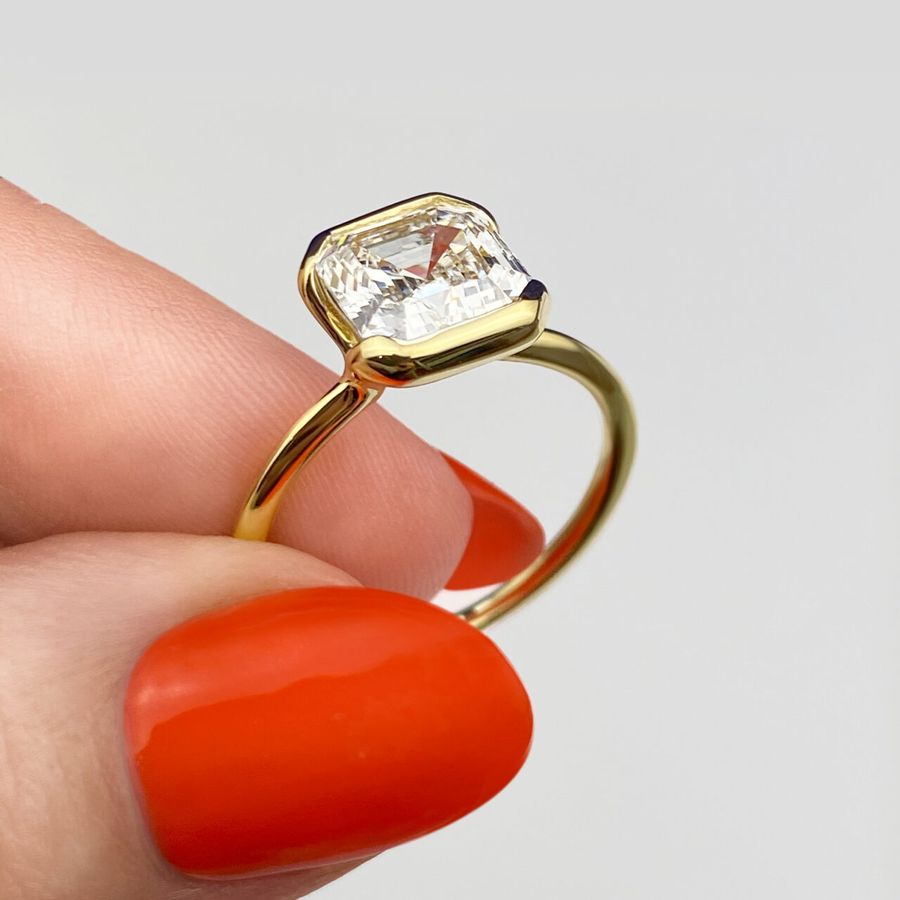 10.09.20
Six Hallmarks of Modern Engagement Rings
Is your engagement ring style out of style? See six hallmarks of modern engagement rings designed for easy wear and low maintenance.
By Stephanie Dore
No matter how many opinions there are—and there are many—about the tradition of engagement rings, the fact remains, they're not going anywhere quickly. But their styles sure have evolved. Like that puff-shouldered lace and tulle wedding number in the back of your mom's closet, engagement rings used to be over-the-top, heavy, thick, and well, not so wearable. Over the years, they've evolved from symbols of the patriarchy that are purchased in secret to fashion statements that suit modern lifestyles—less gaudy, more likely to be worn every day. But what exactly makes a modern engagement ring, anyway?
Here's the Lowdown
What do you picture when you picture an engagement ring? Unless you're had your head under a rock for the last half-century, it's probably a single, prong-set diamond hovering high above a simple band. While that style might remain a classic, modern engagement rings have a lower profile, with the stone(s) set closer to the finger, making them more practical and wearable throughout the day. Bring it on, sweater season!
Lowest profile open gallery or fully recessed
Only gallery stacks flush, fully recessed doesn't.
Shop Lowest Profile Modern Engagement Rings
Mid profile recessed diamond.
Doesn't stack flush
Shop Mid Profile Modern Engagement Rings
Mid profile with prongs that come from the side of the band.
Doesn't stack flush
Higher but still low profile.
Prongs come for the top of the band.
Stacks flush.
Shop Stackable Low Profile Modern Engagement Rings
Mind the Gap
Whether you're building a super-sized stack or just looking for a set that doesn't have an awkward gap in the middle, modern engagement and wedding rings are designed to sit flush against each other. Jewelers often offer a number of "matching" options that run the gamut of simple gold to diamond decadence. That means plenty of flex that you can dress up or down, stack high, or switch out by the day. It's like a modern mood ring. Only classier.
The Thinnness
While most things these days are all about the thiccness, engagement rings are kind of the opposite. Historically, the metalwork of engagement and wedding bands tended to be pretty chunky. But with the advent of technology, modern metallurgy, and just some damn fine craftsmanship, rings today are trending toward the "barely there". You'll find whisper-thin plain gold bands, the micro-est micro pave diamonds, and everything in between.
Here at Frank Darling, you can customize your band thickness, choosing from 1.35mm, 1.5mm and 1.8mm, so no matter how much junk you like in your ring trunk, you'll be golden.
Free and Clear
Remember that classic solitaire we mentioned above? While that oh-so-identifiable prong setting is definitely a can't-go-wrong move, modern trends are toward a smooth bezel, which wraps your choice of diamond in a thin rim of metal, keeping it low-profile, secure, and snag-free. Half-bezels are also tres chic—and give you a more open and airy look that's still about a clean line.
Dimmer Switch
We know. You like sparkle. Who doesn't? But like most craveable things in life, a little sparkle goes a long way. Over-the-top, double-pave-halo-eternity settings may have had their moment in the not-so-distant past, but too much pave can turn into little more than a high maintenance mess. Instead, turn to a modern half-pave band, a slim single halo, or even a hidden halo—all great ways to hint at the sparkle you crave while keeping things a little more understated.
Find a Lab Partner
Diamond alternatives are nothing new. In fact, for as long as diamonds have been popular, scientists the world over have been searching for stand-ins. Colored gemstones are one popular option that can save you some serious cash, but more and more modern couples are opting for a lab grown diamond over a natural, mined one. Not only does it present some eco-friendlier options, but lab grown diamonds are basically the same as mined ones for literally half the cost. Are you really going to complain about a better quality, bigger diamond for your dollar?
Talkin' Bout Our Generation
If you love vintage, go vintage. If you want an 80s throwback, we're not stopping you. But if you want a ring that says "now" and suits your modern lifestyle, opt for a low-profile, low-maintenance engagement ring set with a lab grown diamond. Ultimately, you do you. After all, the most modern engagement ring is one that works for you.