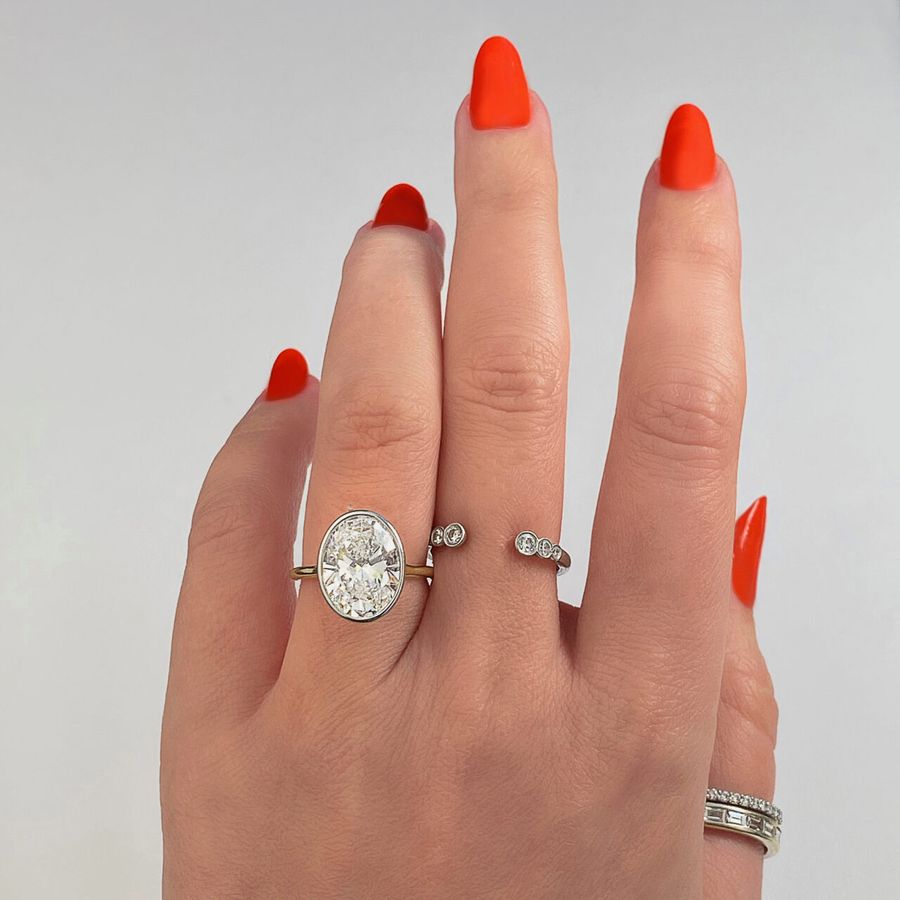 10.06.21
How to Make Big Diamond Rings Your Reality
Big diamond rings are delicious. They sparkle, they shine, they blind innocent onlookers. And really, they're just plain fun. If you can afford them. But size isn't everything and no matter how much disposable income you have, you probably don't want to rock a big dull rock on your ring finger any time soon, right? So how do you make sure you're getting the most for your hard earned money? It can pay to dig into the details. Or at least find a friend who can hold your hand through the process. (That's us, BTW.) So whether you hit up our diamond experts for advice or decide to make a go of it on your own, here's how to make a 9 carat diamond (or any other large carat weight number you can think of) part of your reality.
Big Diamond Rings? Explain.
Okay so here's the thing. There are plenty of celebs rocking 10, 15 carat diamonds, right? Wrong. Look, we're not denying they're out there (hello, Bey), but most of your faves are probably working in the 3-7 carat range. And even that is big by most folks' standards. If you ask the average human, most of them will call out 2 carats as big, and 3-5 carats as jaw-dropping. So if know your partner wants "big", just keep that in mind and don't get too overwhelmed looking at a 9 carat diamond when all you need is a 2.
The Sweet Spot
If size is important to you but you're not working with an unlimited budget, your best bet is to look for a good balance of price and quality. And just like with a happy marriage, compromise is key here. Big, high quality diamonds are a real rarity, and demand a price indicative of such—especially if you're also limiting your search to flawless, colorless stones. Create a bit of wiggle room in color and clarity, though, and you'll likely see the range of available large diamonds open up a bit, and the prices drop. One thing we don't suggest compromising on? Cut. Why? Because diamond cut has the most effect on the visual impact of your diamond.
Master of Disguise
Not only can a well cut diamond help magnify sparkle but it can also help hide a diamond's color and clarity characteristics. But not always. While a well cut round brilliant diamond can hide even SI-grade blemishes, a step cut diamond like an emerald or Asscher cut with those big, flat facets does the opposite. And the bigger the diamond, the bigger the windows those facets become. Again, this is all about balance. For instance, instead of paying top dollar for an F color, go down to a G-H range and you'll save cash without seeing much color. And instead of insisting on flawless rocks, your best bet is to explore the VS range for an eye-clean diamond.
Flights of Fancy
In general, an ideal cut round diamond will cost you about 20% more than any other shape diamond with comparable characteristics. Which means looking to fancy shapes (anything other than round) can help save you serious cash in the hunt for a show stopping diamond. Another benefit? Certain fancy shapes can actually look bigger than their carat weight because of their spread (how their weight is distributed). What are those shapes exactly? Ovals are probably the easiest bet—they usually look about 20% larger than rounds of similar weights while maintaining the same brilliant sparkle. A 9 carat diamond in an oval shape versus a round brilliant is a totally different look when it comes to finger coverage. Other elongated shapes like marquises and emeralds can also offer similar benefits to an oval.
Shop Shy
Our fave diamond industry secret to let you darlings in on? Here goes: Diamond prices jump exponentially at the full-carat marks, so shopping shy can get you a diamond that looks just as big for a whole lot less. For instance, shopping for .90 carat diamonds (which is the average size of engagement rings) instead of exactly 1 carat. Or 3.85 instead of 4 carats. You get the idea. Again, with this little secret it's important to stick to ideal or excellent cut grades because that brilliance is going to help your diamond look bigger than it really is. There won't be a visible size difference, and your wallet will thank you.
Early Adopter
We're not shy about our love for lab grown diamonds around here, and you shouldn't be either! After all, lab grown diamonds are chemically, physically, and optically the same as natural, mined diamonds. What's the biggest difference? Price. If you're up for exploring the wide world of lab diamond possibilities, you can get the same durability and sparkle for a whole lot less. Don't be fooled when you see big diamond rings, they are mostly lab! Another upside? If you're really looking for something unique, the lab is where to find it. Want a certain shape or size or color? Try the lab, where through our unique partnerships, we can source just about anything.
Color Outside the Lines
If you're prioritizing carat weight and are open to unique options, one way to save is with a champagne diamond. Champagne diamonds are a gorgeous yellowish-brown that really is reminiscent of their bubbly namesake. They can be subtle, light shades or deeper cognac hues, or anything in between. Because brown and yellow diamonds in the lower color ranges are actually the most available fancy colors, you can often find them at lower costs and in plenty of fun, fancy shapes like ovals, radiants, and cushions, oh my! Another benefit? Their warm radiance goes super fab with yellow gold, making them on trend in more ways than one.
The Good Book
You're not going to buy a house, a car, a famous work of art…without some sort of assurance of its authenticity and value, right? You better be nodding your heads, darlings. Well, same goes for a fine diamond. Since diamonds are priced based mostly on the 4 Cs (their grades, essentially), we suggest that no matter what size diamond you buy, you ensure it has been certified by a reputable diamond grading lab that has invested lots of time and training into the gemologists responsible for verifying those 4 Cs. Besides, if you're going to insure your diamond ring (you are!) you'll need that report in hand first.
At Your Service
Can you buy a big diamond ring, sight unseen? Absolutely. But we wouldn't suggest it. That's what our Diamond Concierge is for. Not only can our experienced staff offer you insight and education, but we're here to help you find the really big diamond of your dreams whether it's already listed online or something we source just for you—to your specifications. We can also get you extra photos, videos, or personal viewings at our NYC studio to make sure you're 100% happy before you drop your dollars. Want to picture it in your dream setting? Take our style quiz to get your complimentary sketch!
Just email hello@frankdarling.com with any questions, concerns, or wild ideas and our ring concierge will be on the job to get you sorted. No headaches. No pressure. All common sense.