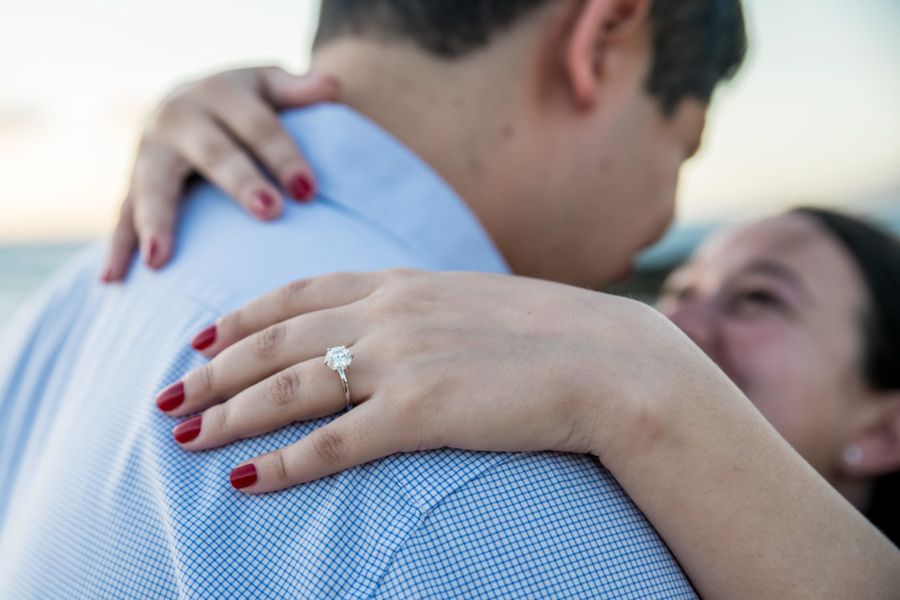 30.08.19
Placeholder Engagement Rings are 2021's Hottest Trend
Considering proposing with a placeholder? Get our three no-fail tips for an unbeatable proposal with a placeholder engagement ring.
You tried. You really did. But, figuring out what type of engagement ring your partner wants was much harder than you anticipated. You asked your partner's mother/sister/best friend for ideas and you got conflicting answers. You searched for a Pinterest board, all you found was puppies. Finally, you looked at her jewelry box for ideas, but, you can't decode the seemingly random assortment of shiny objects. You're now facing two options: spoil the surprise and shop together, or take a guess. While more and more couples are shopping together, collaborating isn't right for everyone. But, taking a wild guess just seems wrong. Enter the placeholder engagement ring.
What is a Placeholder Engagement Ring?
Exactly what it sounds like — a stunt double for the real ring. Made from sterling silver and set with a cubic zirconia stone, a placeholder engagement ring allows for the magic of the surprise and chivalry of collaboration to live hand in hand. If you're set on a surprise proposal but suspect your partner would prefer to select their ring, a placeholder engagement ring could be perfect for you.
At Frank Darling, every ring in our collection can be purchased as a placeholder — just ask!
The Rise of the Placeholder
The placeholder engagement ring has become increasingly popular over the last several years as another way to shop together without ruining the surprise. Proposing with a placeholder engagement ring is thoughtful and considerate. It says, "as the person who's going to wear this for the rest of your life, I value your opinion, and want you involved." It's a great first step down the road of marital bliss and joint decision making.
Benefits of Proposing with a Placeholder
You get to design "the ring" together
Unlike buying a ring in secret, designing or picking out a ring together can be fun. You can grab brunch, drink champagne, and make a day, week, or even month of it. Now that you're already engaged, there's no pressure to rush into a purchasing decision that may not be quite right. Your partner will appreciate that, and so will you.
You don't have to wait to propose
Getting a custom ring made can take 2-4 weeks. If you're the spontaneous sort, you may want to propose right away. A spontaneous proposal leaves two options – buy something generic off the shelf — generally a poor value — or propose ringless. Placeholder rings offer an alternative. A ready-to-propose, off-the-shelf solution that's neither overpriced nor weeks away. They're a modern solution to a high-pressure scenario, better tackled as a two-some (like your marriage).
You'll never have to have "that" conversation
There are a surprisingly large number of women out there that hate their engagement ring. There are whole groups on Facebook dedicated to commiserating about their partner's lack of ringtelligence. As a woman, bringing this up to your partner is difficult and emotional. You don't want your partner to be burdened with bringing up such a difficult topic or, worse, keeping their feelings a secret. If you're proposing with a placeholder, or shopping collaboratively, you'll be in the clear.
Popular Placeholder Engagement Rings
Cons of a Placeholder Engagement Ring
They may want to keep it.
If you chose wisely, it's entirely possible your now fiancé will want to keep the ring. A solitaire is the most popular ring style and platinum the most popular metal color. Therefore your chances of hitting the nail on the head with a platinum round solitaire are pretty decent. If you do get a hole in one – no sweat. You've chosen a style that can be recreated from scratch by a competent jeweler. And they can wear the placeholder ring in the meantime.
Not all placeholders are created equal
Now, here's where it gets tricky. Like engagement rings, not all placeholder rings are created equal. There are some pitfalls to watch out for when selecting a placeholder engagement ring. You'll want to make sure it doesn't detract from the proposal. Here are a few things to keep in mind.
Three Tips for Choosing a Placeholder Engagement Ring
Choose Your Placeholder Wisely
We know what you're thinking, it's just a placeholder, right? Wrong. You'll know that, but, consider your partner's emotions. Opening an engagement ring comes with happiness, but, also fear, dread, anticipation, and adrenaline. How is one to know what's inside of that tiny box? Now that you've realized the gravity of the situation, remember that the best way to avoid a style-miss is to go simple. That's the point of a placeholder right? Unless your intel points you in a different direction, we recommend a simple round solitaire set with a 1 carat diamond. A round solitaire is the classic, little black dress of engagement rings. Your partner might ultimately go with something more adventurous, but, it won't get in the way. If they wear a lot of yellow or rose gold jewelry — go for yellow or rose gold. If you partner wears mostly silver — go for white gold or platinum.
Don't Go Too Big (or Too Small)
Unless you can afford it, don't go all Kim Kardashian on the placeholder ring. You'll want to choose a ring that somewhat reflects your target budget. To do this, you'll need to read up on diamonds pre-proposal to get a general understanding of the four c's, choose whether you'll be buying a lab-grown or mined diamond, and pick a carat weight that matches. There's a good chance the proposal ring will start in a ring selfie #howtheyasked, and the last thing you want is for the CZ placeholder to dwarf the real thing. If in doubt, select conservatively and be sure to check out our carat weight diagram to understand how big a diamond is and our insiders guide to diamond pricing to learn the tips and tricks to why diamonds cost what they do and how to game the system.
If you're confident in your partner's preferred diamond shape, but, not the setting design, you can go as far as purchasing a diamond in a basic solitaire setting. You can then get it reset in the setting of your partner's choice, without any awkwardness around diamond picking together.
Make Sure the Placeholder Engagement Ring Looks Real
Unless you're proposing with a ring pop, you don't want the placeholder to feel cheap. Most imitation rings are made from lightweight alloys that don't feel real as soon as you pick them up. You'll want to preserve the illusion long enough for her to enjoy the moment, and for you to explain your thoughtful deception. When selecting a placeholder ring, sterling silver is a good choice. It has a similar weight and feel to gold. A silver finish is a safe bet, but if you know your partner is coveting yellow or rose gold, you can get a gold plated ring in the finish of your choice.
Ready to commit? Get started by ordering our free try at home kit and take a look at your four favorite placeholders in person. See something you like? We can customize the placeholder with your choice of stone shape and carat weight as well as provide pricing for "the real thing."