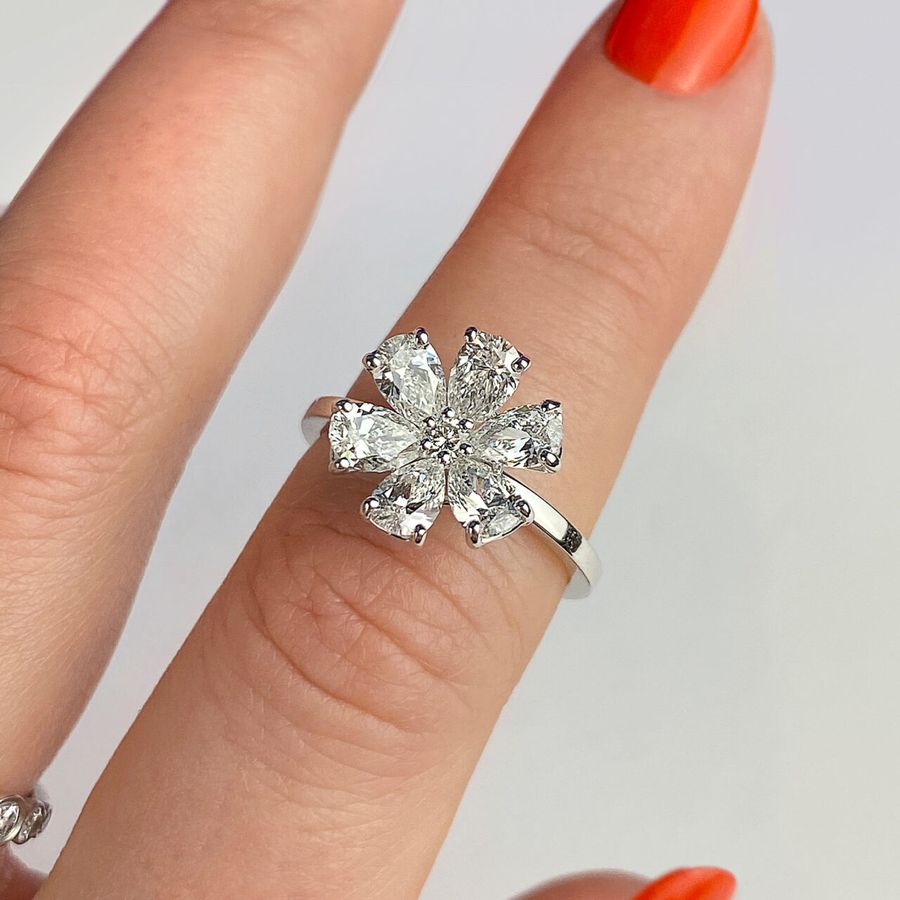 15.05.21
The Teardrop Ring Guide
20 years ago, there was that teardrop ring. You know—the one that sent SJP running for the loo. And well, that certainly didn't help this 500-year old shape's reputation. But here we are, right on schedule, watching as teardrop cuts (aka pears) have another heyday. That's right, in the last couple of years teardrop shaped engagement rings have been making a comeback. And while there are certainly classic styles out there to choose from, part of this unique shape's charm is in its versatility. Why is the pear diamond so hot right now? We're about to find out.
Which Way is Up?
While the teardrop shape of a pear-cut diamond lends itself naturally to earrings and necklaces, the same isn't true for a ring. I mean, the most frequent teardrop-related ring question we hear is which direction you're supposed to wear it…so you know it's not intuitive. Short answer? It's traditionally worn with the point facing out toward your fingertips, lending an elongated look to your hand. But you do you.
Go Your Own Way
Want to totally change it up? Designers today are creating completely new ways to wear the pear by spinning it in all sorts of directions. One of our favorites? The East-West setting, which sets a teardrop diamond horizontally across your finger. We made ours with a unique half-rounded, half butterknife band too, to emphasize the angular nature of the pear diamond.
The Cool Factor
Proof is in the celebrity pudding, right? From Sophie Turner's classically-set teardrop engagement ring from Joe Jonas to Cardi B's gargantuan example, celebs are into teardrop engagement rings. I mean, Paris Hilton has rocked at least two…Ariana Grande had one for a hot second (remember Pete?), and Emily Ratajkowski paired hers up with a princess cut for a unique two-stone design. Even Margo Robbie's dainty pear-shaped engagement ring made some waves.
Point of Contention
Look, there's no way around the fact that a teardrop ring has a point on it. But that point (and the larger prong needed to protect it) can definitely have an affect on how your engagement ring will sit next to a wedding band—meaning, really, that it won't sit completely flush. Now, this doesn't have to be the case, in fact, we make it our business to consider stack-ability when we create our engagement ring designs. But it's good to keep in mind if a flush fit is important to you—try to shop for your engagement ring and band together just to be sure!

Curve Appeal
This (and the ring stacking super trend) might also have something to do with the recent surge in popularity of curved, pointed, or open wedding bands. By designing a wedding band to curve around the pear diamond's setting, you get extra brilliance and a super-flush fit. We also love the modern look of a band that doesn't quite close, leaving a little gap for your center stone to play in.

What Not To Wear
When it comes to shopping for your ideal teardrop ring, it really comes down to numero uno. You know. The diamond. And here's the catch—they're not all that easy to shop for. See, pear cut diamonds don't have cut grades like rounds do, and they have a ton of variation in their shape. Some are long and pointy, some are short and squat. And some are just rocking a super silly bow tie. Trust us, that's not as cute as it sounds. You'll want to do your research, because even if you find your perfect ring design, if the diamond is, well, dull and lifeless, it's not going to live up to your expectations.
Pearfection Awaits
Shop our collection of more than 20,000 natural and lab-created diamonds and unique engagement ring designs to find your perfect match. You can even try some on from the comfort of your couch with our free try-at-home kit. We also love doing custom, so design your own ring (and get a free sketch) and our team will whip up something special just for you.