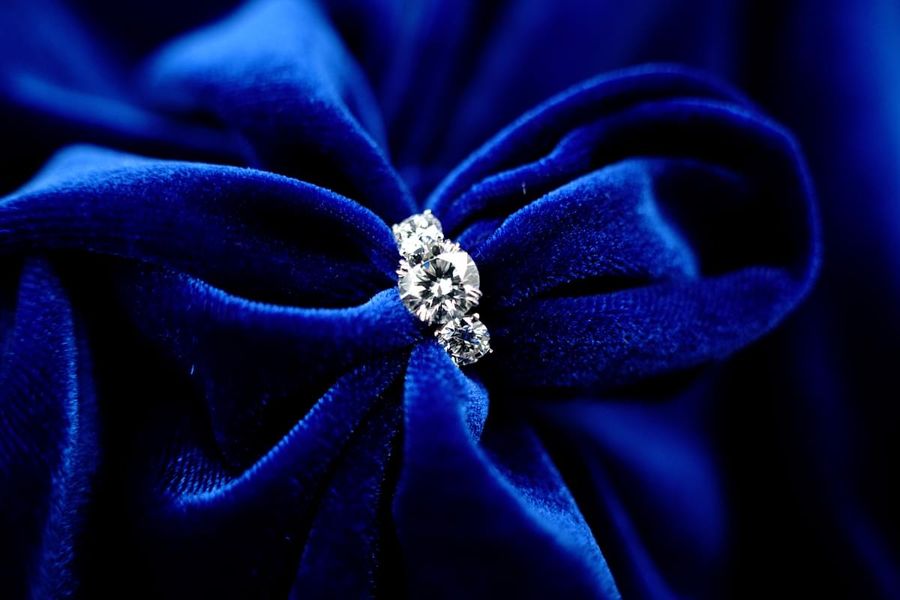 13.06.23
You Don't Need A Spaceship To Shop Moissanite Engagement Rings
By Stephanie Dore
If you're trying to figure out where to buy moissanite engagement rings, chances are you're already in the know about the benefits of this super sparkly gemstone. But just in case, we're going to break it all down for you, starting with the idea that you don't have to have a diamond engagement ring at all! In fact, when it comes to choosing your dream ring, today's affianced have so many choices, and selecting the type of stone you want is one of the biggest. Whether you're looking for a budget-friendly option, something more sustainable, or just the biggest bang for your hard-earned buck, moissanite deserves to be in the running. Here's everything you need to know about buying a moissanite ring.
What is a Moissanite Ring?
Starting from the top, this intergalactic gemstone was actually discovered back in 1893 when a meteorite crashed down in Arizona, carrying microscopic particles of silicone carbide. While that's definitely a cool origin story, today's engagement ring moissanite doesn't come from the sky, but is grown in a lab, just like lab grown diamonds. From the start, moissanite has been successfully synthesized to replicate the look of a diamond, as what we call a "diamond simulant". While that's all gravy, moissanite has some pretty brilliant properties of its own that make it a sought-after stone for moissanite wedding rings and moissanite engagement rings on its own merits.
Moissanite Rings vs. Diamond: Which Wins?
The biggest difference between moissanite and diamond is their sparkle. Because moissanite has a higher refractive index than diamond — 2.65 vs. 2.69 — it's actually better at bending light, which makes it extra fiery. That means lots of big, bold rainbow flashes instead of diamond's smaller, more nuanced brilliance. And the bigger the moissanite, the bigger the flashes of color you'll get. Speaking of color, it's the only one of the 4Cs that moissanite is graded on. You'll often see "classic moissanite" on the market that might fall in the J-K color range of diamonds, but today's moissanite typically falls into two different color grades: colorless (D-F) and near-colorless (G-I).
When it comes to the durability of moissanite, it rates a 9.25 on the Mohs scale of hardness, which is just below diamond's 10 rating, and actually harder than sapphire's 9. So a moissanite ring will totally stand up to daily wear and tear, just like a diamond. Moissanite is also a bit lighter weight than a diamond, which, when it comes to carats, means a 1 carat moissanite will be bigger than a 1 carat diamond. Moissanite is typically sold by its measurements rather than carat weight to prevent confusion, so it's easy to determine what size you'll get just by looking at the length and width or diameter of the stone.
Because moissanite is created in a lab, it has a smaller carbon footprint than natural gemstones and doesn't require mining processes that carry a big environmental impact. This makes moissanite a great, sustainable engagement ring option.
Can You Buy an Oval Moissanite Engagement Ring?
Square cut or pear shape, moissanite comes in all the same shapes as diamond. So you can find an oval moissanite engagement ring, no problem. And because moissanite is a manufactured stone, you can also get one custom cut to nearly any shape and size you desire. A crushed-ice oval? Sure. A perfectly square radiant? Check. Want a single long baguette? We can make it happen. Want a rose cut moissanite? We can find that too. Our Diamond Concierge can help you determine the perfect size and shape for your dream ring.
Choosing Moissanite Engagement Rings
One of the biggest concerns when shopping for a moissanite engagement ring is that you won't find a wide selection of styles to pick from. And, unfortunately, at first glance this is true. But don't let what you'll find online fool you, pretty much any engagement ring style you like can be made with moissanite gemstones instead, you just have to ask the right jeweler. While it's very easy to swap out the center diamond for moissanite in any ring, swapping out any side stones is the tricky part. And yes, it's important to swap out your side stones as well so that the look of the stones matches throughout your ring. While it might be hard for an untrained eye to spot the difference between diamond and moissanite, if they're in the same ring next to each other, there can be a visual difference between the two stones.
Moissanite Wedding Rings
The same holds true with buying moissanite wedding rings. Whether you're looking for a slender, shimmering pave wedding band or a jaw dropping eternity ring, nearly any diamond ring style can be created with moissanite gemstones instead. If you want a consistent look to your wedding ring set, choose the same gemstone for both and then you'll have a perfectly matched look and a lifetime of brilliance.
And if you're looking to maintain that shine, learning how to clean a moissanite ring should be on the to-do list. Don't worry darling, it's actually quite easy. Just like diamond, moissanite can be cleaned simply at home with old fashioned soap and water. Mix a few drops of liquid dish soap into a deep ceramic or glass bowl (we love a pyrex measuring cup for this, so you can see through it). Then simply soak your ring for about 30 minutes, and use an old, soft toothbrush to gently brush the stone, making sure to clean beneath prongs where dirt and oil can build up. Finally, rinse your jewelry under clean running water (just make sure your drain is closed!) and let it air dry and you're good to go!
Do You Know Where to Buy Moissanite Rings?
Why, here at Frank Darling, of course. Not to toot our own horn, but we carry a wide selection of loose moissanite gemstones to select from, which can be set in your choice of engagement ring style. And custom rings are kind of our thing. You can take the ring quiz to get started, and get a custom ring sketch and price quote on your dream ring, redesigning as many times as you'd like. We carry Charles and Colvard, Stuller and August Vintage Moissanite at extremely competitive prices, and can customize any ring with a Moissanite center stone.
Considering a lab grown diamond? Check out our diamond search where you can view 360-degree images of more than 10,000 diamonds and don't forget to zoom out (because size can be deceiving), or book a virtual or offline appointment at our New York salon to view certified lab-grown and natural diamonds in person.
Not finding what you're looking for? Email us with what you're looking for at hello@frankdarling.com. We'll curate a list of 5-7 exclusive stones that are just right for you.