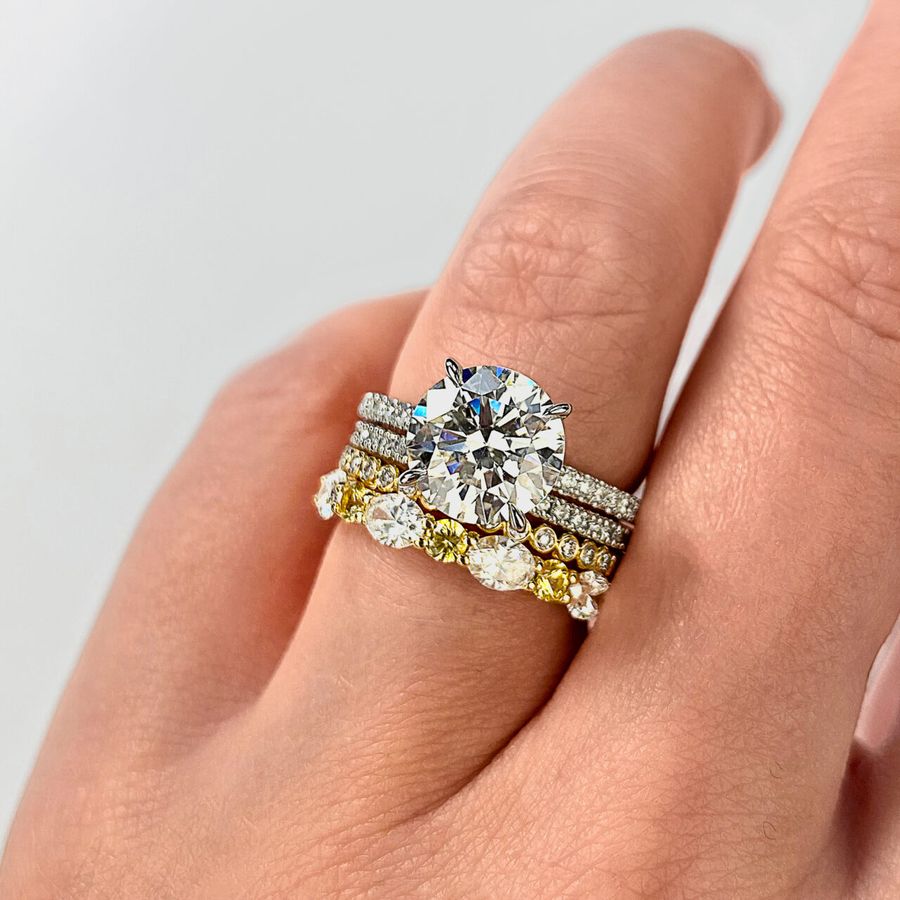 16.09.20
Engagement Ring vs Wedding Ring — Do You Need Both?
By Stephanie Dore
What's the difference between an engagement ring vs wedding ring? Do you need both? Get smart, without feeling silly, with a little ring rundown.
More than 500 years after the first documented diamond engagement ring, you'd think that we all would have this whole thing figured out. Yet, here we are, still wondering what exactly the difference is between an engagement ring vs. wedding ring, whether both are necessary, whether the guys get a ring too, and so many other truly confounding things about, well, the most confounding, emotional, rule-laden tradition ever. But not to worry. Here at Frank Darling, we're all about helping you get smart—without feeling silly.
First Comes Love…
Baby carriage or not, the tradition goes that the engagement ring comes first, with a proposal, then the wedding ring—you know, on your wedding day. So really, that's the difference.
I know, I know, you're looking for more. To simplify matters, an engagement ring is what you're probably picturing. That classic diamond solitaire on a gold or platinum band, peeking out of a ring box while someone is down on a wobbly knee. Wedding bands, by comparison, are much less frivolous bands exchanged between two people as they make some pretty big promises in front of everyone.
Traditionally, the lovely gal then wears the two rings stacked together on the ring finger of her left hand, while the guy gets just a lonely wedding ring. Life's not fair.
Now Let's Get Real
Sure, there are plenty of gentlemen who still get down on one knee, with a ring they bought in utter secrecy with two (or is it three?) months' salary. Then follow it with a couple of bands. But that doesn't mean you have to. In fact, today, more couples than ever are defying the tradition, chatting about their marriage plans well before the proposal, and going ring shopping together.
Our advice? Be your own relationship—and ring—goals. Ladies want to propose? Go for it. Buy your partner a ring. Want to propose to each other? Do the damn thing. We're not knocking tradition, but we totally support tossing out the notion that you must go with the standard set.
Basic Instinct
If you're all about the classics, by all means, there are plenty of options for that. For instance, the solitaire. Choose any diamond you like, choose a metal, and there you go. Kidding, it's not that simple. But close. What's key when looking for two rings that work well together is their fit. Our Harper solitaire, for instance, is designed to sit perfectly flush against a matching band so there's zero gaps. Or try a curved or pointed band that fits around your center diamond. Just know that it can often be tricky to pair two rings together if not designed or purchased as a set, so if that's what you're looking for, don't leave your wedding ring as an afterthought, especially if you plan to wear it every day.
One and Done
Thinking about the engagement ring vs. wedding ring and don't want to fuss with a double dose? Go with a single ring that represents your style and throw your entire ring budget at it. If you're super active and on-the-go, maybe a simple band is all you want to wear every day. Want a band but also sparkle? Go eternity! Or maybe you'd rather have one big rock. No matter. Your ring should fit your lifestyle and be something you actually want to wear! Some of our favorites to wear as singletons?
Matchy Matchy
Speaking of coupling up…your wedding ring doesn't have to be a plain band, nor does it have to match! These bad boys (and girls, and non-binaries) come in all shapes, sizes, and sparkles. Feel free to play mix-and-match if a "perfect fit" is less important than your rings being "perfectly you." Shocker, we love a diamond band, an eternity style, an open band, mixed metals…the list goes on!
And let's not forget about our other halves! Whether you choose to have matching wedding rings with your partner, or completely different styles is your call. After all. Variety is the spice of life.
Stack the Deck
Your mom always told you not to settle. Whether you're following the trend or just like that heavy metal look, your engagement and wedding rings can be one…two…or more! Think like Audrey Hepburn and go for a triple threat with three bands in different metals. Stack some eternity bands. Try something with your birthstones in it. Get wedding rings for BOTH sides of your engagement ring. Stacks are all about choices, so get playful!
All About the Money Honey
Choosing how many rings you want—and what style—is an important starting point. But before you go any further in considering your engagement ring vs wedding ring — deciding on a budget is key. With those two decisions in mind, you'll be better prepared to determine just where you need to spend your money. Is it on one big diamond engagement ring, with just a simple accompanying wedding band, or do you need to spread the budget across a whole stack? Knowing these two things up front will set you on a road to ring success.
So Cute Together
Ultimately, engagement rings vs wedding rings, no matter how you choose to rock them, it has to be about you. Browse our collection and see what speaks to you, then when you're ready, order a try at home kit, and take a few styles for a test drive. Or, start designing your own (and get a free sketch!) with our dream ring quiz. Want a little more hand holding? We got you boo.